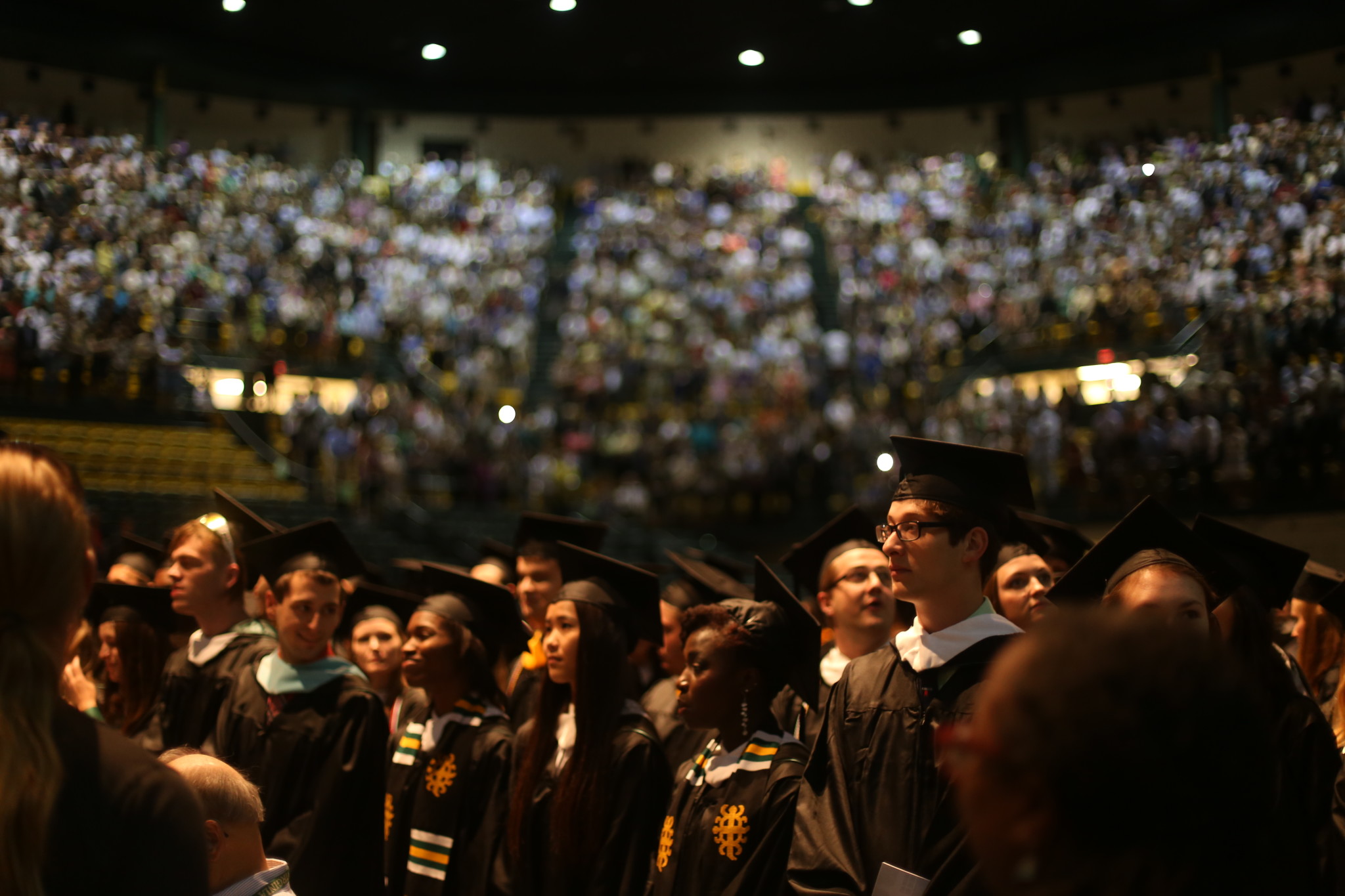 It was with pomp, circumstance and an unlikely avian metaphor that the Class of 2016 graduated this morning May 14 in William and Mary Hall.
"Great universities have the confidence to be bold, to take well-considered risks, to be the rare duck unlike all the other fowl in their species," Reveley said to the assembled graduates, family and community members. The Crim Dell ducks, popular this season, were not seen in attendance.
The Hall, which can hold up to 10,000 people according to the College of William and Mary website, was full for the event at which 1,403 undergraduate degrees and 674 graduate degrees were conferred.
The main event of the ceremony was the commencement address delivered by Jill Ellis '88, head coach of the World Cup-winning women's national soccer team.
Ellis, like Reveley, urged the graduates to be bold, and not to worry if the path ahead of them seemed uncertain at the moment.
"How I got to be the women's national team coach is a journey that should encourage the majority of you who have yet to figure out your destination," she said. "Sometimes a career is a process of elimination. Sometimes it's someone you know opening a door for you. And sometimes it's being pulled in a direction you are unsure of."
Ellis, an English language and composition major, made a well-publicized decision to accept a pay cut from her first job out of college — she was then a technical writer — to enter into coaching. Since then she has been a part of two Olympic Gold Medal-winning coaching staffs, as well as leading the women's national soccer team to their first World Cup victory since 1999 last year.
Chancellor of the College Robert Gates '65 L.H.D. '98 also congratulated the graduates.
W&M alumna Jill Ellis kicks off her speech with a selfie! #wm2016 #wmgrad pic.twitter.com/HmaK4GFg70

— William & Mary (@williamandmary) May 14, 2016
"With the last tuition check having cleared, you may be contemplating new disposable income," he said. "Forget it. The bank of mom and dad is still open."
He also exhorted graduates to rise above the crude tenor of American politics.
"Be engaged. Be courageous. Be a leader," he said.
It was not this line, however, that drew chants of "U-S-A, U-S-A" from the graduates. The speaker that drew those chants was Ellis — who roused the audience with her selfie-stick.
—
Awards
Honorary Degrees
John M. Bridgeland, Doctor of Public Service
Jill Ellis '88, Doctor of Humane Letters
Honorary Alumni
John Daly
Michael Fox
Robert Glacel
Sharon and Joseph L. Muscarelle, Jr.
Deborah Spirn
Student Speaker
Seth Opoku-Yeboah '16
The Lord Botetourt Medal
Isaac Alty '16
The James Frederic Carr Memorial Cup
Ebony Lambert '16
The Thatcher Prize for Excellence in Graduate and Professional Study
Kerrigan Mahoney Ph. D. '16
The Algernon Sydney Sullivan Awards
Julia Canney '16, Gabriel Morey '16, Wendy Urbano
The Thomas Ashley Graves, Jr. Awards For Sustained Excellence in Teaching
Phillip Daileader
John Graves
The Charles Joseph Duke, Jr. And Virginia Welton Duke Award
Lydia Whitaker