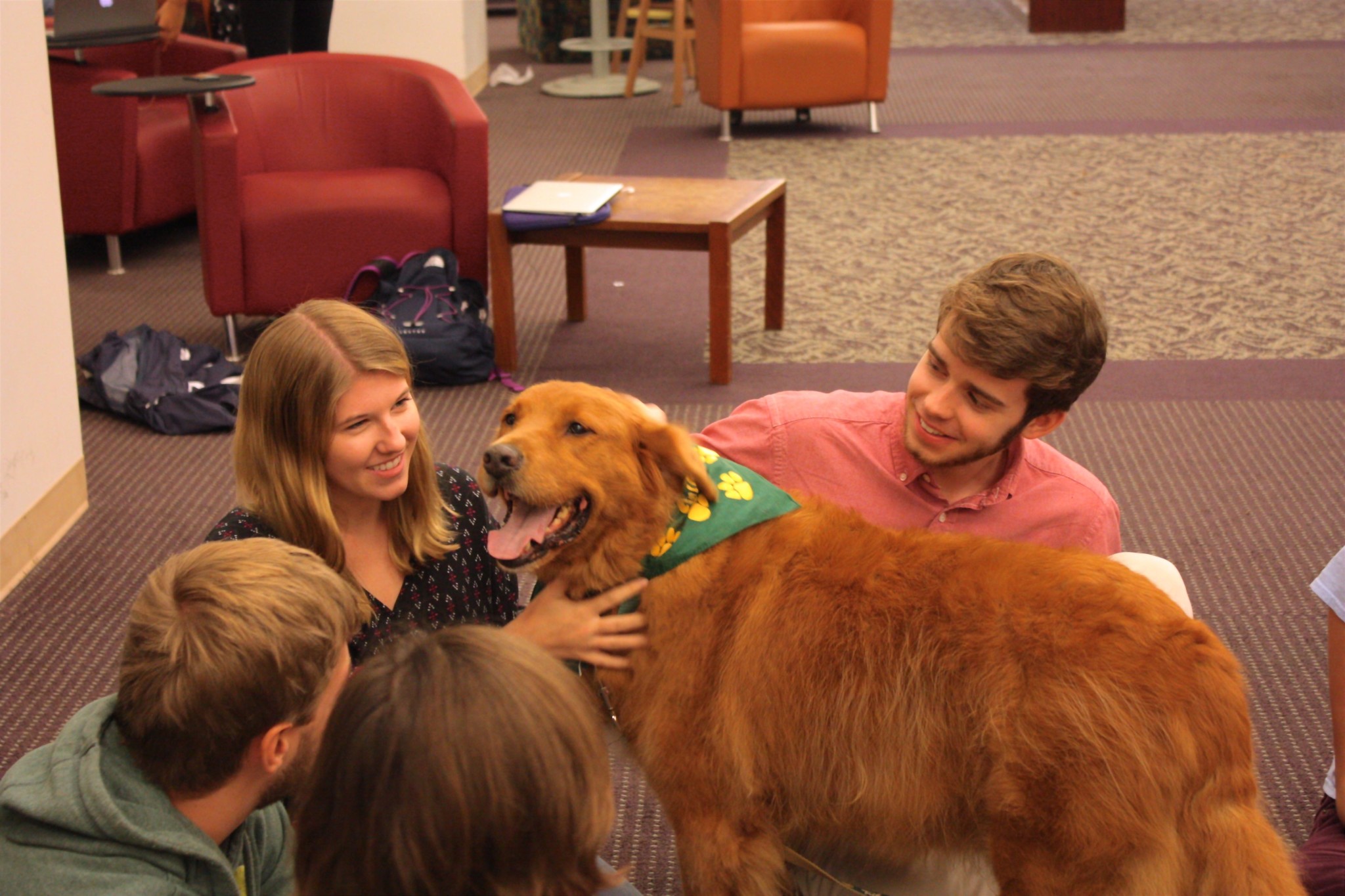 Whether it's helping out an overwhelmed college student in the lobby of the Earl Gregg Swem Library or snuggling with children practicing reading out loud, K9 Connection's Gordo is there.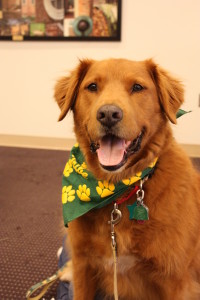 Students may be familiar with the 10-year-old golden retriever who typically comes every few weeks to Swem Library  to receive belly rubs. While he has gone through many rounds of obedience training, his owner Donna Jones says Gordo's favorite part of his job is being petted.
Jones adopted Gordo when he was just a one-year-old pup. When she got him, he was at the perfect age to begin the necessary training to be certified as a service dog. Jones said she knew he would do well helping people because of how much he loved being around people, and she felt that he had a calming presence.
While being a lovable dog is a big part of his job, Gordo put in hours of work to get certified to visit places like local libraries and blood drives. When he was old enough to begin training, he had to meet certain requirements before he was eligible for certification training.
Gordo had to go through basic obedience classes and learn commands such as "sit," "stay" and "heel." Then, he had to pass the American Kennel Club's Good Canine Citizen Test to make sure he knew those basic commands and to se whether he would be friendly to approaching people and dogs.
After he passed all of those tests, he was eligible for K9 Connection's training, which involved harder obedience classes as well as tests to see how he would react in potentially overwhelming situations. These situations included times when lots of people were moving around, lots of strange noises were going on, people were bumping into him, and situations where he had to walk past treats and toys while ignoring them.
"He doesn't care who you are and what you do, he just wants to be patted. He is really a non-judgmental dog," Jones said.
"One of the coolest things he has done is visit a blood drive so that people could pat him," Jones said. "People get nervous at blood drives and their blood pressure goes up, so when that happens they go outside and get to pet Gordo which helps them drop their blood pressure so that they can give blood."
One of his favorite places to volunteer is Williamsburg Regional Library's Paws to Read program. This is a program that gives children of all reading levels a chance to read to trained K9 Connection therapy dogs. According to Williamsburg Regional Library, this program has improved the children's reading abilities because when the dogs react to their voices — like when they wag their tails — it gives the children more confidence in their reading ability.
While Gordo enjoys these events with the kids, it can be hard for a dog to be around so many children who may not know how to appropriately engage with furry friends yet. Jones said that no matter what,  Gordo stays calm and lets the children pet him while they read him books.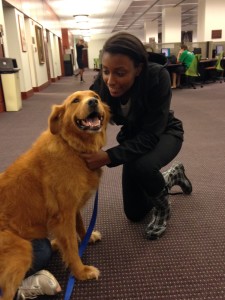 "There are a couple of times when we were in a situation at the library when a little kid got up close to him and was really fascinated by his teeth," Jones said. "I was worried that would upset Gordo, but he just stood there and the little kid was right in his mouth. He is always very calm and settled with the kids."
Another place that Gordo frequents is Swem, where he stays in the lobby for students to pet him when they need to relax. He typically comes every few weeks and comes more frequently during final exam weeks. According to Jones, bringing Gordo to Swem is really good for students who just need to release stress.
"He's a very happy and calming presence," Jones said. "He doesn't care who you are and what you do, he just wants to be patted. He is really a non-judgmental dog. It just really seems to help people when I bring him to the library."
At the end of the day, Gordo is a happy dog who loves playing around at home. According to Jones, one of his favorite hobbies is eating potato chips.
"One of his favorite things, which he really knows he's not supposed to do, is eat potato chips," Jones said. "Especially if you leave an open bag on the counter, you'll walk away and come back and all the chips will be gone."