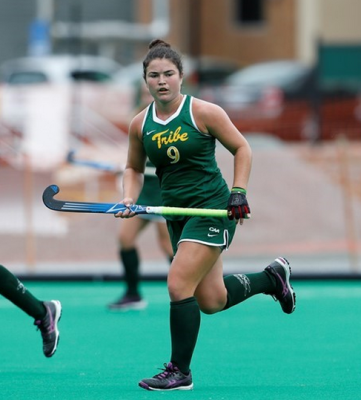 William and Mary took the first steps towards turning around its season after a disappointing 0-3 start with a strong 6-2 win over Georgetown on Friday and a competitive 2-1 loss against No. 15 Old Dominion Sunday.
The scoring onslaught began in the ninth minute Friday against Georgetown, as senior midfielder Amanda McAteer found junior midfielder Cammie Lloyd, who fired a quick slap shot to give the Tribe a 1-0 lead. In the 16th minute, the College doubled its lead as senior forward Maria Jose Pastor netted her third goal of the season.
Four minutes later, Lloyd sent a pass to sophomore midfielder Jenny McCann for her first career goal. Sophomore forward Alayna Tomlinson recorded her first goal just five minutes later, giving the Tribe a huge 4-0 advantage it would not relinquish.
Georgetown managed two goals, but each was responded to with a Tribe goal. Freshman forward Annie Snead was the next goal-scorer for the College, finding the back of the net off a rebound to give the Tribe a 5-1 lead.
Freshman goalkeeper Morgan Connor recorded two saves in her first career win.
Lloyd scored a second time to wrap up the College scoring in a 6-2 victory. Freshman goalkeeper Morgan Connor recorded two saves in her first career win.
Two days off its first win, the Tribe knew it would face a daunting challenge when No. 15 Old Dominion visited Williamsburg.
The College defense was up for the test, as it had to be, as Old Dominion put together a 9-2 shooting advantage and had five penalty corners to the Tribe's zero in the first half. Connor followed up a strong Friday outing with three first-half saves. The College nearly managed to keep the game deadlocked at zero going into the half, but ODU forward Erin Huffman put away a penalty stroke to give the Monarchs a 1-0 lead.
The Tribe offense came out firing after halftime, and ultimately won the shooting battle 6-3 in the second half. In the 49th minute, junior midfielder Erin Menges fired a shot which rebounded back to her, then found junior midfielder Estelle Hughes, who redirected the ball to the cage to tie the game at one.
The Monarchs upped the pressure with the game tied, and after a series of shots on goal, ODU forward Casey Dolan put away her chance to give Old Dominion a 2-1 lead with just nine minutes remaining.
The Tribe kept fighting, notching two more shots on goal, but ultimately was unable to finish these opportunities.
The College looks to build off an encouraging weekend Friday when it travels to face Richmond before playing at Davidson Sunday.