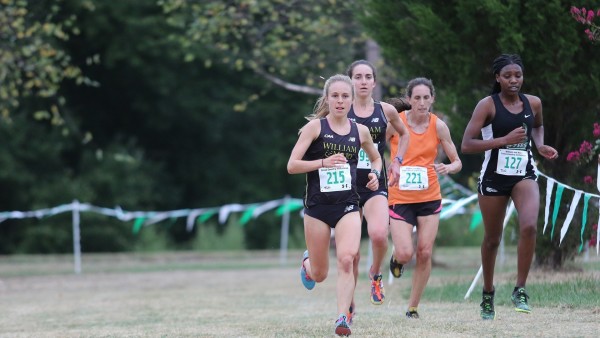 The future looks bright for William and Mary cross-country. The present isn't too shabby for it either.
Despite a number of key contributors sitting out to rest for next week's Panorama Farms Invitational, hosted by Virginia, both the men and women were victorious in Friday's 58th annual W&M Cross-Country Invitational. Aided by a slew of sparkling runs from underclassmen, the men and women topped the four-team races with 26 and 25 points, respectively.
The front pack was crowded in the early stages of the women's race, but would whittle down to four runners as the race progressed. Unattached runner Kathy Newberry, Charlotte runner Caroline Sang, and Tribe juniors Regan Rome and Molly Breidenbaugh were well clear of the chase pack as they passed the two mile marker. It was there Rome made her move. The All-American set a scintillating pace and dominated the final mile to win her second consecutive William and Mary Invitational title, covering the 5K distance in 17 minutes, 31 seconds. Breidenbaugh would pull away from Newberry and Sang with a strong last 400 to provide the Tribe with a 1-2 punch in the results.
The All-American set a scintillating pace and dominated the final mile to win her second consecutive William and Mary Invitational title, covering the 5K distance in 17 minutes, 31 seconds.
Junior Aubrey Gordon finished sixth in 18:22, and sophomores Hope Blossom and Rachel Snyder secured the team victory by finishing 11th in 18:55 and 14th in 19:02. Charlotte finished second with 30 points, Hampton finished third with 85, and Howard finished last with 110.
"I just wanted to hang on with the leaders and work the last mile," Rome said. "I think we had a really good showing as a team. We've been in a really big phase of training, so for where we are in our training, everyone looked really good today."
Head women's coach Natalie Hall was also pleased with the team's performance.
"The whole race plan for my top group was to see how comfortable we could be through two miles sitting on the leaders, and then go from there," Hall said. "I thought that Regan and Molly both looked really strong over the last mile and the rest of the group looked really good. I'm very excited about some of the younger girls on the team."
In the men's 6K race, Norfolk State duo Felix Kiprotich and Ronald Korir broke away from the field early and crossed the finish line nearly simultaneously. Kiprotich was credited with the victory in 18:37.8 and Korir was clocked at 18:38.1.
Junior Chris Hoyle led the Tribe contingent in 18:56, closing hard over the last 1200 to clinch third place.
"Going into the race, the goal was to stick together through three miles and just stay as close to the front pack as we could," Hoyle said. "NSU had some really good guys up there who pulled us along. I felt pretty good with 1200 to go and so I decided to kick it in. I'm really happy with everyone's performance today."
Reilly Covert (19:07), Cavender Salvadori (19:09.2) and Andrew Cacciatore (19:09.3) crossed the finish line in fourth, fifth and sixth place right behind Hoyle. True freshman Cooper Leslie placed eighth in 19:12 to round out the scoring for the Tribe. Norfolk State finished runner-up with 33 points as Charlotte scored 88 points and Howard scored 108.
"I thought we did really well," head coach Chris Solinsky said. "We held out six of our top seven runners because we're racing next week at the Panorama Farms Invite, just didn't want to risk getting them beat up. But I thought it was a really good opportunity for the other guys that ran. There was a good chance for them to rise up and shine and gain some momentum for the rest of the season."
A number of underclassmen seized that opportunity Friday. Covert and Cacciatore are redshirt freshmen, while Leslie and Tyler Cox-Philyaw, who placed twelfth in 19:24.7, are true freshmen.
Solinsky and Hall are excited by the progress of their newest runners, and both credit the culture of the team as being key to the freshmen's successful transition to the collegiate level.
"All of our freshmen came in and really bought into the culture of the team," Solinsky said. "We're talking about 'One Tribe, One Family' constantly and they've come in and committed to doing the work and day by day, week by week, we're getting better."
The Tribe will race next at the Panorama Farms Invitational in Charlottesville, Va. Friday, September 23.