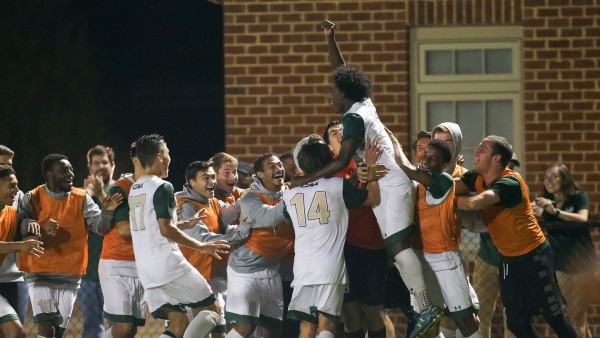 In the biggest triumph since a 7-0 win over Richmond in September 2009, William and Mary bounced back from a four-game winless streak and earned its first conference victory by dominating Northeastern in a 7-1 win Saturday night at Martin Family Stadium.
The College attack was spearheaded by a trio of sophomores: Sophomore forwards Antonio Bustamante (3), Ryder Bell (2) and Marcel Berry (2) combined to score the Tribe's 7 goals. Thanks to his three-goal performance — the first of his college career — Bustamante took home the Colonial Athletic Association's Player of the Week award.
The Tribe (6-3-2, 1-1-2 CAA) cruised to an early lead with two goals in the first 10 minutes. Berry crossed the ball from the right, and Bustamante was there to knock the ball into the left side of the goal after just two minutes. Just five minutes later, Berry turned goal-scorer, receiving a pass on the left side and dashing into the box before sweeping a shot home inside the left post.
Having avoided the sloppy start that doomed it against North Carolina-Wilmington, the College continued to attack with verve. Bustamante got his second goal of the day with a well-taken finish following a cross from redshirt sophomore forward Christian Jones. The Tribe smothered Northeastern (2-8, 1-3 CAA) in the first half, only allowing two shots, and was sitting pretty going into the second half.
In the second half, the floodgates opened as the College put away four goals in the first 15 minutes of the second half. Berry and Bustamante in particular showed their chemistry, playing a one-two to set up Berry for goal five, and then combining for Bustamante's hat-trick goal as well. All of the Tribe's goals were relatively easy, which head coach Chris Norris said was a testament to the College's attacking fluidity.
"Our unselfishness tonight was the key," Norris told Tribe Athletics, "and when we do that, you can see that we have guys that are just hard to deal with."
"Our unselfishness tonight was the key," Norris told Tribe Athletics, "and when we do that, you can see that we have guys that are just hard to deal with."
The Tribe generated 14 shots-on-goal, and played some intelligent pass-and-move soccer. Bustamante's third goal was the epitome of the excellent Tribe attack, as Bell let Berry's cross run through his legs, so a wide-open Bustamante could tap the ball in. Norris reserved a special level of praise for Bustamante, who has been one of the Tribe's chief attacking forces this season.
"He reads things well, and he works hard to get on the end of things. He's been kind of due, so it's good to see," Norris told Tribe Athletics.
Prior to the game against Northeastern, Bustamante only had tallied two goals and one assist, but has now already matched his total goals from his rookie season last year.
The dominant win also allowed Norris to put in some of the Tribe's lesser-known players. Senior defender Jordan Pettit, redshirt freshman midfielder Josh Cox, redshirt freshman forward Cole Smith, and redshirt senior goalkeeper Mac Phillips all made their first appearance of the season, and every member of the roster made it on the field. Phillips was in the net for most of 2015, though redshirt junior keeper Phil Breno has received the starting nod in all matches thus far in 2016.
"It was great for some of those guys to have an opportunity to be rewarded for their hard work in training," Norris told Tribe Athletics.
The Tribe has the week off before beginning a two-game road trip, facing Hofstra Saturday, Oct. 8 before traveling to Elon next Wednesday, Oct. 12. After the road trip, the College hosts high-profile Big 10 opponent Michigan Saturday, Oct. 15, during homecoming weekend.