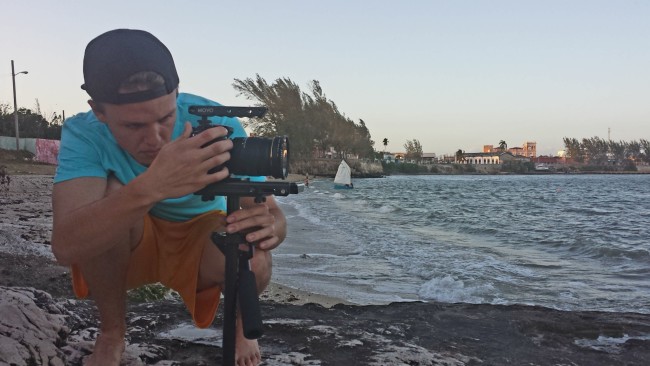 Like many students, Drew Darby '18 is pursuing his passions and a future career while working on a degree at the College of William and Mary.
Unlike some students, however, his talent in the field of videography has already sent him abroad twice — one of these times on a paid trip to a resort island in Mexico.
Darby's interest in video began as early as elementary school. He recalls his father giving him an old camera and telling him to go make movies with his friends. Throughout elementary and middle school, video remained a hobby. He bought his first camera in high school and dabbled in photography, but it was not until he came to the College that he began to pursue videography as a career.
"I really didn't get into video until I came here because that was when I realized that there were people who needed videos and I could make money doing it," Darby said. "There were so many opportunities on campus to take it to the next level."
As a film and media studies major, Darby said he still conducts video work outside of his coursework, especially since the major concentrates less in production and more in studying existing films.
Darby is currently a teaching assistant for an entry-level production class on campus with film and media studies professor Tanya Stadelmann.
He said that getting to work with beginners is rewarding because it prompts him to rethink and revisit parts of the process that he does instinctively. Aside from that, Darby said he enjoys helping others channel their own creativity by teaching students how to use cameras and edit and produce their own videos.
Darby was able to travel to Cuba last spring with film and media studies professors Ann Marie Stock and Troy Davis. Throughout the trip he conducted interviews and learned about Cuba's history — especially the subjects of film and media.
Stock, a published author on Cuban cinema, provided background and opportunities for the student group that traveled with her. Stock's connection with Television Serrana, a government sponsored media collective that makes documentaries and similar projects, enabled the students to conduct interviews and documentary work with the employees about their history.
"It was great to have somebody who was well-connected and such an expert on Cuban cinema to show us where to go," Darby said about his experience working with Professor Stock.
After the spring semester ended, Darby sent his application to a number of production companies around Philadelphia, Pa., and waited to hear back. Of the two companies that responded, Red C Media offered him a paid internship.
His first day on the job, Darby was offered the opportunity to go abroad to Mexico in order to film a commercial for an island resort. His stay at the resort included luxuries such as inclusive room service and laundry service — both new experiences for Darby.
The internship in Riviera Maya provided Darby with many new experiences and often challenges.
"It was a six figure job, and there was a lot of pressure," he said. "That's very different from the rest of the work that I do where I'm going out and shooting. I'm editing the final project."
Darby said he was by far the youngest on the job.
He shared an experience he had with the Spanish client who had hired Red C Media to shoot the resort commercial. While sitting across from her at lunch, she asked him what his age was.
When he responded that he was a 19-year-old college student, he said she just stared.
Another barrier Darby said he faced on the job was language. Although he has worked and studied in Spanish-speaking countries, Darby does not speak Spanish. He described how a translator was necessary most of the time, especially during his work at the resort in Riviera Maya.
Concerning the internship, Darby said that he has gained a better insight into the professional world of videography with set contracts, deadlines and requirements.
"It was a learning experience to have to adapt my sort of free flow mindset," Darby said. "It's a lot different from shooting movies with your friends."
Darby said working with videography forces him to expand not only his knowledge, but also his comfort zone.
He has faced his fear of heights on multiple occasions to get the shot he needed, from climbing tall trees to cliff jumping.
While Darby said that he has yet to overcome his fear of heights, he continues to face it.
Outside of school, internships and study abroad, Darby does freelance work for friends on their social media accounts and for William and Mary News. He also works in the Reeder Media Center in the Earl Gregg Swem Library, which he described as not only a great place to work, but also a great resource.
Despite his current expertise, Darby describes future work as a learning experience. He said he wants to explore different roles within videography.
"There's so much more on the post-production and editing side that I have yet to learn," Darby said.
Darby said that he will continue his current work and that he hopes to establish his own digital media company with other creative students of the College after graduation.
In the meantime, he said he seeks to broaden his horizons by working more with music and by continuing the work that he does now.
From international filmmaking to experimenting with new platforms, the field of videography can expect to see much of Darby's work in the future.