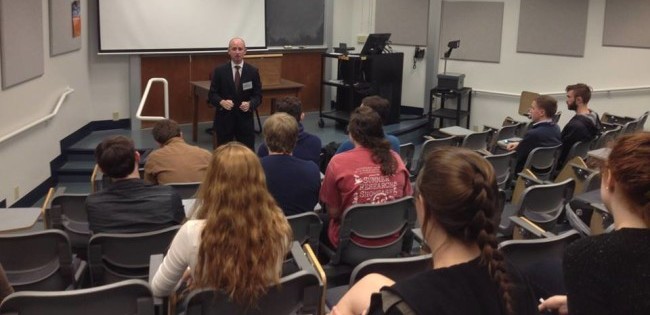 Democratic candidate for District 93 in the Virginia House of Delegates Mike Mullin visited campus this past week as part of a voter outreach campaign.
Virginia21, an organization on campus that specializes in voter outreach for people ages 18-26, held the forum in Morton Hall on Monday, Oct. 24. Now a statewide organization, Virginia21 has historical ties to the campus. Three students from the College of William and Mary founded Virginia21 at the Daily Grind in 2002 to support political leaders advocating for higher education. The organization now has multiple chapters throughout the state, including at Christopher Newport University and Virginia Commonwealth University.
President of the College's chapter of Virginia21 Greg Akerman '19 said the organization continues to operate on this principle.
The focus of Virginia21 is to be a voice for student issues, specifically for higher education," Akerman said.
"The focus of Virginia21 is to be a voice for student issues, specifically for higher education," Akerman said. "We do voter registration during the year, and during that period that's our main goal, especially on college campuses."
The forum brought students together with the intention of exposing them to candidates that would directly represent them in Virginia's state legislature. Akerman said the organization held the forum so both Mullin and the Republican candidate for District 93 in the Virginia House of Delegates Heather Cordasco could visit the College.
"We reached out to Heather and Mike, but only Mike was able to attend," Akerman said.
Mullin mentioned Cordasco's absence throughout the forum, repeatedly pointing to an empty podium when referring to Cordasco in absentia. During this time, Mullin said he supported higher funding for tertiary schools, better trust between communities and their police departments and pre-kindergarten school for all Virginia children.
Mullin has worked with the Young Democrats at the College for his election campaign. Young Democrats member Cody Mills '20 said the organization has campaigned for Mullin and Monty Mason '89, the Democratic incumbent for District 93 who is running for the Virginia Senate.
"We heavily support Mike and Monty," Mills said. "We love when they come and speak to us. They've talked to us, campaigned with us and knocked on doors with us."
Mills calls himself a supporter of Mullin, mentioning that Mullin lives in the area he wants to represent.
"There are so many awesome things [about him]," Mills said. "I like that he's a person from this area. He knows the whole struggle that this area and this district are going through. He's lived through them, he's experienced them."
Mullin, also a criminal prosecutor, said he was aware of the Aug. 27 shooting at The Crust, citing discrepancies between The Flat Hat's investigation and the Williamsburg Police Department's statement.
Mullin, through his work as a criminal prosecutor, specializes in complex sexual assault cases. He also volunteers with survivors of domestic violence and gives lectures on gang violence and gang crime in the Greater Williamsburg area.
"I think that, in instances like what happened at The Crust, it's hard," Mullin said. "I think trust has to be built over a period of years. There isn't a flashpoint. You have to build trust over time."
One of Mullin's platforms is his focus on supporting Virginia Governor Terry McAuliffe's Medicaid expansion plan. Mullin said that no major changes should affect students who are enrolled in the College's health insurance plan.
"Students probably don't need to expect anything different in their health plans," Mullin said. "If for some reason they would be eligible for the expansion of Medicaid, we would pay, so William and Mary would end up paying even less."
With elections 11 days away, Akerman said he feels confident about student turnout at the polls.
We registered a lot of students during registration period, and we've made sure to get the word out about how important this election is for everyone," Akerman said.
"We registered a lot of students during registration period, and we've made sure to get the word out about how important this election is for everyone," Akerman said. "William and Mary has a very active student population in terms of politics, and I think this election cycle will be really good."