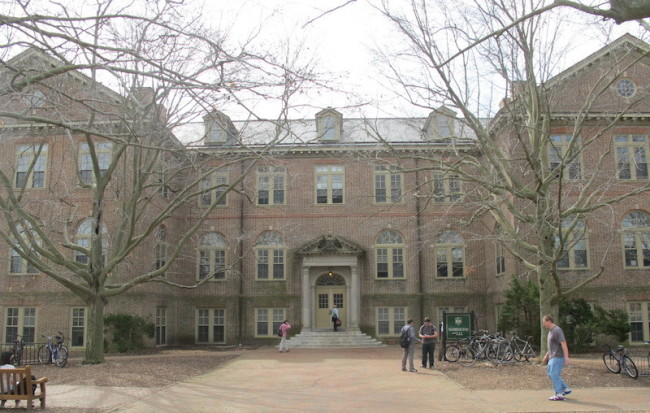 On Saturday Nov. 5, former Director of Iraq in the National Security Council Andrew Kim provided students at the College of William and Mary with a description of the United States' policies in Iraq against ISIS.
Kim served at the White House between 2013 and 2015 as Director of Iraq, where he was responsible for managing the crisis response across the administration and developing strategy. Beforehand, he served in Afghanistan as Strategic Advisor to General David Petraeus, in the Pentagon in the Office of the Secretary of Defense and at the State Department.
In his academic career, Kim attended Deep Springs College — a 26-student liberal arts college on a California cattle ranch — and the University of Chicago. After graduating, he obtained a doctorate in international relations from the University of Oxford, concentrating on U.S. policy in Iraq.
With regards to his decision to study Iraq in an academic setting, Kim described a "tremendous" sense of guilt.
"I get sent off to Oxford and had three course meals while thousands of people my age were being killed in Iraq," Kim said. "I just felt incredibly guilty that this war that was technically fought in my name had zero impact on my day to day life. I could literally close my eyes in Oxford and just forget that the two largest wars in the world were being fought by my country, in my name."
During the lecture, Kim focused on two pivotal days in 2014: June 10, the day of the seizure of Mosul by ISIS, and Aug. 6-7, at the height of the Yazidi humanitarian crisis on Sinjar Mountain.
Despite Iraq having become a "synonym for war," according to Kim, June 10 was still a day capable of shocking the world. Since December 2013, clashes had occurred between ISIS, the Iraqi security forces and tribal militias. Beginning June 4 of the following year, ISIS convoys began penetrating Mosul. On June 8, around 100 vehicles entered Mosul, activating sleeper cells. By June 10, Iraqi soldiers fled the city and Mosul fell to ISIS.
At that point, according to Kim, many in the Obama administration supported airstrikes. However, he said that finding a suitable target was difficult, given the confusion of the situation and government's high threshold for taking strikes.
"There was literally nothing left," Kim said describing the moment of collapse. "It was the most incredible and astonishing collapse of a modern national army in our modern history."
On June 15, President Barack Obama ordered U.S. forces to be dispatched to Iraq.
The second pivotal moment was the U.S. intervention following the ISIS siege in Sinjar and fleeing of about 50 thousand Yazidis to the Sinjar Mountains, where they were trapped without food, water or medical care.
Responsible for monitoring satellite imagery at the time, Kim described the image as "apocalyptic"— thousands of cars abandoned, men, women and children running up a mountain when driving became impossible and convoys of ISIS fighters.
Before long, Kim said the U.S. administration realized they were facing a potential genocide.
Weighing whether to begin an extensive ground operation and realizing that airdrops of supplies would not stop an ISIS massacre, the U.S. administration decided to secretly land American soldiers on Sinjar to survey the area.
On Aug. 7 Obama announced the authorization of airstrikes against ISIS to the nation. This decisiveness of the administration, to Kim, was one of the most powerful moments of the Obama presidency.
Government professor Debra Shushan, who arranged the lecture, said that the talk provided a tie between international relations theory and actual U.S. government policy during the Iraq war.
"The ability to have someone who worked in government, and also is an academic himself who has thought about these issues as an academic, but then been involved and seen how things work on the ground is absolutely invaluable," Shushan said.
Many of the students in in attendance were in Shushan's Middle East Political Systems and Arab Foreign Policy seminar. Brian Meyer '16, a student in both courses, described the lecture as "fantastic."
Meyer discussed the importance of educating people about U.S. government policy during the Iraq war beyond the circle of students and academics involved in international relations theory.
"Oftentimes we bring in speakers who are strictly academic-oriented, and sometimes it gets too theoretical and sometimes it goes over a lot of peoples' heads, so it's really good that we had someone who was actually in the government at that time, someone who practiced coming up with policy," Meyer said.
After concluding the prepared portion of the lecture, Kim opened the floor to questions. Students asked a variety of questions, ranging from the discrepancy between media and government figures on drones to the role of empowering Iraqi citizens.
One question addressed the humanitarian aspect of the conflict. In response, Kim made a distinction between academic work, where pros and cons are clearly laid out, and what plays out in the Situation Room — the room in the White House where key members of the administration discuss strategy.
"These interests are not inherent," Kim said. "I don't sit there with a chalkboard in the situation room writing out pros and cons, the interests are only represented if someone in that room champions those interests. The humanitarian interest is only there if someone in that room says, 'Let's pay attention to the humanitarian issue.'"
Kim said that individuals must need to stop being able to measure their lives by Iraq wars.
"The measure by which I agreed to support the start of this war, the measure by which I will judge whether it's successful is whether it's our last war in Iraq," Kim said. "Anything that falls short of that will be a failure."