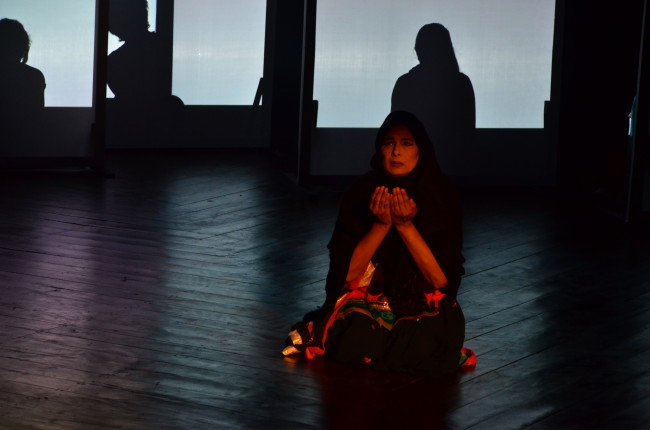 England, Fiji, Pakistan, Connecticut and Williamsburg, Virginia. These are a few of the places the College of William and Mary's new theater professor Claire Pamment has called home.
"I've moved around a lot, which has been a great privilege though I have never really felt that I have belonged anywhere," Pamment said. "There's something to be said for cultural outsiderness."
A graduate of Cambridge University and Goldsmiths College's Master's in Arts program, Pamment holds a Ph.D. in performance studies from the Royal Central School of Speech and Drama at the University of London. She came to the College in 2016 after a year at Yale's Institute of Sacred Music, Fellowship and the Arts, where she taught in Yale's theatre program. Pamment's passion for cultural subversion and marginalized representation in performance began at an early age.
This early engagement turned to passion during Pamment's time at Cambridge, where she worked with the university's student groups. However, despite the "ivory walls" of Cambridge, Pamment continued reaching out to the outside community, engaging in projects with homeless communities, prisons and asylums.
"I grew up in Yorkshire, where racism was acute," Pamment said. "I remember having Pakistani friends, and having things thrown at me both verbally and physically as a child for having those friends."
Pamment said that her move to Fiji and enrollment in international school helped "open her world."
"[In my early 20s] I was invited to go to Pakistan by the British Council," Pamment said. "For me it was an opportunity to go and find material and performance modes that might challenge the work I had been involved with in British Theatre. And that's precisely what happened."
While there, Pamment became fascinated by what she saw of Pakistani theatre as it pushed the envelope of political and cultural comfortability.
"[The theatre community] was promoting strong social activist, politically driven, leftist, feminist theatre," Pamment said. "I found their manifestos very exciting."
For 13 years, Pamment lived in Pakistan and worked with groups of performers, from burlesque dancers to comedians, who were branded as "vulgar" by many from the theatre establishment for modes that fall out of the colonial legacies of theatre, their challenging of gender roles and outward political criticism.
She also taught in theatre and media departments at multiple institutions including the National College of Arts and Beaconhouse National University. In this time, Pamment has remained riveted by the utilization of performance by marginalized subcultures, or as she puts it, "individuals who see the world from the bottom-up."
Her upcoming book "Comic Performance in Pakistan: The Bhānd," soon to be published by Palgrave Macmillan, explores these performers through the vibrant Indo-Muslim tradition of the Punjabi bhānd. The book traces bhānd performance through multiple sites, from street performances to satellite television news.
A central focus of Pamment's recent work, supported by a Social Sciences and Humanities Research Grant (2013-15), are Hijra, a community of transgender women in Pakistan and other parts of South Asia, for whom dance and performance are integral to their personal identity and expression. Having gained legal recognition by the Pakistani Supreme Court in 2012 as a third gender, Hijras and their subversion of cultural norms have been integral to Pamment's work and perspective on performance.
"[One day] I'm leaving the office, and there's election banners everywhere, and there's a red light and lots of traffic," Pamment said. "And as I'm sitting there … there were two Hijras weaving the cars collecting alms … they just so happened to spot a military jeep with two burly men, parading their muscles and flags of the president. And they reached into this jeep and squeezed one of their bottoms…and it was this lovely pinch of the system, deflating the current regime with its military might."
This concept of "pinching the system" stuck with Pamment, leading to her work on Teesri Dhun (The Third Tune), a documentary theatre piece co-directed by Pamment and Iram Sana and devised with a hijra and trans cast.
The piece premiered in Lahore, was invited to Yale University and at the University of Austin, Texas and continues to be performed in different areas of Pakistan. Now that she has arrived at the College, Pamment is excited to help expand the horizons of the theatre department.
"Theatre is a space of infinite possibilities," Pamment said. "It is wonderful to be part of such a vibrant theatre department, with a community of very talented practitioners and academics."
In the spring, Pamment and theater professor Laurie Wolf are trying to expand the theater and performance community through a series of Theatre and Performance Study biweekly brown bag seminars from faculty and students.
"We are seeing this as a forum for interdisciplinary inquiry," Pamment said. "There is exciting work being done in other departments that engages with theatre and performance both in terms of modes of enquiry and objects of study in a variety of forms." The program will begin in February, featuring academic papers, play readings and performance presentations, and is accepting submissions until Dec. 2.
Another area Pamment looks forward to exploring at the College is experimenting with outdoor performances in the historic areas unique to Williamsburg.
"I'm excited about the possibility of site-specific work in Williamsburg," Pamment said.
With a major renovation of Phi Beta Kappa Memorial Hall imminent in the next years, this experience with diverse performance spaces will certainly be a resource for the department.
"Any change of space changes one's body of work there are times in Pakistan's era of load shedding, where I have put up theatre without electricity, let alone a lighting rig … such challenges push you creatively," Pamment said.
Between these ventures within the theatre department and her ongoing research in Pakistan, Pamment said she doesn't have a lot of opportunity for leisure. However, she said that for her, that's not a bad thing, as her continuing work and exploration of the potential of performance enlivens her to continue following her passion, a path she is excited to pursue further with the the College Community.
"The energy always comes from the student body," Pamment said. "It nourishes us. [And there] are really good signs of this department branching out into all kinds of potential worlds."