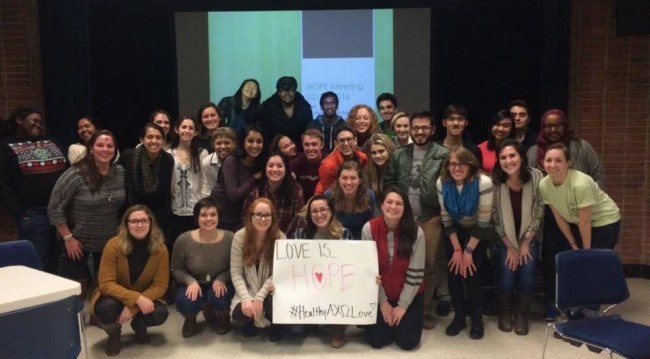 Mariah Frank '17 knew that the College of William and Mary was right for her when she came to visit her older brother. She said that when she walked by the Integrated Science Center and saw a sign that said, "Please remove soccer cleats before entering science building," she knew she wanted to spend part of her life there.
At the College, Frank spends much of her time in a chemistry research lab, serves as the president of Health Outreach Peer Educators, does service work through Alpha Phi Omega, scores goals with the women's soccer team, encourages new students as an orientation aide, and advocates for community health with the Public Health Brigade.
"Since coming here, it has been really amazing," Frank said. "I had the good fortune of being placed on an incredible freshman hall and I still live with my random freshman roommate. They're all my best friends here. The people I've met, whether it's through the organizations I'm in, the soccer team, the opportunities that have been given to me, have definitely changed my life for the better. I owe a lot to William and Mary."
When she's not out on the field or in a research lab, Frank is busy studying for her chemistry major and psychology minor. She said that she loves the combination of chemistry and psychology, but wouldn't major in neuroscience in order to avoid biology courses.
"My chemistry major is pretty rigorous, but it's pretty well-laid out," Frank said. "The chemistry department and faculty are incredibly brilliant but super down to earth, and they are passionate not just about what they do but are there for their students. Psychology is just an interest of mine, and I'd grown up with psychologists in the family, so when I started taking those intro psych classes to fill GERs I just really loved them."
Frank said that her academic experience shifted her interests from forensic science toward public health. Most importantly, she said that the analytical and problem-solving skills she has gained from a liberal arts education have been invaluable.
Her passion for public health has taken her across the world and into classrooms. During her freshman year, Frank decided that because she had done mental and sexual health advocacy work in high school, she wanted to pursue her involvement in public health work through H.O.P.E.
"I applied, probably stressed and pored over my application forever and got offered an interview," Frank said. "It's a really cool process. I took the class that's associated with it and was in the sexual health branch of H.O.P.E. at the time, and the people were so passionate and enthusiastic about all of our topics."
After her sophomore year, a summer abroad in South Africa helped Frank hone in on what she was passionate about.
"It was really unique in that it was one of the few programs that offered a service component," Frank said. "In addition to taking classes at the University of Capetown, we also went to one of the poorest and largest townships and we were able to teach students of the township math and English, but also sexual health and HIV prevention. Seeing their response to being taught about HIV prevention and sexual health content was really incredible, because they were so willing to learn and they understood that it was a problem."
After seeing the passion in her fellow H.O.P.E. members, Frank decided to run for an executive position. During her sophomore year, she was elected as treasurer. In the spring of her junior year, she was nominated and ran for president.
"I was so incredibly humbled to be elected," Frank said. "I was speechless at the time, and I'm still speechless now. Having such an incredible group of people vote and want me to be part of their organization — it was incredibly humbling. I felt inspired to do right by them. My involvement with H.O.P.E. has kept me on this track perpetually being passionate about public health. If I hadn't joined H.O.P.E. I probably wouldn't have had all my other opportunities, so it's been amazing and it's been a huge part of my time at William and Mary … Reflecting on the amazing people in our organization, it's why I joined in the first place and it's why I'm still involved."
Her passion for public health didn't stop with H.O.P.E. Frank became involved with Public Health Brigades through a friend. After getting involved, she went on a trip to Honduras to help build clean water storage, latrines, showers, burning stoves and flooring for the home of one family.
"We did a lot of education beforehand to learn about the culture, medical care system, water system and how to also perform service right and not be the 'voluntourism' sort of thing," Frank said. "The aspect of being one family and, one community over spring break was wonderful. It was amazing … seeing those bonds form between different people working towards a common goal."
When she graduates, Frank wants to work in the Peace Corps. She said that her experiences with H.O.P.E. and the Public Health Brigades have solidified her belief that volunteering is something she wants to do.
In her free time, Frank enjoys sitting out on the Sadler Terrace. She and her friends also have a trip to Cook Out scheduled for most Sunday nights — something she said has helped her connect with her friend group even when they're all busy.
"Before I graduate, I have one more leg of the triathlon left, so I got to finish that," Frank said. "I'm also looking forward to our senior game for our soccer team — it's sad but I'm looking forward to it. Soccer has been a huge part of my life for my whole life, so finishing it with my team that I care for will be amazing."
Frank said that she's looking forward to the "major inconsequential" things before graduation, although she's trying to avoid adulthood at all costs.
"I haven't been to a mug night yet since our [H.O.P.E.] meetings are on Wednesday nights," Frank said. "So maybe once I'm no longer president I can experience a mug night, the cliché senior things. There's a lot left to be done. I'm waiting to meet the new people who are going to be in H.O.P.E. and getting choked up about how I'm not going to see the new Integrated Wellness Center. There's a million things to look forward to and only 24 hours in a day. Having a growing sense of independence comes with being a senior, and I'll be the first one to say I'm terrified of adulthood and am avoiding it at all costs, but being able to finish my time here at William and Mary with some of the best people I've met is going to be wonderful."