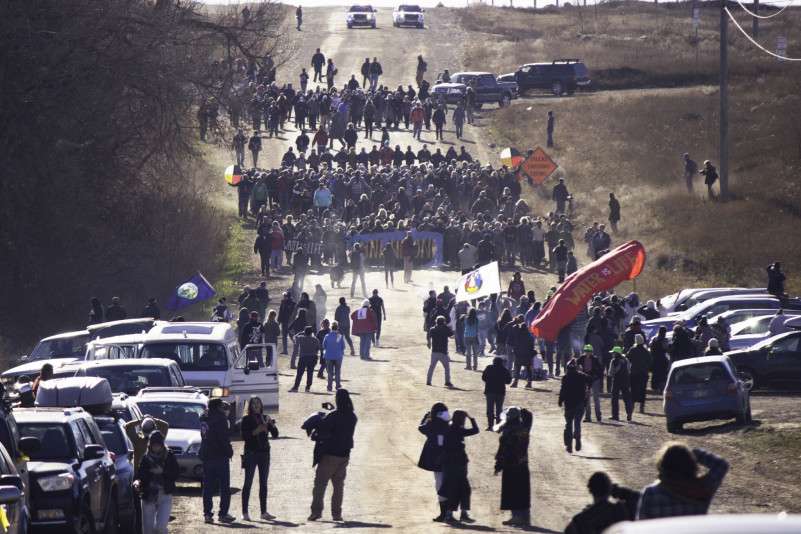 In recent months, thousands of protesters have made their way to North Dakota to protest the construction of the Dakota Access Pipeline. Colleen Truskey '17, an anthropology major and Flat Hat staff photographer, travelled there this weekend to work with Professor Kara Thompson. This is what she saw.
They are the "water protectors" — men and women from around the world who have converged near the Standing Rock Indian Reservation to fight the Dakota Access Pipeline, a 1,172 mile pipeline that, if completed, will carry 470,000 barrels of crude oil a day from North Dakota to Illinois.
Opponents of the project, often referred to as "DAPL," fear it will endanger water resources and destroy sites held sacred by the Standing Rock Sioux, whose treaty territory the pipeline crosses. The tribe contends they were not properly consulted, as required by U.S. law, before Energy Transfer Partners applied for the project's permits.
In response, three encampments — Sacred Stone, Red Warrior and Oceti Sakowin — have been established along the Missouri River, a stone's throw from the proposed pipeline crossing beneath that body of water. In early November, I travelled to the camps in the hopes of documenting this historic moment. Professor Kara Thompson, a professor at the College of William and Mary in both the English and American Studies departments, was also at the camps. We spent two and a half days in North Dakota, joining a stream of so-called "weekend warriors" who regularly arrive from places as far away as Oklahoma, California and North Carolina to support the camps' needs and participate in demonstrations, marches, and other direct actions.
Water protectors and allies are always reminded that the camps are first and foremost places of ceremony and prayer. They are spaces of tremendous significance — the site of the largest gathering in history of indigenous peoples from around the Western Hemisphere.
I spent most of my time volunteering at the Oceti Sakowin Camp, and was present for a direct action that occurred in Mandan, ND on November 12th. My words will never serve as an acceptable substitute for listening to the water protectors themselves, and the images you see here do not adequately portray what is happening in North Dakota. Nevertheless, I hope they inspire you to learn more.
The Missouri River near Bismarck, ND, as seen from the air. The Dakota Access Pipeline will cross beneath both the Missouri and the Mississippi Rivers, potentially putting the fourth largest watershed in the world — and a source of drinking water for 10 to 18 million people — at risk.
Police and security are constantly present around the camps, like this Bureau of Indian Affairs checkpoint set up near Cannon Ball, ND. The camps grew in population and organizing power in August of 2016, prompting the dispatch of state and county police, federal officers, and private security forces.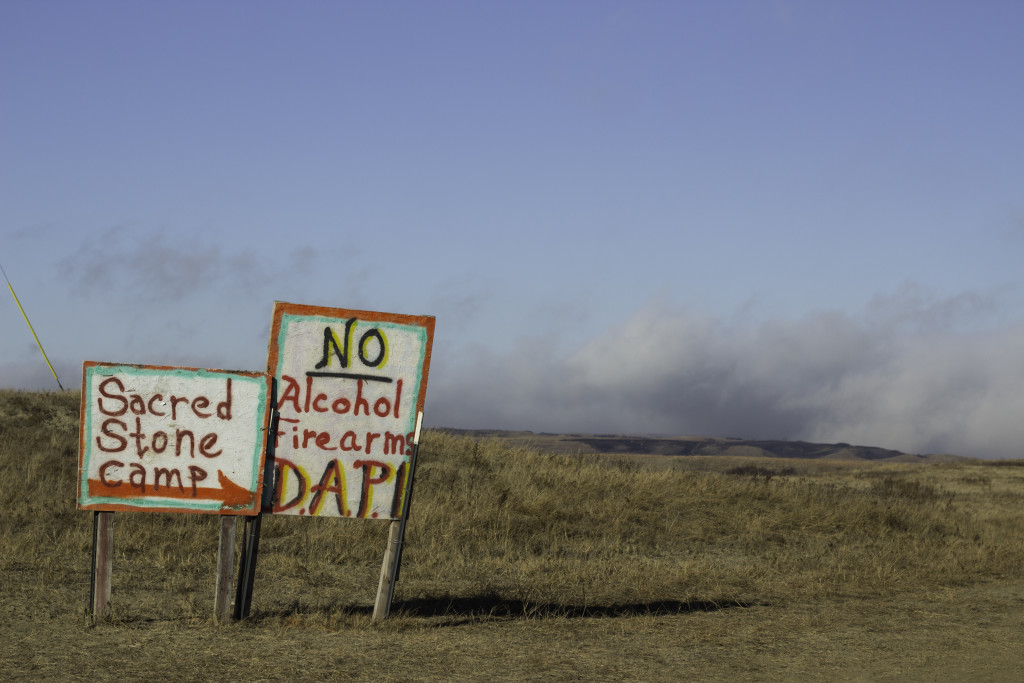 There are three major camps set up at the protest site — Sacred Stone, Red Warrior and Oceti Sakowin. At all camps, drugs, alcohol and weapons are forbidden and are grounds for immediate removal. Organizers make clear that the camps are strictly sites of prayer and ceremony.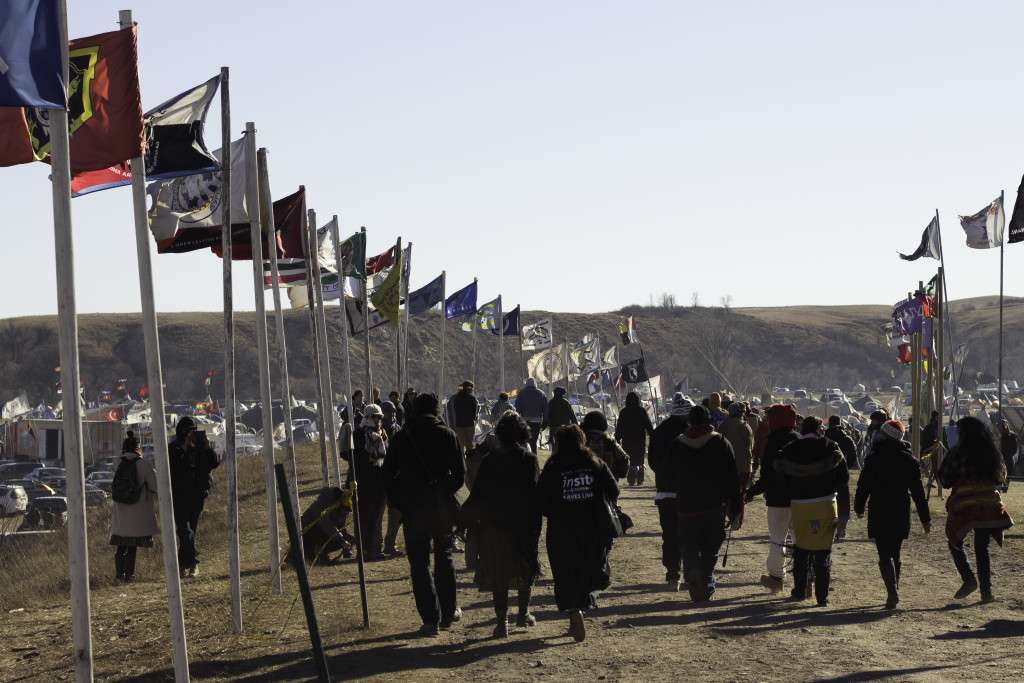 Water protectors, returning from a Veteran's Day procession to the barricade on Highway 1806 that separates the camps from the construction site, pass through "Flag Row" at Oceti Sakowin Camp. Supporters from numerous tribal nations have left the flags in a show of solidarity.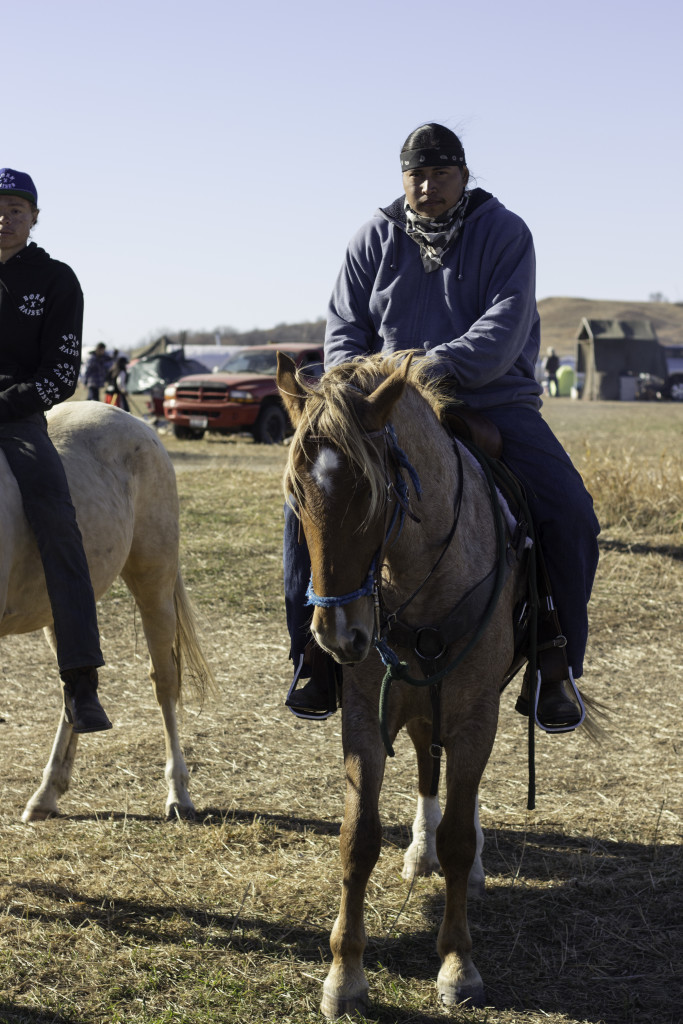 Sonny is a horse rider who has lived at Oceti Sakowin Camp for two months. When asked what he wanted people to know about the camps and the resistance at Standing Rock, he replied: "We're here."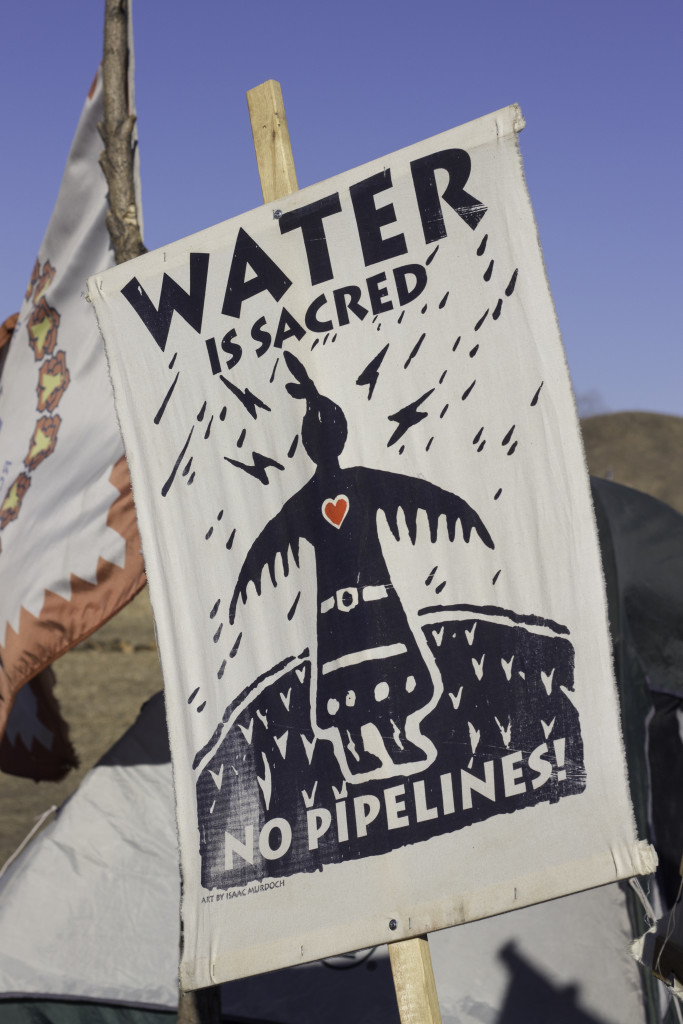 Martina One Star, an elder from New Mexico who has been at Oceti Sakowin Camp for two months, said that she was there to protect the water for her children, and as long as it needs to be protected, she'll stay at the camps. "They think we're thugs," she said of those who have accused water protectors of violence, "but we're not — if they came here to the camps, they would see." This sign is posted outside of her campsite.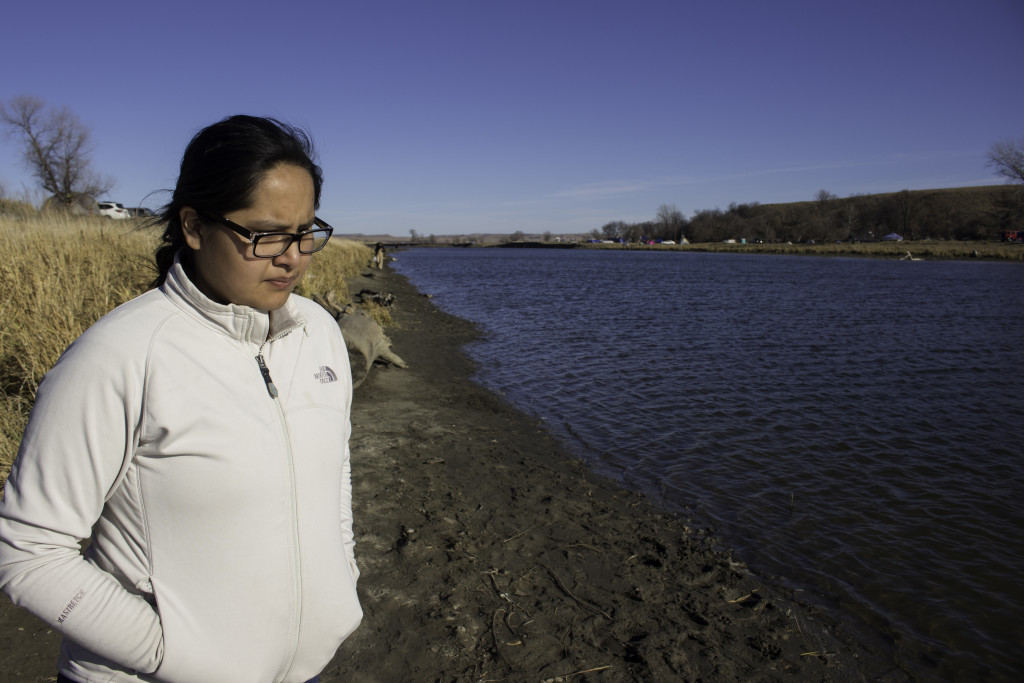 Alana, 15, from the Rosebud Sioux Reservation in South Dakota, stands near Cannonball River, a tributary of the Missouri River. She said she wants to be the first Native American president of the United States, and is disheartened by what she sees as the abuse of U.S. citizens by state and federal law enforcement.
A large donation of corn is tied in bundles and hung to dry at Oceti Sakowin Camp. Come winter, it will be reconstituted and used to feed water protectors who plan to brave the incredibly harsh weather conditions of North Dakota during that time.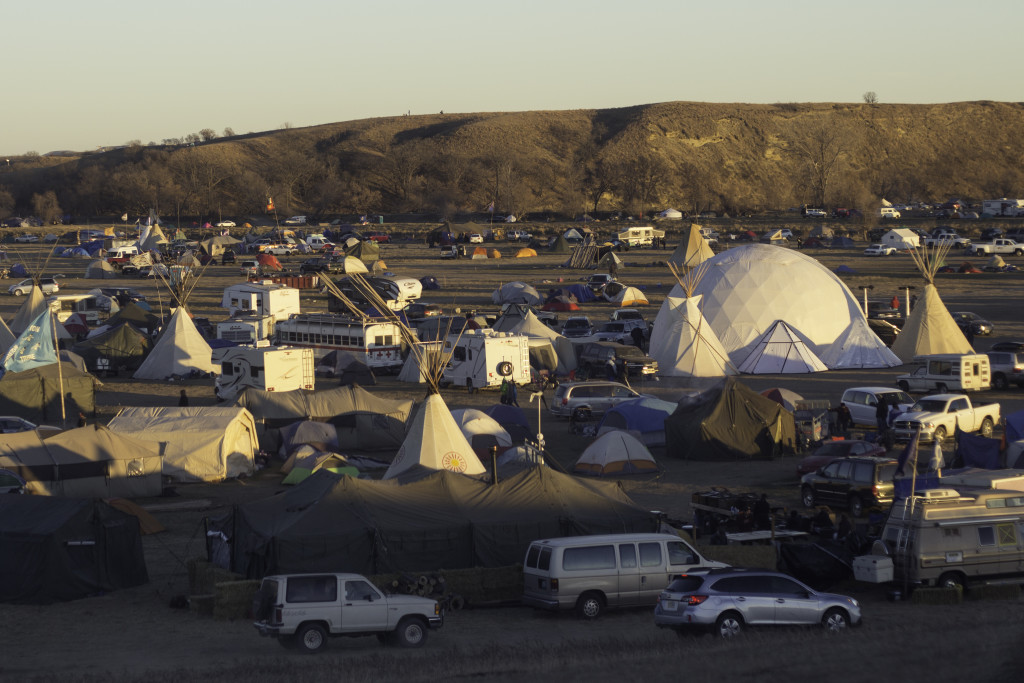 Part of Oceti Sakowin Camp as seen from atop "Media Hill." Infrastructure at the camp ranges from tents, campers and tipis to converted buses, yurts,and geodomes. Kitchens at the camps feed anywhere from several hundred to several thousand people a day.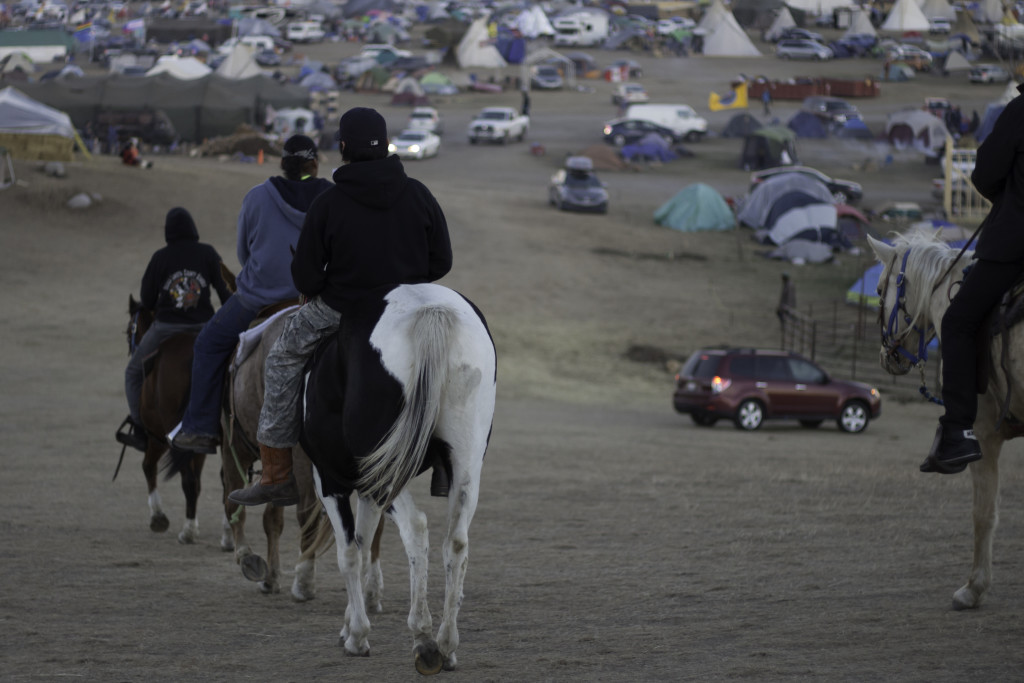 Horse riders ride through Oceti Sakowin Camp. Horse riders are often seen at the frontlines of demonstrations held nearby.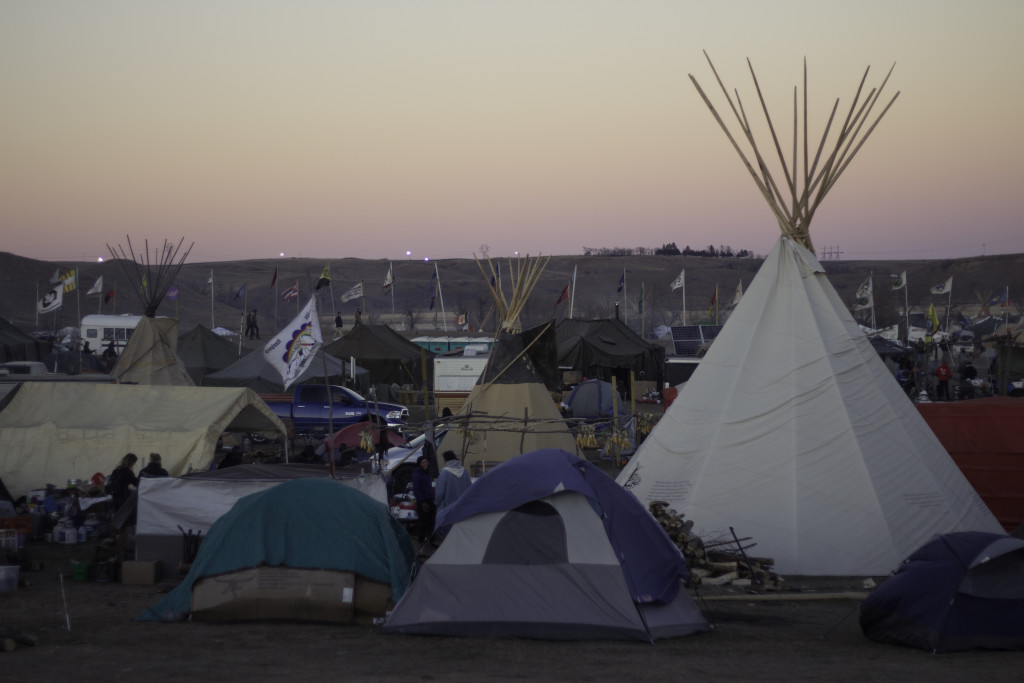 The Oceti Sakowin Camp at dusk. Within each camp are subcamps, often made up of people from the same tribal communities or with similar social backgrounds.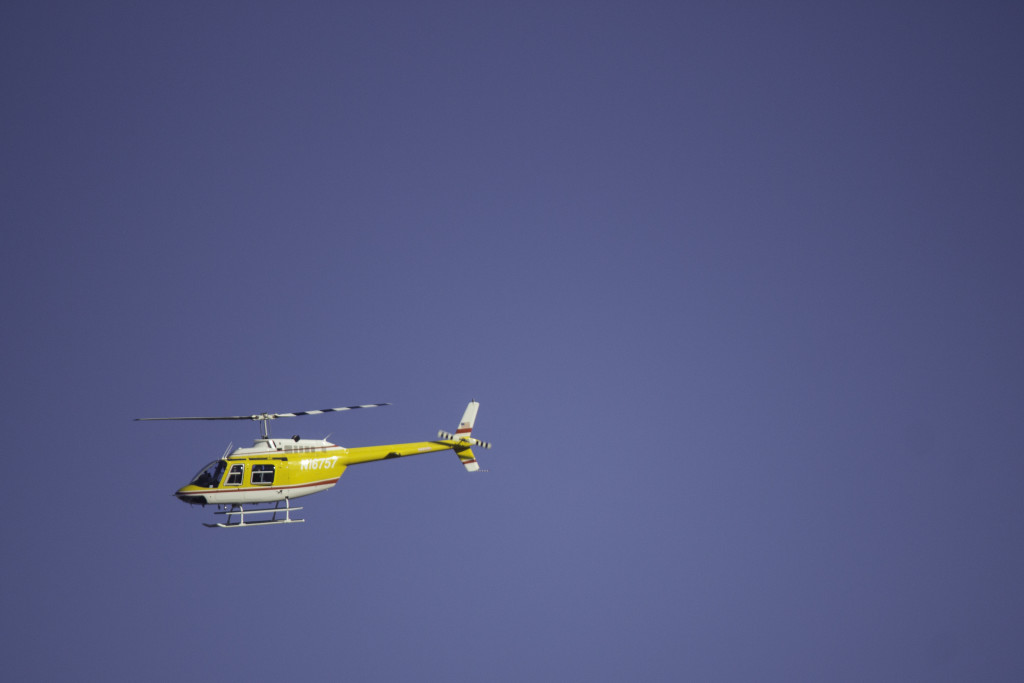 A surveillance helicopter monitors a demonstration that occurred at a pipeline work site near Mandan, ND on Saturday, November 12th. Police and security later showed up with school buses, prepared to make mass arrests, although none were made.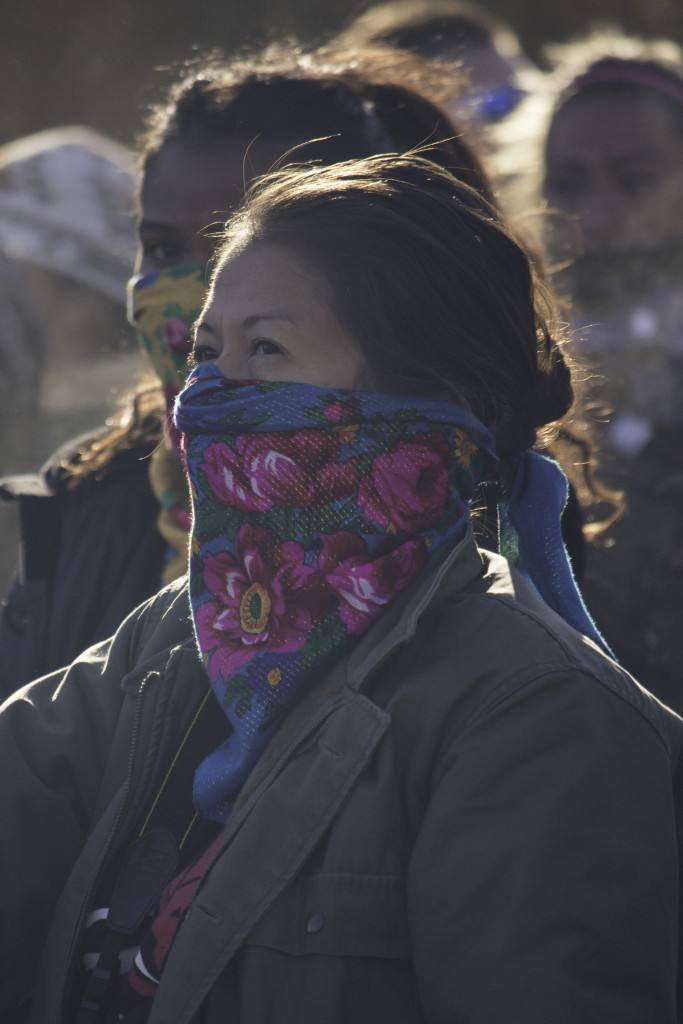 Water protectors at a demonstration that occurred at a pipeline work site near Mandan, ND on Saturday, November, 12th. Past demonstrations have seen the brutalization of water protectors by both police and private security forces. At the November 12th demonstration, an employee of DAPL pistol-whipped a woman and fired several shots into the air.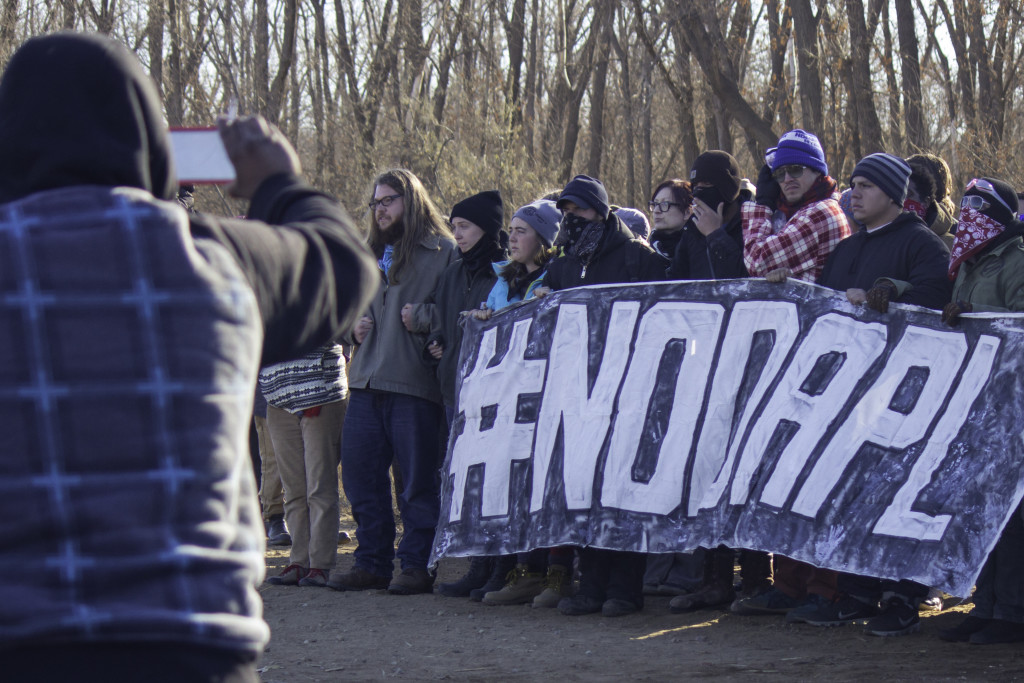 Non-Native allies create a barrier around Native water protectors at the beginning of November 12th's demonstrations at a pipeline work site near Mandan, ND. The camps encourage travel to the frontlines by all supporters and allies, so long as they are able and willing to work at the camps and join direct actions.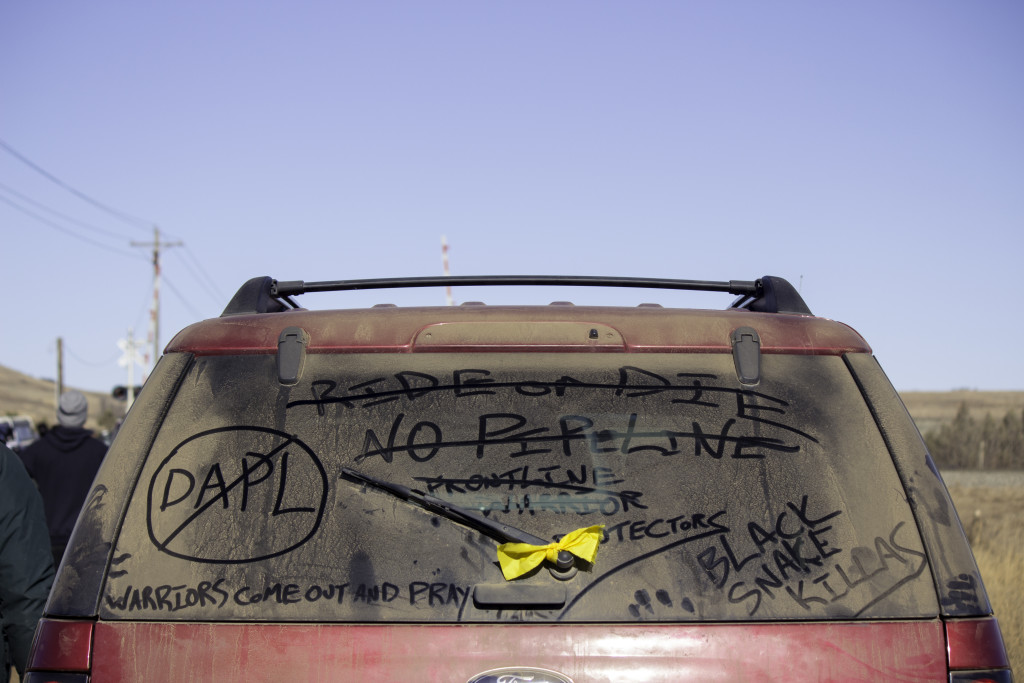 While water protectors were demonstrating at a pipeline work site near Mandan, ND on November 12th, an opponent to the demonstration crossed out anti-pipeline slogans on vehicles. The events at Standing Rock are the biggest news the area has seen for some time, and local opinion is mixed.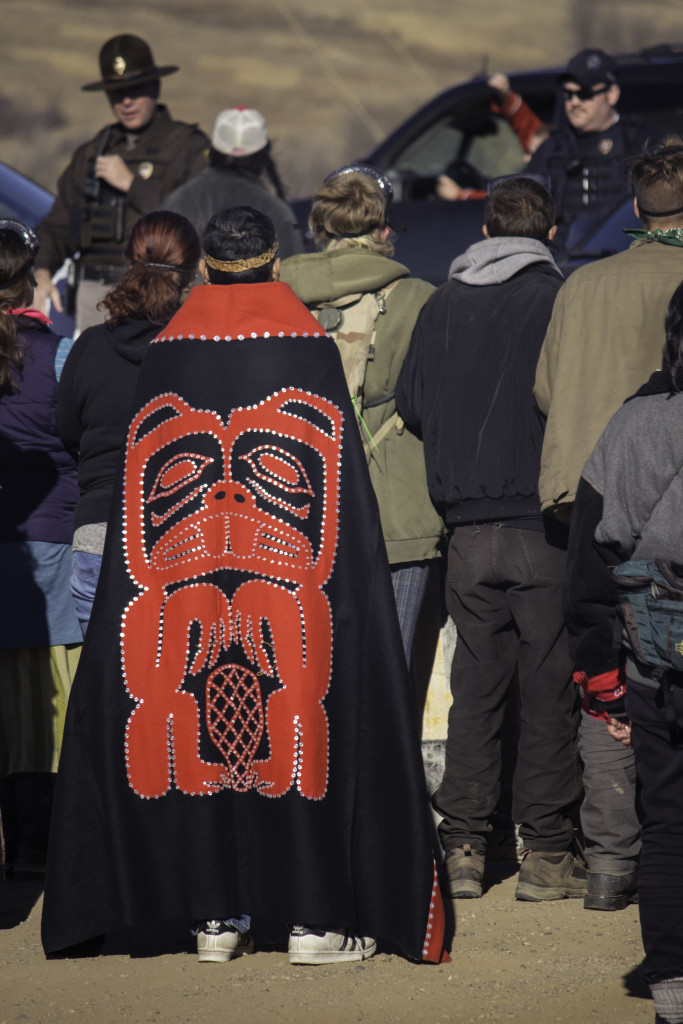 A water protector with a button blanket — ceremonial regalia worn by Native tribes along the Northwest Coast of the country — joins allies standing in front of several police officers at a demonstration near Mandan, ND on November 12th.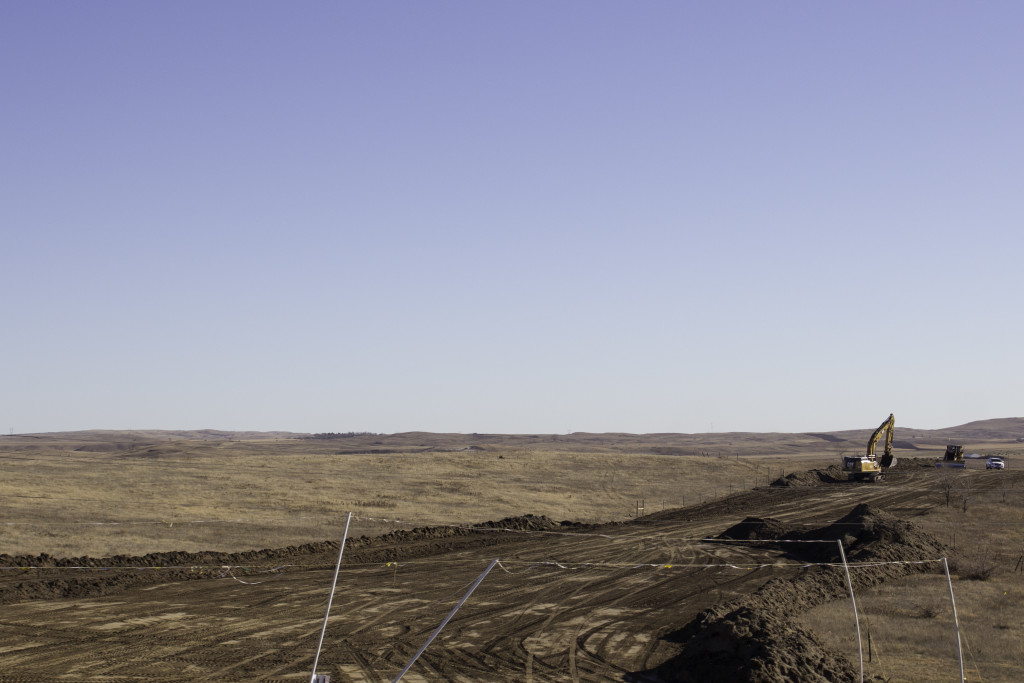 Direct action on the Dakota Access Pipeline occurred at this construction site along Highway 6 on November 11th. The construction site is located near the Standing Rock Reservation camp sites.