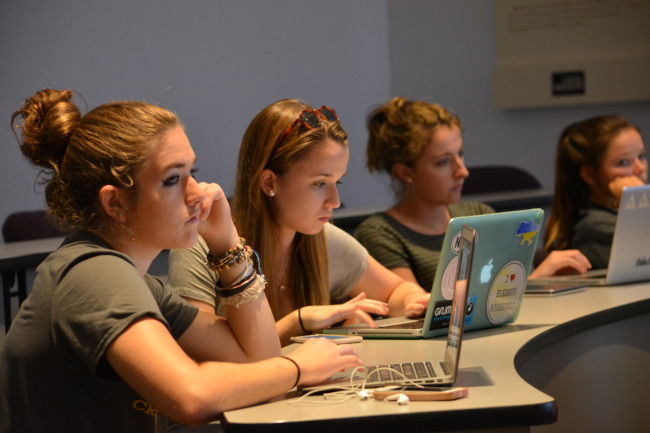 During Tuesday night's almost three-hour long Student Assembly Senate meeting, senators decided to indefinitely table the Spring Speaker Act.
This bill would bring former National Security Agency contractor Edward Snowden to the College of William and Mary through a video chat for a fee of $25,000. According to the bill, bringing Snowden to campus would shed light on the complicated relationship between the media, the government and average citizens.
This bill was sponsored by Class of 2019 President Jonah Yesowitz '19 and Chairman of the Senate Danny O'Dea '18. Additionally, it is supported by Media Council Chair Tucker Higgins '17, who presented and answered questions about the bill.
Higgins has been lobbying for the bill for the last several weeks and has asked for funding from groups such as Alma Mater Productions and the government department, who both denied the funding requests. So far, Higgins has received approximately $1,500 in pledged funding from academic departments.
Within the first few minutes of discussion, senators raised concerns about donors possibly withdrawing funding from the College, the fact that Snowden may not be a national security expert, moral issues related to having Snowden speak, paying his speaking fee with student money and the reality of his status as a wanted felon.
Part of this discussion also focused on Yesowitz's decision to delay voting on the bill until next Tuesday's senate meeting. After senators shared their concerns, some felt that they needed to vote on the bill that night. To do so, two-thirds of the senate needed to vote in favor of voting that night. During that vote, half voted in favor of delaying and half voted in favor of voting immediately, so Yesowitz's decision to delay the vote was honored.
However, on Feb. 9, Yesowitz announced that he had decided to delay voting on the bill indefinitely to allow for more time to work on logistics.
Class of 2020 President Kelsey Vita '20 said she was uneasy about bringing Snowden because the College's conservative donors could potentially pull their financial support.
"I don't know if this is worth risking their support because we have a lot of students that rely on those donations to go to school here," Vita said.
Vita also said she was beginning to question the value of the event because she believes that Snowden is not a national security expert. She instead proposed hiring experts to speak on the topic of how mass surveillance affects Americans.
"He's just a guy who leaked some documents, he didn't even read all the documents … I'm just not sure how productive this discussion is going to be if the goal is to learn about national security," Vita said.
Higgins said that he believed that now is the time for conversation about privacy, the government and how surveillance affects citizens. He said that especially because of U.S. President Donald Trump's administration, this is a necessary dialogue to have at the College.
"Honestly I think at this point there's never been a more important time to talk about mass surveillance or state power or the way that that can affect minority groups or people in general," Higgins said. "I think now it's going to be harder and harder to not have these conversations."
Sen. Olivia Camper '17 said she had moral issues with Snowden's actions. She said that she felt this bill is anti-American and supporting him would be morally wrong.
You have people risking their lives for something that he's just giving away," Camper said.
"You have people risking their lives for something that he's just giving away," Camper said.
Yesowitz said that passing this bill would not be an endorsement of Snowden. He said it would be an educational opportunity for students, not a promotion of the speaker.
"Us bringing him is not supporting him," Yesowitz said.
Some senators expressed interest in reaching out to military groups on campus to hear what their opinion about Snowden possibly coming to the College was. Meanwhile, other senators predicted what the military groups would think about the issue. Sen. Mitch Croom M.A. '17 dismissed the idea.
"If the military groups express anything like being okay with this, I don't own a hat but I'll buy one and eat it," Croom said.
Senators also discussed financial aspects of the event. Sen. Ellie Thomas '20 said she was concerned that $25,000 would be allocated for one video chat when other groups are often not given SA funding. She said she thought the money could be used in different, more effective ways.
"We've already denied a lot of funding for diversity groups, and spending $25,000 for a Skype call when we've already denied so much money, I think we could use it in a different way," Thomas said.
According to Higgins, while not all logistics for this event have been finalized, the video chat would happen over a Google Hangouts video call and could potentially be livestreamed through a private YouTube link.
Yesowitz said that he thought the opportunity to speak with a person like Snowden is "essentially invaluable" and said that SA has given more money to other speakers.
"Students are going to remember this, they're going to have the opportunity to ask someone who is probably the most controversial person in the world right now questions and get answers and I think that's truly an incredible opportunity, and for $25,000 I don't think that's overvalued," Yesowitz said.
O'Dea adjourned the meeting after delivering remarks about what the job of being on SA entails. He emphasized that being elected by their peers means that senators and class presidents should be voting in the best interest of the student body.
I propose we adjourn meeting, we talk in committee and then we vote like we're goddamn supposed to," O'Dea said.
"I propose we adjourn meeting, we talk in committee and then we vote like we're goddamn supposed to," O'Dea said.
Editor's Note: The Flat Hat would like to clarify that Tucker Higgins '17 is a former Editor-in-Chief of the paper. His involvement with the Spring Speaker Act is neither on behalf nor representative of the paper's interests.