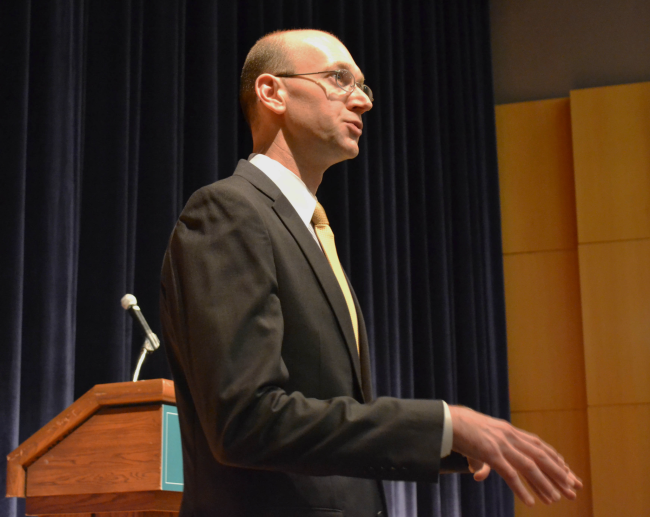 Jan. 26 Major Gregory Tomlin '01 returned to his alma mater to discuss his new book and what his military background and research have taught him about public diplomacy's contributions to foreign policy. This event was co-sponsored by the Institute for the Theory and Practice of International Relations and the international relations department.
"It's an absolute honor to be invited back here to William and Mary," Tomlin said. "Specifically to be invited back to this stage, I haven't stepped on this stage since 2001 when I became a lieutenant. When I chose to pursue an Army career, I thought that majoring in government and history would help me be a better officer. Before 9/11, if you wanted to deploy you went through the Balkans … for nine months my battalion served as peace-keepers in a municipality about the size of James City County. We deejayed Britney Spears and reminded students to be peaceful. I ended up in Iraq seven months later."
According to ITPIR Director and government professor Michael Tierney, it is important to bring speakers like Tomlin to campus because it gives students a chance to interact with professionals who are working in the field of international relations.
Having speakers like Major Tomlin visit us on campus has multiple benefits," Tierney said in a written statement.
"Having speakers like Major Tomlin visit us on campus has multiple benefits," Tierney said in a written statement. "First, while W&M is very good at supporting research and teaching on international relations, students love it when they can interact with actual practitioners of international relations — those who are actually making and implementing foreign policy. Second, visitors like Greg help students directly with research projects and by introducing them to folks in the 'real world' of international relations. Finally, folks like Tomlin have thought deeply about important issues that confront future military officers, civil servants and citizens in democratic polity."
Tomlin started the talk with a brief description of the life events that led him to the Commonwealth Auditorium stage. When he graduated from the College of William and Mary, he entered the United States Army and served in Germany, Korea, Kosovo, Iraq and in the White House. He now serves as the Chief of Targeting Doctrine and Policy, Directorate for Intelligence, for the Joint Chiefs of Staff.
In his spare time, Tomlin received his doctorate in history from George Washington University. He also served as a history professor at the U.S. Military Academy at West Point where he earned the department's top teaching award in 2013. Most recently, he wrote the book Murrow's Cold War: Public Diplomacy for the Kennedy Administration.
According to Tomlin, when journalist Edward Murrow left his career with CBS in 1961 to join former President John F. Kennedy's administration, he introduced concepts of public diplomacy.
Tomlin said that Murrow had a vision to engage a "global audience." He credits this vision with teaching students of public diplomacy to use social media, counter violent extremism and gain credibility in the wake of U.S. President Donald Trump's election.
Public diplomacy, as Tomlin defined it, is communication with and dissemination of propaganda to foreign publics to establish a dialogue for the purpose of influencing.
"Now public diplomacy experts are more concerned with social media," Tomlin said. "We've changed the way we engage with a global audience. Back in 2000 … we spoke about the importance of preserving a memory and preventing other genocides. We looked at horrific photos of Rwanda, in our student conversations we agreed that if photos had been released sooner perhaps an intervention would have taken place. The ubiquity of cell phones would certainly prevent another Rwanda, right? But there are more Twitter accounts and phones in Syria, but the world has been relatively unmoved. Historically, adapting to technological advancements is a challenge."
Before he led his talk, "Edward R. Murrow's Lasting Contributions to Public Diplomacy," Tomlin spoke in some international relations classes and sat in on the weekly Project on International Peace and Security meeting.
At the PIPS meeting, the seven research fellows presented their project pitches to him and then he gave them feedback on their pitches. One research fellow, Haley Larson '18, said that she thought his feedback was valuable.
Major Tomlin's military background and past research on diplomacy brings such a new perspective to our concept of international relations," Larson said.
"Major Tomlin's military background and past research on diplomacy brings such a new perspective to our concept of international relations," Larson said. "I appreciate how he emphasized a package of diplomacy, including humanitarian, economic and diplomatic aid — a timely reminder given recent events."