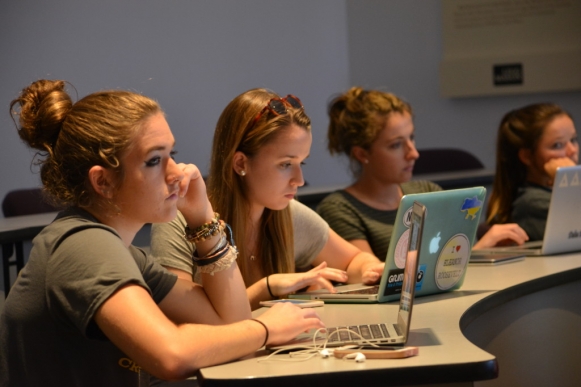 During Tuesday night's Student Assembly senate meeting, Class of 2020 President Kelsey Vita '20 introduced a bill that would codify SA support of the College of William and Mary becoming a member of the Institute for International Education and the Syria Consortium.
This follows SA's decision to pass the One Tribe Resolution, which was passed following United States President Donald Trump's executive order that established a 90-day ban for immigrants coming from Iraq, Syria, Sudan, Iran, Somalia, Libya and Yemen from entering the U.S. This resolution affirmed SA's commitment to students regardless of their national origin or religion, denounced efforts to scapegoat Muslims and directed SA to protect the College community from discrimination.
Now, if passed, the Books Not Bombs Resolution, would provide SA support for an initiative that calls institutes of higher education to "save seats" in undergraduate and graduate admissions for college-aged individuals displaced by conflict in Syria.
"This resolution would urge the College to join the Institute for International Education and the Syria Consortium," Vita said. "It is a great resolution, a great way to show solidarity."
Vita introduced Nairuti Shastry '17, a student who has been working to form a chapter of Books Not Bombs at the College. Shastry's presentation began with a story about Sinan Zeino, a student who stopped going to school in Syria after a school bus exploded in front of him while he was on his way to class. After arriving in the U.S., Zeino received a full scholarship from Salve Regina University, a member in the Institute for International
Education. Shastry said that if the College were to join this institute, it could help students who's access to education was lost because of conflict.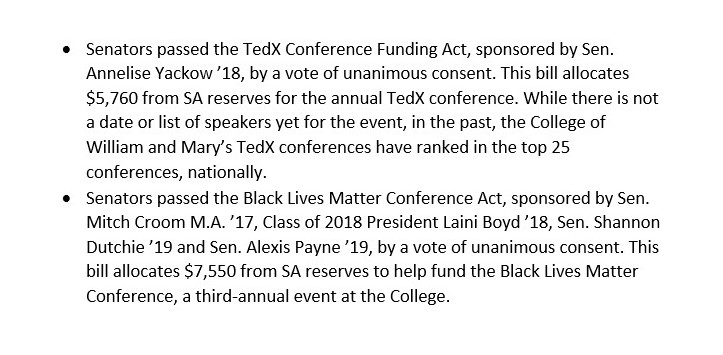 Shastry said that she considers the conflict in Syria to be one of the greatest humanitarian emergencies, with 11 million people displaced, 4.5 million of whom are considered to be refugees by the United Nations. According to Shastry, there are 12,000 college-aged Syrian refugees in the U.S. and 2,500 college-aged students unable to pursue higher education due to financial barriers.
"This conflict has created a 'lost generation'," Shastry said. "There are students without financial means or access to continue their education. Education has been targeted as an institution in Syria. As of November 2015, 3.3 million students could no longer go to school."
The Institute for International Education, founded in 2012, currently is made up of around 75 universities including Dartmouth and Columbia. Books Not Bombs is the student-led campaign that goes along with the Institute, and works to advocate for students seeking admission at colleges and universities.
"Books Not Bombs would fit in at William and Mary because it's a liberal arts institution with a focus on the international community," Shastry said. "William and Mary also prioritizes the concept of community, with its 'Tribe Pride' saying."
While it is not clear how the College would actually save seats for Syrian refugees, other schools have used private scholarships to help cover the cost of tuition, while student groups have fundraised for airfare, legal fees, house, transportation, meal plans and books for students. Shastry said that the Middle Eastern Student Association, Amnesty International, No Lost Generation, Asian American Student Initiative, International Relations Club, Filipino American Student Association, the College's chapter of the NAACP, the Office of Community Engagement and the Center for Student Diversity have all agreed to partner with Books Not Bombs to help with Shastry's campaign.
Chairman of the Senate Danny O'Dea assigned this resolution to all standing senate committees for review, following SA code. Senators will vote on this bill at their next meeting, March 21.