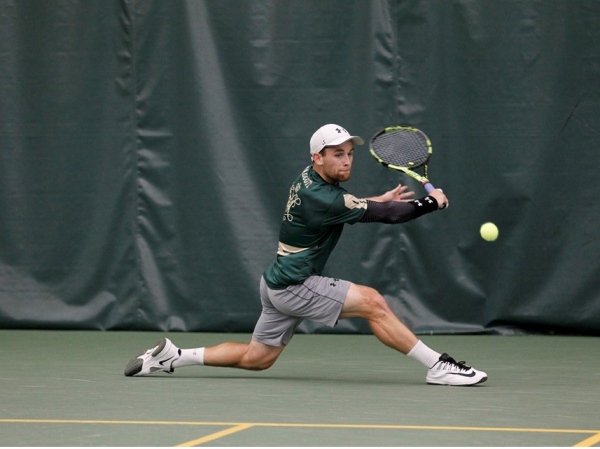 The William and Mary women's tennis team traveled north to take on two Ivy League teams, Brown and Harvard, while the men faced off against Howard at home at the Millie West Tennis Center. The women split their two matches, bouncing back from a loss at Brown with a narrow victory over Harvard. The men dominated their only match, shutting out Howard.
March 25, the Tribe women (7-9) came up short against Brown (8-4), suffering a 4-3 defeat. The College claimed an early lead by winning the doubles point. At the No. 1, sophomore Lauren Goodman and senior Marie Faure were victorious over junior Alyza Benotto and senior Dayna Lord of the Bears by a score of 6-3. Juniors Ekaterina Stepanova and Olivia Thaler closed out their doubles match over Brown senior Mariska Chamdani and sophomore Taylor Cosme to claim the win at the No. 2 spot.
In singles, the College took victories at the No. 3 and No. 5 spots. Freshman Natalia Perry came from behind for a 3-6, 6-4, 6-3 victory over Bears junior Maddie Stearns, while freshman Rosie Cheng picked up a 6-4, 6-1 win over freshman Juliana Simon. Despite these two wins, the Tribe fell short in the final four singles matches. Stepanova and Goodman each lost in three sets to Lord and Cosme, respectively. Faure and junior Maria Groener both suffered losses in straight sets.
March 26, the Tribe women (8-9) returned to the court and recovered from the previous day's loss with a 4-3 triumph over Harvard (12-6). Once again, the College snagged the doubles point. At the No. 1 spot, Faure and Goodman lost 6-4 to senior June Lee and sophomore Erica Oosterhout; however, the College was able to secure wins at the No. 2 and No. 3 spots. Stepanova and Thaler teamed up for a 7-6 (8) triumph over Harvard freshmen Natasha Gonzalez and Irene Lu at the No. 2. Perry and junior Cecily Wuenscher won their match at the No. 3 spot against junior Annika Ringblom and sophomore Sabrina Xiong.
In singles, three Tribe players notched wins to clinch the victory. At the No. 1, Stepanova outlasted Oosterhout 6-3, 5-7, 6-4. At the No. 3 and No. 4 spots, Perry and Cheng triumphed with Perry taking both sets 6-4 over Ringblom and Cheng taking both sets 6-3 over Lu. The College suffered straight set losses at No. 2, 5 and 6 with Faure, Goodman and Groener each coming up just short of wins.
The Tribe men (8-8) took on Howard (0-10) March 26 and came away with a 7-0 win. The College easily took the doubles point with three straight victories. At the No. 1, senior Addison Appleby and sophomore Tristan Bautil claimed a 6-2 win over Bison seniors Ismael Kaouache and William Jones III. At the No. 2 and No. 3 spots, respectively, senior Aidan Talcott and junior Christian Cargill defeated sophomore Spencer Kelly and freshman Cole Gittens 6-2. Juniors Lars de Boer and Ryan Newman captured a 6-4 win over Howard sophomore Karim Shokeir and freshman Sagar Raju.
"We tried to stay focused all the way through the match and we came out on top," Cargill said.
In singles, the College won all six matches. All matches were straight set victories except for Newman's victory over Gittens at the No. 5 spot, which Newman came back to win 2-6, 6-2, 10-4. Talcott, Cargill and senior Damon Niquet grabbed easy victories at the No. 1, 2 and 3 spots, respectively, by defeating Kaouache, Jones and Shokeir. At the No. 4 and 6, Bautil won a close first set, before finishing the match strong for a 7-6 (1), 6-2 victory, while sophomore Michael Ruamthong eased his way to 6-2, 6-0 victory for the Tribe.
"I was trying to limit my errors and play high-percentage all around," Niquet said.
Up next, the Tribe women will return home to take on Delaware March 30. The men have a two-week break before they welcome East Carolina to the Millie West Tennis Center April 7.
"The doubles point is going to be huge and in singles [we need] to get off to good starts," head coach Jeff Kader said.