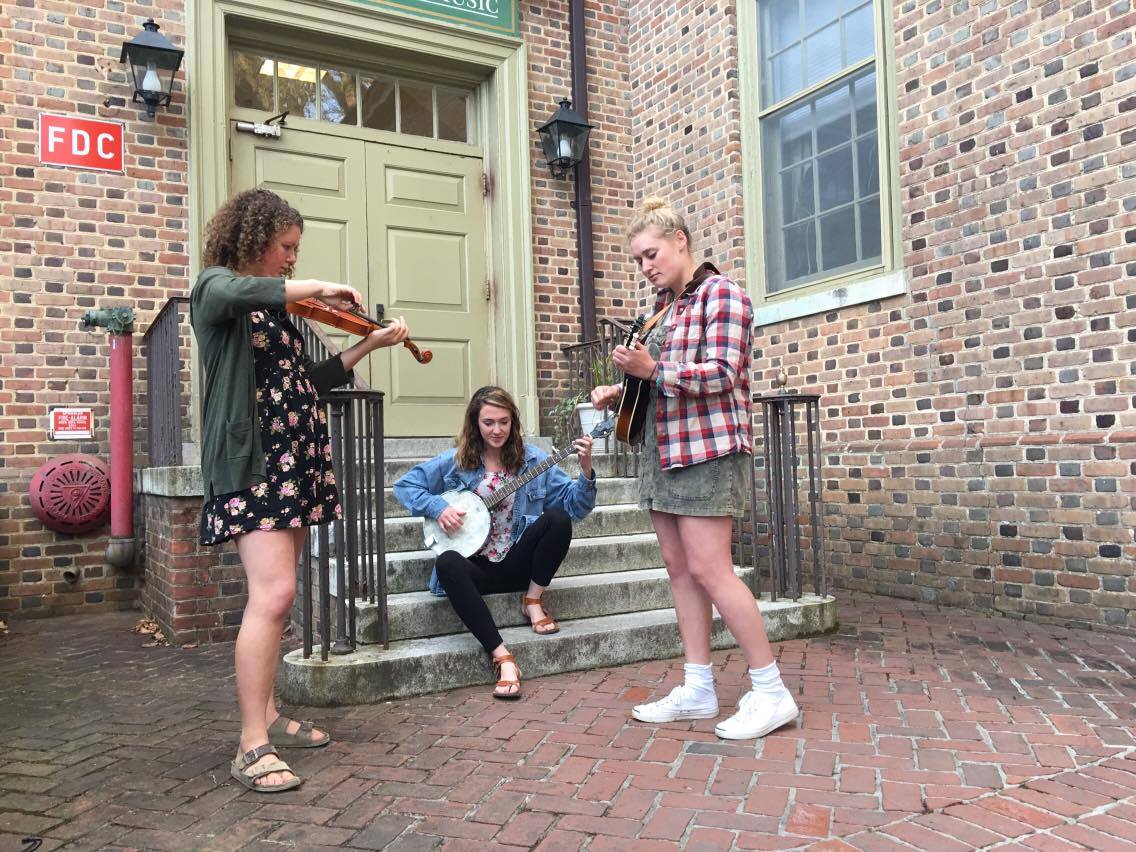 Anyone passing through Ewell Hall Saturday, April 15, would have been treated to a free serenade from the William and Mary Appalachian Music Ensemble, which was holding a concert in the recital hall. The concert opened with a rendition of the traditional American folk song "O Shenandoah," played by one of the ensemble's small groups. Throughout the night, groups within the ensemble played a variety of songs for the audience.
The ensemble, which practices every Monday night, plays Appalachian tunes and songs. The current director, Tripp Johnson, described Appalachian music as southern string band music. The ensemble explores a broad range of Appalachian music, including genres like bluegrass, Irish music and old-time music.
According to Johnson, most people think about bluegrass when they see banjos and fiddles. However, Johnson labeled the term bluegrass as a generic word used by many people who are unfamiliar with different types of Appalachian music. He explained that bluegrass is actually rooted in a much older genre called old-time music.
"Old-time music is essentially Scotch-Irish melodies that came over here hundreds of years ago and when those melodies met up with the banjo you get the birth of old-time music which eventually gave way to early country, bluegrass, etc.," Johnson said.
Johnson also added that old-time music was more about providing a service.
"Old-time music was never about performing," Johnson said. "It was more providing a service. It would be musicians getting together to play for their own entertainment, their own amusement … If you played music in public, it would have been, again, providing a service. You would have been playing for a wedding, a funeral or a dance. It wouldn't have been about the musicians. They would have just been doing a job."
This aspect of old-time music was later changed by Bill Monroe in the early '40s. Monroe combined the style with other music he had been listening to in his community, like jazz, blues and gospel music. He created a more performance-driven style of music that is known today as bluegrass.
"There's a saying that kind of wraps it up," Johnson said. "It's a cliche, but there's some truth to it. Old-time musicians use their skill to show off the tune. Bluegrass musicians use the tune to show off their skill."
Like many other music genres, there is an element of improvisation to Appalachian music.
"It's very simple music," said Sarah Grady '17, who joined the ensemble her sophomore year. "What makes it cool and fun is that people embellish it in their own way. They kind of add their own flavors to it."
Appalachian music incorporates a variety of instruments, such as the fiddle, banjo, guitar, mandolin, autoharp and dulcimer. Johnson said that it is not uncommon to hear a cello as well. There was even a cello at the ensemble's most recent concert.
"I love playing music that comes from my home," Mariah Vaughn '19 said.
Appalachian music in many ways is also an oral tradition. Music has been passed down from person to person, sometimes without being written down. Johnson said that one of the challenges he faces is teaching students how to step away from sheet music.
"Getting away from the paper is really scary," Johnson said. "Part of it is teaching them how to learn a tune by ear."
While it is unclear what year the Appalachian Music Ensemble was founded, Johnson believes the ensemble has been around for at least 15 years. When Johnson took the job as director in 2009, the ensemble had 11 members. Now it has around 45-50 members. Johnson said that membership has increased throughout the years largely through word of mouth.
"I'm really big on word of mouth, making sure that everybody's having fun and that they're excited about it," Johnson said. "That goes much further than any kind of advertising or anything like that, that we could do."
Students have joined the ensemble for different reasons. Many were taking lessons with Johnson, who encouraged them to consider playing for the ensemble.
"I was taking lessons with [Johnson] and he said, 'Hey, if you want to get better at this music you should take the class because it's not meant to be played by yourself,'" Sarah Grady '17 said.
For some students, playing in the ensemble gives them an opportunity to stay connected to their homes.
"I love playing music that comes from my home," Mariah Vaughn '19 said. "I'm from the mountains of Virginia and I want to stay connected to that in an artistic way. The tradition of old-time is so rich and meaningful to me and I love it."
The ensemble performs a few dances and concerts each year. Student groups often ask them to play at different campus functions. The ensemble's final concert this year will be April 28.