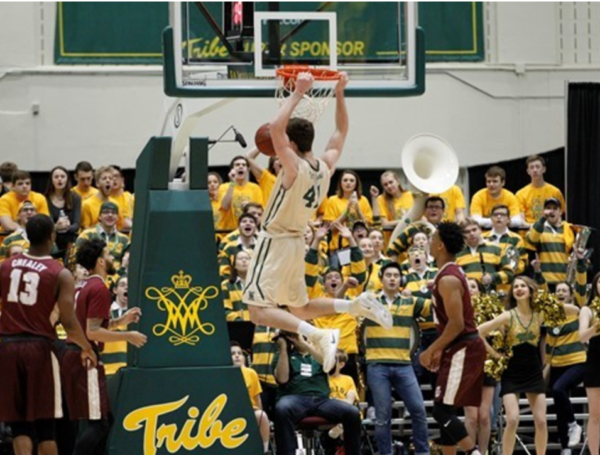 Going into the offseason, William and Mary fans knew the team would be losing a couple familiar faces. Daniel Dixon '17 and Omar Prewitt '17 finished their illustrious Tribe careers after four years each in Williamsburg, helping bring Tribe basketball back to relevance, even as the coveted NCAA tournament appearance remained just out of reach. However, the College faithful did not expect to lose two other starters.
Forward Jack Whitman '17 and guard Greg Malinowski announced their intention to leave the Tribe during the offseason. Both decisions were unexpected to many who closely follow the College, as both players were projected to be key contributors this season.
Of the two transfers, Whitman's departure is easier to rationalize from the outside.
The 6-foot-9 forward put up 10.1 points and 5.4 boards in just over 22 minutes a game in his redshirt junior year, which would end up being his last season in green and gold. However, the emergence of then-freshman forward Nathan Knight meant that Whitman's role began to shrink over last season, a trend that would certainly have continued through this year if Whitman had not decided to clear the way for the CAA All-Rookie Team performer. Desiring more playing time, or maybe just a chance at a national championship, Whitman chose to go to the blue-blood program at Kansas, a move that became more puzzling when it was reported that Whitman had left the Jayhawks basketball team in July.
Malinowski's choice, on the other hand, is the more surprising of the two. In a mid-June announcement that blindsided many, the guard, who had just finished his junior year at the College, made public that he would transfer and finish his college career at Georgetown. While Whitman's decision could be easily traced back to Knight's breakout year, Malinowski's lacked a clearly visible reason. Malinowski was slated to be one of the Tribe's leading offensive contributors this upcoming season, as he finished second to Dixon in made threes for the College.
The success of the Tribe in the upcoming season depends in large part on the team's ability to fill the holes left by the two. The College will attempt to satisfy one of the spots in house, but it was able to find outside help for the other.
The loss of Whitman meant that the Tribe desperately needed to find a big man to back up Knight. Otherwise, he would either be stuck playing all 40 minutes every game or junior forward Paul Rowley would need to put on some considerable weight to become a viable big man. Luckily for both Knight and Rowley, the Tribe snagged a graduate transfer from Dartmouth in 6-foot-11 Cole Harrison. As a redshirt senior eligible for action this year, Harrison will be able to fill the void on the front lines for the Tribe. Harrison will be expected to play 10 to 15 minutes per game to give Knight a little bit of rest.
More interesting to watch as the season gets closer will be how the Tribe makes up for the absence of one of the primary scorers on the team in Malinowski. Redshirt sophomore guard Matt Milon, who transferred from Boston College, will be eligible this season after his mandated redshirt last year. He figures to have a big impact; Milon was fifth in the country among freshmen and led ACC freshmen in three-point percentage in 2015-16 at a .494 clip.
Another player who could take a big step forward for the Tribe to become a scorer is sophomore forward Justin Pierce. Pierce was stuck behind Prewitt last season but showed flashes of what he can bring to the table. Unlike many of the College's recent stars, Pierce is not an exceptionally good spot-up shooter. However, he is athletic, can get to the rim and has a solid mid-range game that, if he can become consistently good from three, can carry him to a high level.
Senior David Cohn will have to up his output from his point guard position, and Knight has to continue his development offensively, but one more name to watch on the scoring side of things is freshman guard Jihar Williams. The 6-foot-5 freshman can shoot the ball from anywhere on the floor. Although he has to become a more rounded player, I wouldn't be surprised to see him on the floor in January or February when the Tribe needs a spark.
Overall, while the addition of Harrison will patch things up in the Tribe's frontcourt, the College will have to piece together points from many different players to compensate for Malinowski's departure. If Harrison is solid in relief of Knight and the Tribe can find plentiful sources of scoring, the College might find themselves entering March next year in good position to fight for the seemingly unattainable goal: an NCAA tournament bid.