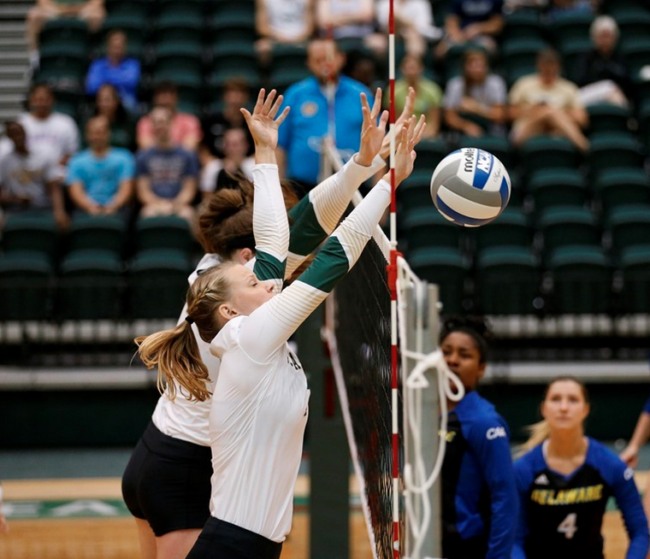 Thursday, William and Mary traveled to Elon, North Carolina to take on Colonial Athletic Association opponent Elon. The Tribe (2-15, 0-4 CAA) suffered another conference loss to the Phoenix (12-6, 2-2 CAA).
In the first set, the two teams tied the score up back and forth until Elon went on a five-point run late in the set, broken by freshman middle hitter Julia Brown off an assist from sophomore setter Autumn Brenner. The run left the Phoenix a single point away from victory. A kill by Elon's outside hitter Kam Terry secured a 25-18 loss for the Tribe.
Despite an early 3-1 lead by the Phoenix, the College was able to come back and stay in the game. Two consecutive kills by freshman hitter Kate Dedrick tied the set up at 13. Strong offensive plays by senior hitter Sydney Biniak and junior hitter Heather Pippus were not enough to keep the Tribe ahead. A kill by Phoenix middle blocker Courtney Carpenter ended the second set 25-22 in favor of Elon.
The third set did not look promising for the Tribe. Elon kept a solid lead until the College went on a five-point run to finally take the lead 17-16. The run ignited after a kill by junior setter Katie Kemp. A kill by Brown followed by two from Pippus secured the Tribe's 25-23 victory.
The College kept its momentum going into the fourth set. The Tribe was able to tie the score up on five occasions during the set, but was unable to finish strong. Elon stole the fourth and final set 25-20, thanks to a kill by outside hitter Sydney Busa, winning the game 3-1.
Biniak led the Tribe offense with 15 kills, closely followed by Pippus with 13 and Dedrick with 12. Elon's Busa and Terry outscored the top Tribe hitters with 22 and 19 kills, respectively.
Brown contributed half of the College's aces, the other two coming from Brenner and Pippus. Kemp managed 34 assists, followed by Brenner with 10. Kemp also led the Tribe in digs with 13, followed by senior defender Sara Zumbach with eight and freshman hitter Lauren Moussaid with seven. This marked Zumbach's first appearance of the season.
The Tribe will continue its CAA road trip to face off against Northeastern Thursday and Hofstra Saturday, hoping to come home with its first conference victory.