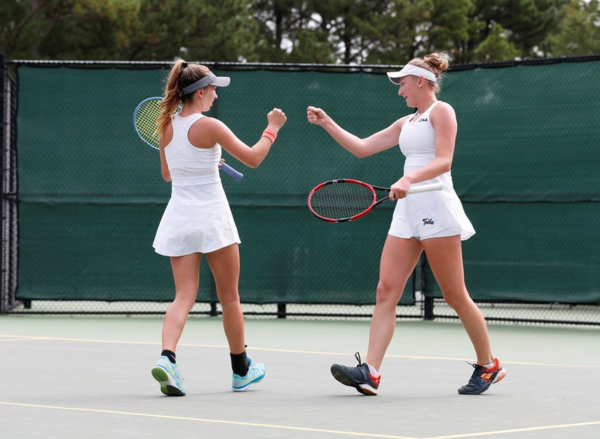 William and Mary attended the Wake Forest Invitational tournament Oct. 6-8 at the Wake Forest tennis complex in Winston Salem, North Carolina. In this tournament, the Tribe tried to continue its success from the College's own 25th Annual Tribe Invitational held in mid September.
In the doubles competition, sophomore Natalia Perry and freshman Victoria Okuyama seemed primed for success after handily defeating James Madison's Abby Amos and Liz Norman in the final 16, 8-7 (9-7), but were beaten in the quarter finals by Louisville's power team of Mariana Humberg and Abbie Pahz. In the B bracket of competition, junior Deepa Dhore and sophomore Charlotte Madson were quickly defeated by Davidson's team 8-3 in the final 16.
In singles competition, Dhore and Perry sparked the Tribe all weekend. Dhore was able to start off hot in game one of the E1 bracket and carry that momentum all weekend. Friday, she was able to post a straight-sets win to advance to the semifinals. She defeated Amos, 7-6 (5), 6-4, to get on track. Saturday, Dhore was able to narrowly defeat Winthrop's Ellie Burns, 6-5, in the opening set until the player retired. However, Sunday, she was not able to beat East Carolina's Alisa Diercksen in the finals. Dhore won her first set 6-2 but lost the next two sets 6-1 and 10-2. Dhore already has three singles wins on the season.
Perry was able to grab a B1 Singles Flight victory against Wright State's Karoline Haller by dominating in nine straight sets before Haller retired 6-0, 3-0. However, she was easily defeated by Elon's Suzanne Eloni in two sets, 6-1, 6-2. Perry has now collected two victories this season. After having a phenomenal freshman year, where she was able to collect 20 singles wins and was named Second Team VaSID All-State, Perry is ready to build on her already impressive collegiate career.
This weekend, the Tribe will continue their season in Blacksburg, Virginia at the ITA Atlantic Region Championships, hosted by Virginia Tech at the Burrows-Burleson Tennis Center.