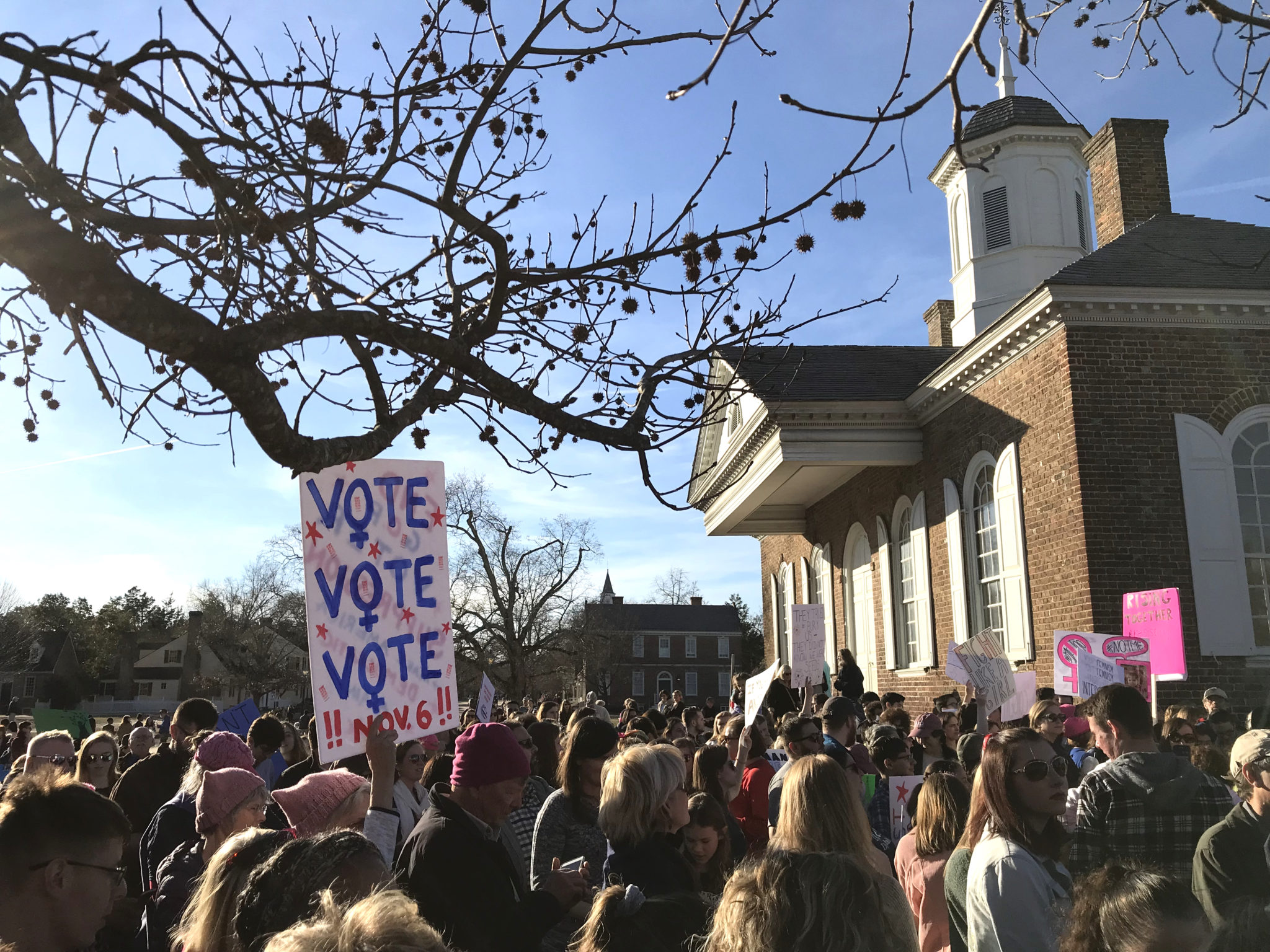 When I got on a bus headed to Washington, D.C. at four in the morning Jan. 20, 2017, I wasn't quite sure why I was marching. I knew I was angry. I'd stayed up late the night before with my mom, venting our frustrations while we made signs for the next day.
Yet in all the preparations I'd made to march on Washington, I hadn't yet articulated what exactly was driving me to do so.
Once I arrived in the city, it didn't matter. Spread across the National Mall was a sea of pink: hundreds of thousands of people, representing their individual causes. From the top of a sign post where I'd climbed to take pictures, I saw the diversity of the protestors. To my left, a group of college students stood on a truck and led impassioned chants. To my right, a woman conducted a group of singers while burning sage.It was clear from my vantage point that, while a desire for change unified the movement, we hadn't yet chosen a direction.
A year later, I found myself marching again. This time, however, I found unity in the crowd. Standing near the courthouse in Colonial Williamsburg Jan. 20, 2018, I listened to local leaders deliver a clear message: vote.
The speakers weren't the only ones pushing civic participation. Among the items marchers carried — including a bobblehead effigy of Donald Trump that ended up in the stocks — were dozens of signs alluding to the coming "blue wave." One poster in front of me simply read, "VOTE, VOTE, VOTE."
Last year's Women's Marches felt like a central movement in D.C., with auxiliary protests elsewhere. This year's felt like true solidarity.
It was like September on the Terrace, being asked, "Are you registered to vote in Williamsburg?" times a thousand.
In contrast to the massive Women's March on Washington last year, the Women's March on Williamsburg was smaller but more cohesive. The broad message of progressivism that drew us to the capital in 2017 had distilled into a focused movement for change on the local level.
While the speakers in Williamsburg weren't national celebrities, they were community leaders familiar to their audience. Shelly Simons, the 2017 Democratic House of Delegates candidate who lost to her Republican opponent in a random draw, connected with the crowd immediately. When she concluded her speech by referencing the bowl from which her loss was drawn and vowed to "go out and break some bowls," it felt less like we were marching on Duke of Gloucester Street and more like we were marching to the polls.
Last year's Women's Marches felt like a central movement in D.C., with auxiliary protests elsewhere. This year's felt like true solidarity. As I marched on the heart of colonial America, I knew that across the country in cities and towns, millions were marching for the same reason.
Though I'm hesitant to believe special elections and protests prophesy lasting change, Saturday, I felt the momentum of the blue wave. Now more than I ever I see a clear path forward: making our voices heard, starting with the ballot.
Email Hannah Lowe at hmlowe@email.wm.edu.