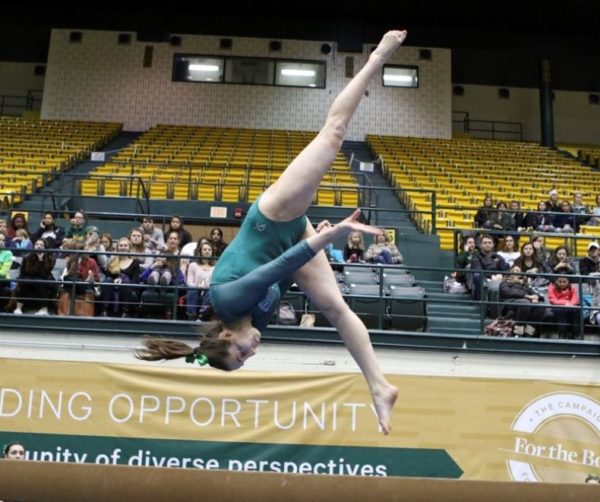 The William and Mary men and women both faced tough competition Feb. 4 in their respective meets. The men came out on top, besting Springfield and posting a season-high score. The women fought hard for a third-place finish in their quad-meet.
The men posted their best score of the season Sunday, taking first with 398.2 points, and beating Springfield (391.05). The Tribe took first on five of the six events, with individual titles on four.
Senior Jeremiah McReynolds posted a 14.2 on rings, tying for the fourth best score in school history. Junior David Watkins took second on that event with 14.0 points, adding to the Tribe's winning team score of 67.9. McReynolds also made the podium on high bar and parallel bars. He took third on high bar, the only event the College didn't win, scoring 13.2 points. Junior David Allen placed first on that event with 13.6 points. McReynolds tied for third on parallel bars with fellow senior Griffin Antle, posting matching scores of 13.5. Fellow senior Mitchell Campbell led the way for the Tribe on that event, placing second with 13.7 points.
The College had a strong showing on pommel horse, taking first with a team score of 66.25, with individual team members filling up the first four slots. Antle took first (13.8), followed by junior Jacopo Gliozzi (13.5). Freshman Spencer Schrandt (13.3) and sophomore Nate Winneg (13.15) both achieved career bests, placing third and fourth, respectively.
The Tribe also took first on floor, posting a team score of 66.25. Sophomore Tomas Palma placed first individually with 14.15 points, and sophomore Tim O'Neill scored 13.9 points for second place. Although no members of the Tribe won the individual vault title, the College posted the top team score with 67.8 points. Junior Jack Hasenkopf (13.8) took second place and O'Neill (13.75) took third. Hasenkopf was the Tribe's only all-around competitor and took first with a score of 76.35.
The men will be back in action Feb. 24, when they will face Springfield once again in a tri-meet hosted by Army.
The Tribe women took third in their quad-meet Sunday with a score of 193.225. They trailed the host George Washington (195.325) and Kent State (195.325), but bested UW-Oshkosh (190.975).
Sunday, the underclassmen were the stars of the show. Freshman Katie Waldman tied for seventh on beam, posting a 9.725. She also made the top 10 on vault with 9.750 points. On bars, sophomore Caroline Caponi tied for seventh (9.800) and classmate Evan Pakshong posted a score of 9.725. Junior Aaliyah Kerr tied for seventh on floor with a score of 9.800 points. Sophomore Taylor White scored a career-high 9.775. Waldman and Pakshong posted matching scores of 9.725 on that event.
The underclassmen also led the way for the Tribe in the all-around. White competed in the first all-around of her career and scored 38.575 points, and Waldman scored 38.175.
The women will next compete Feb. 11, when they will face off in a quad-meet against Rutgers and Brown at Maryland.