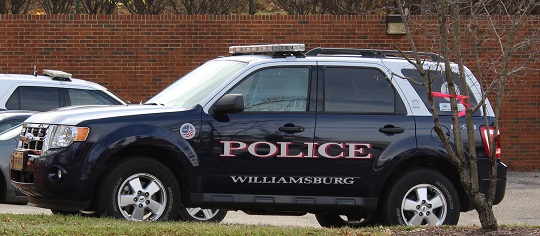 Updated 2/08/18: Rebecca Bruhel, felony hit and run suspect, turned herself into the Virginia Peninsula Regional Jail Feb. 8 at 5:30 p.m.
The Williamsburg Police Department announced this morning that they obtained an arrest warrant for a white female suspected of being the driver responsible for a felony hit and run.
According to Williamsburg Police Department Major Greg Riley, Williamsburg police officers responded to a single vehicle accident on Monticello Avenue between Compton Drive and Ironbound Road at approximately 2:30 a.m. Sunday, Feb. 4.
The Williamsburg Police Department reports that the driver was described by witnesses as a white female who fled the scene before the officers arrived, leaving behind an injured passenger in the vehicle.
The City of Williamsburg Fire Department extracted the injured passenger from the vehicle and subsequently transported him to MCV hospital in Richmond for his injuries. He remains there in critical condition.
Feb. 6, the officer investigating the single vehicle accident obtained warrants for the suspected vehicle driver, Rebecca Anna Lynn "Ginger" Bruhwel, 22, of Newport News.
Bruhwel has been charged on two counts: driving while suspended and felony hit and run. The warrants are unserved as of this morning at 8:30 a.m.
The Williamsburg Police Department requests the public's assistance in locating the suspect.
To contact the Williamsburg Police Department with information on this incident or about Bruhwel's whereabouts, call 757-220-2331.
2/18/2018 10:22 p.m. An earlier version of this article incorrectly stated that the pedestrian hit in the accident was transported to MCV in Richmond. The pedestrian was transported to Riverside Regional Medical Center in Newport News.