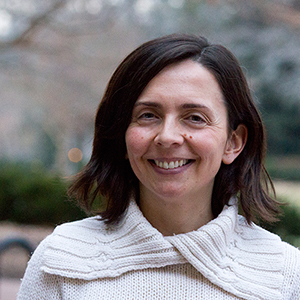 Reminiscing on her arrival in the United States over 10 years ago, Hispanic studies professor Carmen Sanchis-Sinisterra admitted, "The Ph.D. was an excuse, the goal was New York."
After many application rejections, some time spent in the Midwest and a nervous flight, Sanchis-Sinisterra realized her dream of living in New York, and she hopes to be back there again after her time at the College of William and Mary ends this semester.
Sanchis-Sinisterra obtained her first degree in English literature in her native country of Spain and then spent eight years teaching at a British high school in Valencia.
"I learned most of what I know of being a teacher there … in the trenches of adolescence education," Sanchis-Sinisterra said, speaking of her time as an educator in the secondary school system.
Sanchis-Sinisterra had always been interested in living abroad and learning foreign languages. After almost a decade of teaching high school in Spain, she was eager for new experiences. As a young person, Sanchis-Sinisterra was fascinated by American culture and with New York City in particular.
At first, she looked for jobs as a high school teacher in the United States, knowing that she wanted to continue in a career of education. She heard of the possibility to go to a U.S. college to teach Spanish and obtain a graduate degree from a friend teaching at the University of Iowa.
"Apply to whatever schools you want, but also apply to Iowa," Sanchis-Sinisterra recalls him telling her.
And so, Sanchis-Sinisterra set her sights on the United States — more specifically, on New York City.
"I applied to Columbia, I applied to NYU …" Sanchis-Sinisterra said. "They didn't accept me. But Iowa did, so I went to Iowa."
To Sanchis-Sinisterra, graduate school was an opportunity to explore topics that fascinated her. She obtained her graduate degree from the University of Iowa in Hispanic studies — focusing on film, culture and linguistics — all the while teaching Spanish.
"I studied a lot, and enjoyed it a lot," Sanchis-Sinisterra said. "From there, I knew I wanted to continue and keep studying."
She made up her mind to pursue a Ph.D.
"But only in New York City," Sanchis-Sinisterra said. "It was New York City, or I'd go back to Spain."
As a result, she applied again to New York University and to Columbia University, this time as a student.
"Again, they did not accept me," Sanchis-Sinisterra said. "And that's not even the last time I've applied."
She was eventually accepted as a Ph.D. candidate at the City University of New York and studied as well as taught there. Sanchis-Sinisterra taught at three of the CUNY campuses during her time in the city, spanning both the Brooklyn and Manhattan city boroughs.
"I've always lived in Harlem," Sanchis-Sinisterra said. "First East Harlem, then West. The city is my place. … I find it fascinating, fascinating, fascinating."
During her first flight to New York, she grew nervous.
"I thought to myself, 'What if I don't like it?'" Sanchis-Sinisterra said.
She could never have been more wrong, she said: her first few months were spent in a frenzy, trying to absorb as much of the culture as possible and avidly reading publications like The New Yorker, The New York Times and Time Out New York.
Sanchis-Sinisterra said what she misses the most about New York is the ability to go to new art galleries, museums or performances every week when she is in Williamsburg.
On one of her best cultural experiences in New York, Sanchis-Sinisterra discussed an art show she found astonishing.
"One of my favorite shows ever was a collection of the late work of Monet, when he was about to die, at the Gagosian Gallery, the most important gallery," Sanchis-Sinisterra said. "I must confess, usually I see [art that has touched me deeply] at important art galleries … they are the only galleries that can put together that kind of art."
The Brooklyn Museum is also one of Sanchis-Sinisterra's favorites because of its beautiful atmosphere and its feminist art section. Feminism and gender issues are her primary areas of research and her political passion.
Despite the plethora of cultural and intellectual stimulation in the city, Sanchis-Sinisterra expressed the difficulty she had finishing her dissertation.
"It was one of the worst experiences I ever had," Sanchis-Sinisterra said. "All the issues possible, I had them."
In her ninth year working on her Ph.D., Sanchis-Sinisterra entered the job market again, focusing on positions a year out and giving herself 12 years to finalize her dissertation. When she applied to the College in 2015, Sanchis-Sinisterra admitted she didn't know anything about it.
Still, she applied for the job, even though it started much sooner than the other positions in which she was interested. When the College offered her the job, she was faced with two daunting prospects: finishing her dissertation much sooner than she had planned and leaving New York City.
Because of a family medical issue, Sanchis-Sinisterra arrived days before she was due to teach three spring Hispanic studies courses. Her first semester was incredibly busy, Sanchis-Sinisterra said.
"Monday, Wednesday, Friday, I was in my office," Sanchis-Sinisterra said. "Tuesday, Thursday, Saturday and Sunday, I was in the library working on my dissertation. I was inspired by you guys. You kids work so hard, I wanted to work as hard as I could."
Sanchis-Sinisterra has been at the College for two years now teaching Spanish language and culture courses.
The campus experience at the College is special to her. Unlike universities in the city, she said, professors can more easily form relationships with students. This phenomenon, she said, was compounded by the populations of students she taught at the CUNY colleges in New York, where the large number of working-class and first-generation students makes it difficult for students to have time outside of class to develop meaningful student-professor relationships. Sanchis-Sinisterra said one of the things she loves about Williamsburg is living in the same area as her students, going to the same library, the same coffee shops and even the same grocery stores.
This has also resulted in students feeling like they are able to come to Sanchis-Sinisterra for academic, professional or personal advice, including mental health issues.
"I have suffered also … from depression and anxiety," Sanchis-Sinisterra said. "This has allowed me to become very close with a few students going through those."
One of Sanchis-Sinisterra's proudest accomplishments at the College reflects her investment in the community: putting together a course for heritage Spanish speakers within the Hispanic studies department.
Sanchis-Sinisterra is now searching for her next step.
"I hate Williamsburg," Sanchis-Sinisterra said. "I miss the cultural opportunities that a big city gives you."
She hopes to return to New York City, but is uncertain whether a job opportunity will arise there. But whether or not life gives her what she wants, she said, she trusts that life will give her what she needs.
"Always, what's best, what remains, what is most important, is the people," Sanchis-Sinisterra said. "Colleagues and of course, students."