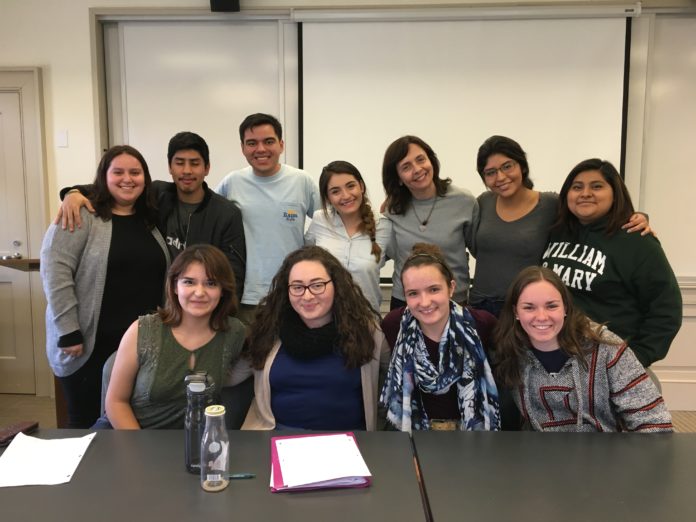 Language is about a lot more than syntax. Especially for children who grew up in Spanish-speaking households in the United States, language stands at an intersection of culture, history and heritage.
This spring semester, 10 of these students gather in Tucker 220 three times a week for HISP 205, Spanish for Heritage Speakers, a new class in the Hispanic studies department designed specifically for students who are native Spanish speakers but have little formal Spanish-language training.
The class is taught by Hispanic studies professor Carmen Sanchis-Sinisterra; to her, this class has special importance and she has worked to make it a permanent fixture of the Hispanic studies department.
Course objectives were conceived specifically to create an environment that both strengthens students' language skills and instills an appreciation for their individual cultures and language. All four language skills — listening, speaking, reading and writing — are prioritized alongside cultural projects and readings that relate to the many issues that are particular to Hispanic cultures in the United States.
Last Friday, Feb. 9, two students in the class presented on a topic they feel passionate about. For one student, that was Spanish dance. For the other, it was the acquisition of knowledge. When they finished presenting and the other students asked questions, the atmosphere was lively and participatory — visibly more relaxed than a typical language class.
While all the students in the class share a background in Spanish, their experiences with the language are greatly varied. Some were born in the United States, some were not; some took Spanish as a second language classes in high school, some did not. Some also come from tri-lingual family backgrounds where Quechua or French is spoken in addition to English and Spanish.
The students spoke highly of the class; when one student said that coming to this class felt like a community, even family, other students nodded in agreement. Other mentioned similar qualities, saying that the class strikes a community-minded chord — while work in other classes feels individualistic, the work in this class feels communal.
Jennifer Albarracin '18 echoed these sentiments.
"There is a sense of mutual solidarity in this class that doesn't exist in classes where the majority of students are white," Albarracin said. "The shared cultural background brings us closer together. … We're all here because we want to be."
This class has been a long time coming. Sanchis-Sinisterra said she first heard it mentioned in a faculty meeting her first semester at the College, and she decided to take things into her own hands since she already had experience teaching Spanish classes for Heritage speakers during her time at the City University of New York.
Along with professor Paulina Carrion, who will take over teaching the class when Sanchis-Sinisterra leaves next semester, and the input of a group of Latinx students, Sanchis-Sinisterra designed the course to align with a set of priorities that includes language skills alongside history and culture.
Gisela Fuentes-Amaya '19, a psychology and Hispanic studies double major, was one of the students who participated in these feedback sessions. According to Fuentes-Amaya, these discussions brought to the forefront issues of mindfulness toward different Hispanic cultures and dialects of Spanish and the creation of an environment that allows for a respectful and inclusive discussion of cultural differences.
This course, Fuentes-Amaya said, was necessary to the Hispanic studies department, which completely lacked a class that took the College's Hispanic community into account.
"Yes, it's important that there are students who want to learn Spanish language and culture, but it's also important to acknowledge the students here who come from a Spanish-speaking culture," Fuentes-Amaya said.
Fuentes-Amaya said that she would have liked the option of taking this class earlier in her undergraduate career before she was done with her major requirements, but believes that the inclusion of this course is a crucial addition to the College.
"This class fills in that need of learning about what other countries are going through, what perspectives they may have regarding other countries and other people," Fuentes-Amaya said. "… It gives you a more encompassing view not just of your own culture but the world."
Many heritage Spanish speakers, Sanchis-Sinisterra explained, have a low confidence level when it comes to language
"That is what makes the job beautiful — because you're there to give them a wonderful gift, which is the appreciation for what they already have," Sanchis-Sinisterra said. "Because it's already there."
To advertise the class, Sanchis-Sinisterra designed a flyer and went to a Latin American Student Union meeting to talk to the members about the course. Through those outreach efforts and word-of-mouth among her past students, the course found 10 students. Sanchis-Sinisterra said that they hope to reach a student demographic of Spanish speakers outside of the Hispanic and Latin American studies departments.
Another goal of this class — and the principal writing assignment for the students — is the creation of the Hispanic Portal, which Sanchis-Sinisterra described as a web resource for all things Hispanic on campus.
"My final desire will be that you go to the [William and Mary] website and somewhere here, you have 'Hispanic Life,'" Sanchis-Sinisterra said, pointing to the options bar at the top of the homepage.
With everything the class does, Sanchis-Sinisterra hopes to consistently bridge the gap between scholarship and community.
"The Hispanic community is fundamental to this country," Sanchis-Sinisterra said. "We value community because this is part of our culture. It is wonderful to have a community when things go well, but when things go badly, like now, we need to have a community already established … I want to think of ourselves, the Spanish department, as scholarship and community. It's really what we are already and what we want to keep being."
When her colleagues ask her about the class, she said, she often struggles with how to articulate what makes it so remarkable.
"Our language, in particular [these students'] experience with language, is a very tricky experience," Sanchis-Sinisterra said. "It's an experience with something that is very precious, but at the same time has been marginalized. That's a very precious and strong bond to have," she said.
She paused before relating a short anecdote that symbolizes what this class means to her. At the start of each class, she and the students reorganize the table in a seminar-style formation. At the end of class, she said, every student stays behind until all the furniture has been put back in its place.
"They care," Sanchis-Sinisterra said. "They really care."