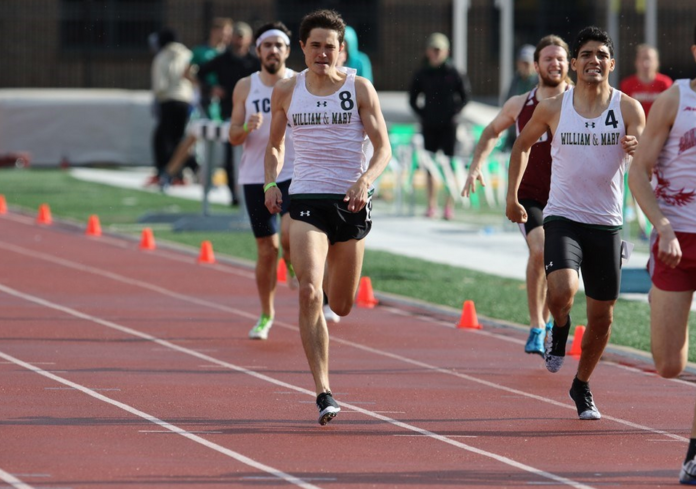 William and Mary recorded many stellar performances at the UCS Invitational in Winston-Salem, North Carolina, this past weekend.
On the men's side, the College had a strong showing in the distance events. Junior Ryan McGorty ran 4:10.11 to capture the victory in the one-mile run, and teammate sophomore Cooper Leslie finished fourth in the event in a 4:16.63 effort. Sophomore Christopher Short finished runner-up in the 800-meter run with a 1:53.58 clocking, while fellow sophomore Raul Chavez-Gutierrez placed seventh in 1:56.05. Redshirt junior Dawson Connell and redshirt sophomore Evan Woods recorded a 3-4 finish in the 3000-meter run; Connell finished in 8:29.73, and Woods finished in 8:31.67. Redshirt senior Faris Sakallah rounded out the notable distance performances with a runner-up finish in the 5000-meter in 14:50.76. Senior Dylan Anderson placed fifth in the 60-meter hurdles final with an 8.27 clocking, and senior Jared Sinsheimer placed fourth in the long jump with a leap of 6.71 meters. The College had an excellent showing in the throws too, as junior Preston Richardson led the Tribe contingent in the shot put standings. Richardson won the event with a heave of 17.46 meters, while freshman KJ Cook (16.00 meters) finished runner-up, junior Vlad Castillo (14.88 meters) finished seventh and freshman Connor Scott (14.78 meters) finished eighth. Senior Tom Parker placed fourth in the weight throw with a toss of 17.53 meters.
On the women's side, the Tribe won the 4×400-meter relay in 3:54.75. The team was comprised of senior Kacey Wheeler, sophomore Gabriel Runge, redshirt junior Margaret Sullivan and junior Lindsay Schott. Sullivan also placed seventh in the 60-meter hurdles final with a 9.07 clocking, and sophomore Charlotte Kowalk finished sixth in the 800 meters in 2:15.07.
Off the track, senior Leia Mistowski picked up another victory in the weight throw with a toss of 19.04 meters. Senior Abby Jones tied for second in the high jump, and fellow senior Minna McFarland placed fourth. Jones and McFarland cleared 1.67 meters and 1.62 meters, respectively. Junior Bri Miller finished a strong sixth in the long jump with a leap of 5.37 meters.
The Tribe is back in action March 3-4 in Boston, Massachusetts. The men will compete in the IC4A Indoor Championships, while the women will compete in the Eastern College Athletic Conference Indoor Championships.