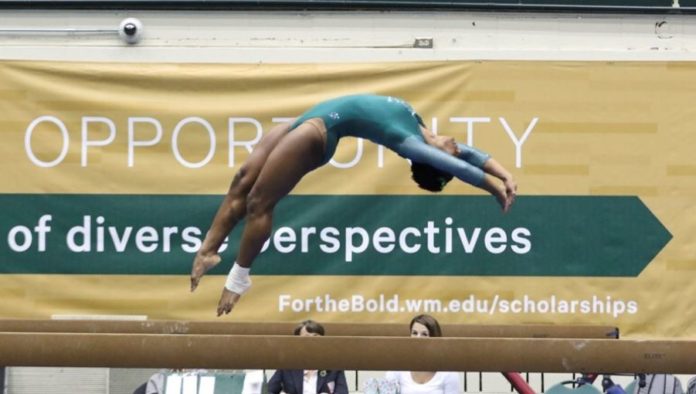 Saturday, the William and Mary women traveled to New Haven, Connecticut, to take on Yale in a dual meet. The Tribe (193.000) fell to the Bulldogs (194.700) by a mere 1.7 points, posting its lowest team score since its first meet of the season against Towson over a month ago.
Despite the overall result, gymnasts from the College managed to post personal bests and made it to the podium in several events.
On vault, freshman Katie Waldman won the event with a career-high score of 9.825. Sophomore Erika Marr posted a score of 9.725 to help the Tribe to a 48.425, beating Yale for the team score on that event.
Junior Aaliyah Kerr took first on floor, scoring a 9.875. Waldman, with a 9.750, also helped the College to its score of 48.300.
On bars, several members of the Tribe made significant contributions to the 48.500 points the College posted. Sophomore Evan Pakshong tied for second and equaled a career high when she posted a 9.800. Waldman (9.725), sophomore Caroline Caponi (9.775) and sophomore Erika Marr (9.700) contributed to the Tribe's overall score.
Junior Madison Dwyer led the way for the College on beam with a 9.725. Waldman posted a 9.650 to add to the College's team score of 47.775.
The Tribe had two competitors in the all-around. Waldman took third, posting a career-high score of 38.950. Sophomore Taylor White followed Waldman, taking fourth place and scoring 37.800.
This week, the College will try to best NC State. The Tribe last saw the Wolfpack Jan. 20, taking third in a tri-meet with an overall score of 193.300. The rematch will be a dual meet in Raleigh, North Carolina, Saturday, Feb. 24.