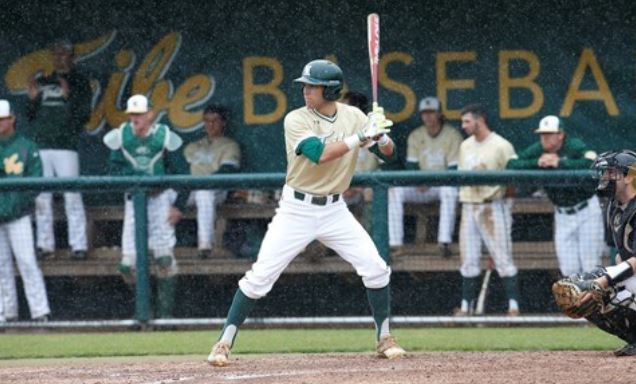 William and Mary made its first victory of the season a decisive one. The Tribe (1-4) cracked 13 hits past Maryland (2-2) to beat the Terrapins 10-4 in the Tribe's first win of the season. After four straight losses to open the season decided by just a single run, the College's offense finally broke out Wednesday evening, scoring in five different innings and earning a blowout win.
After last night's loss to Virginia Commonwealth in the Tribe's home opener, head coach Brian Murphy identified the team's offense as its biggest struggle, noting that the team was striking out too much. That was not the case tonight as the College struck out only seven times and put up 10 runs on 13 hits. Senior outfielder Craig McLane and junior catcher Hunter Smith each had standout nights at bat, tallying three hits each. Junior infielder Zach Pearson hit his first home run of the season. Their performances helped the Tribe put up run after run, a feat that Maryland struggled to match.
The Terrapins started off the game with one run in the first that the Tribe matched in the bottom of the inning to keep the score even at 1-1. After that followed an offensive breakout, as the Tribe scored two in the second and three in the third while holding Maryland to nothing. After Maryland came up with two runs in the fourth, the Tribe answered back with two in the sixth to maintain a healthy lead at 8-3. There was to be no comeback for the Terrapins as the Tribe's pitchers held them hitless in the eighth and ninth innings, closing out the game in a 10-4 win.
It was another strong night from a pitching contingent still adjusting to substantial offseason turnover.
It was another strong night from a pitching contingent still adjusting to substantial offseason turnover. Junior Nick Butts, freshman Aljo Sujak, grad student Andrew Burnick and senior Michael Toner all split the game at two innings apiece, while sophomore Wade Strain closed out the final inning. In nine innings, the Tribe allowed just four hits and four runs as well as 12 total strikeouts. Burnick, who allowed zero hits and zero runs in the fifth and sixth innings, recorded the win to improve his record to 1-0 on the season.
The Tribe hopes to ride the momentum from its first victory of the season as it enter its first weekend homestead against Quinnipiac this weekend. The three-game series will kick off Friday at Plumeri Park at 4 p.m.