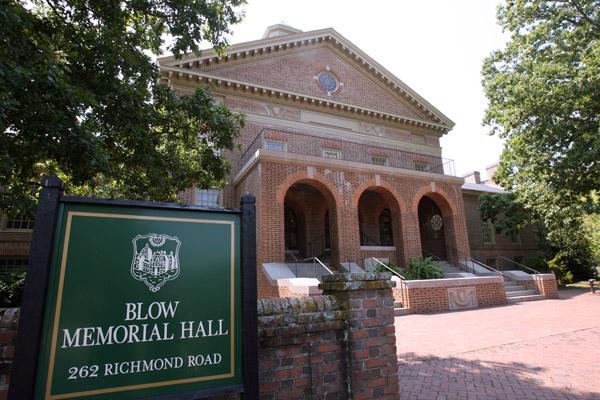 In 1918, students at the College of William and Mary lamented that they would be "the last class to graduate from the old college before it is defiled by coeducation." A century later, however, students have a different view of the issue. During the 2018-19 academic year, the College community will honor the 100th anniversary of women's admission with a series of special events and initiatives.
Planned activities include a speaker series, a week-long women's leadership summit and the integration of a gender component in classes held in every academic building. Students interested in the study of gender and sexuality can also apply to the Charles Center-funded 100 Years of W&M Women Summer Research Fellowship. Applications are due Feb. 28. Fellowship recipients and their faculty mentors will receive $3,000 and $1,000, respectively, to delve into any topic related to women of the College over seven weeks of summer research. Professor Jayne Barnard, coordinator of academic events for the anniversary year and chair of the planning committee, said she believes the research project complements the anniversary well.
"We felt that it would be an ideal use of some of our funds to stimulate student/faculty research on the role of women at the university during the past 100 years," Barnard said in an email.
Charles Center Director Joel Schwartz said that students often engage in research outside of campus, either through service activities or travel abroad.
"The objective is not just to commemorate this anniversary but to integrate [this initiative] into what we do at William and Mary," Schwartz said.
The fellowship is designed to focus on women at the College, but Schwartz said that people viewed these guidelines narrowly, leading him and his colleagues to encourage interested individuals' pursuit of a broad range of topics. According to the fellowship website, subjects covered under the project include "political coalitions that helped transform William and Mary as an institution" and "the history of gender and sexuality in the W&M curriculum."
American studies and English professor Elizabeth Losh said that the level of freedom and choice provided by the research project makes it exciting. Losh, who is in charge of answering students' questions about the project, provided context on the scope of research topics by describing a project featured in her Gender and Digital Culture class. Students revised existing Wikipedia articles about influential women and added new pages for individuals not previously recognized. The pages were repeatedly flagged, however, for not meeting Wikipedia's notability standard, which determines whether a subject is important enough to warrant an article.
"There's no notability standard [with this project]," Losh said. "You can really think about what's notable. … You could make something that's invisible, visible."
Losh said that interested students can explore the legacy of any woman who has contributed to campus, from staff members to early female students and leaders of the LGBTQ community.
"There's certainly a lot of interesting work that's been done by the LGBTQ VA group that could conveniently stretch into this work," Losh said.
According to Losh, for a long time in its history the College was reluctant to fund LGBTQ-related clubs on campus, and policies were enacted to prevent them from forming. In Williamsburg itself, gay bars had a harder time getting a liquor license from the town for "moral reasons." Losh said she believes there are entire histories of individuals in the Williamsburg area that have been erased from the dominant historical narrative. The project, she added, presents students with the opportunity to tell these stories.
In 1896, 22 years before the College started admitting women, Williamsburg resident Minnie Braithwaite petitioned the faculty to allow her to attend chemistry lectures.
"It's not just famous grads of William and Mary," Losh said. "Even though she wasn't a student, you could still write about Minnie."
Barnard said she was interested in women whose stories have thus far gone untold and would love to see a project on women who were enslaved alongside Lemon — of the eponymous Lemon Project: A Journey of Reconciliation — during the 18th century.
"We know little about them but we are learning more about the work of enslaved women at Georgetown, UVA and more," Barnard said in an email.
Schwartz suggested students look into the stories of the first female African-American residential students, Lynn Briley '71, Janet Brown '71 and Karen Ely '71.
"One of the amazing things about that is they didn't realize they were path-breaking," Schwartz said.
At the time the three women attended the College, their experience happened under the radar, and it was only later, Schwartz added, that the community looked back and recognized the powerful change these women had made for the campus. To Losh, this recognition was more than ceremonial.
"One of the most important things that history can do is it can provide empathy," Losh said. "[Academics] talk about the benefits of history in an 'eat your vegetables' sort of way … but there are also pleasures in history."