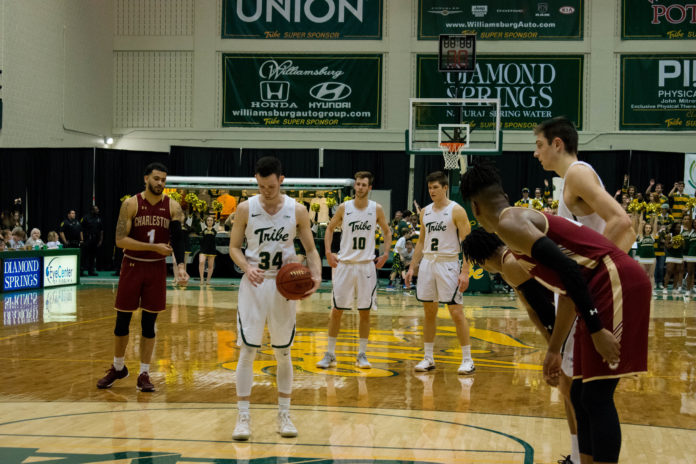 William and Mary sophomore forwards Nathan Knight and Justin Pierce and senior guard David Cohn were named to all-conference teams when the Colonial Athletic Association announced its end-of-season awards Friday. Redshirt junior forward Paul Rowley also received an honor as Scholar-Athlete of the Year. CAA coaches, sports information directors and media selected the recipients of the accolades.
Knight was named to the second team All-CAA. He emerged as a star in his second year at the College, after making the All-Rookie team in the CAA his freshman season. He averaged 18.1 points per game over the 2017-2018 season, which was good for fifth in the conference. Knight was also named to the All-Defensive team in the CAA after grabbing 7.1 boards per game and recording 2.0 blocks per contest.
Cohn and Pierce each were named to the third team All-CAA. Cohn enjoyed a career year, setting a career high with 30 points in his final game at Kaplan Arena as the Tribe beat Charleston 114-104 Feb. 24. The team captain dished out 6.7 assists per game to lead the conference. Pierce came on strong during conference play, averaging 16.6 points per game against CAA opponents. The sophomore scored 33 points in just 31 minutes to propel the Tribe to a Gold Rush win over Delaware Feb. 10, 83-66.
Rowley is enrolled in law school after graduating with a double major in computer science and finance. This season, Rowley has been the Tribe's first man off the bench, averaging 5.8 points per game in just over 19 minutes per game. The redshirt junior has been a recipient of the CAA Commissioner's Academic Award for the past three years before being named the conference's Scholar-Athlete of the Year this season.
Hofstra guard Justin Wright-Foreman was named CAA Player of the Year after leading the conference with 24.2 points per game. Wright-Foreman was joined on the first team All-CAA by UNC-Wilmington forward Devontae Cacok, Charleston guards Joe Chealey and Grant Riller and Northeastern guard Vasa Pusica. Northeastern head coach Bill Coen was named Coach of the Year, while Delaware guard Ryan Allen was honored as Rookie of the Year and Northeastern guard Shawn Occeus won Defensive Player of the Year.