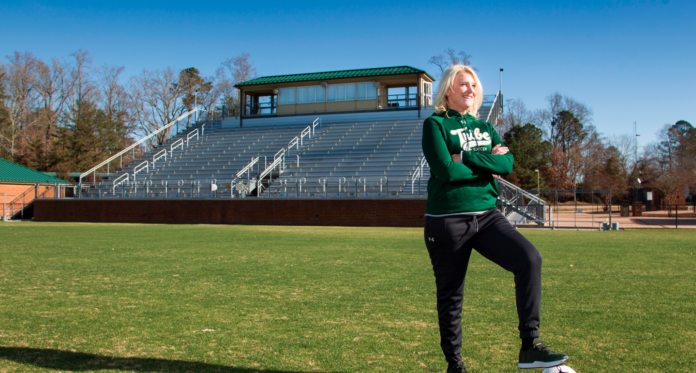 Varsity head women's soccer coach Julie Shackford '88 is running drills on the field. In between a square of four cones, she jolts forward, plants her left foot at the far end, springs back and receives a give-and-go pass from an assistant coach standing on the other side.
"Just like that," she says. "Just like that."
Shackford is wearing a pair of black sweatpants with a matching Tribe t-shirt and a set of pearl earrings, which may or may not be real. She finishes her drill and grabs some cones with her left hand and a Coke Zero with her right. In between mouthfuls of blonde hair, blown into her upper lip by the wind, she keeps talking, walking forward the whole time. Practice begins in 15 minutes.
The varsity women's soccer program at the College of William and Mary began four years before the U.S. women's national team even played its first match. Women's soccer was a new sport, arriving at colleges across the country.
The College's team played its first match Sept. 19, 1981, a 5-1 victory over Richmond. Since then, no team has ever ended the season with a losing record. The College has made the National Collegiate Athletic Association tournament 24 times, its second head coach, John Daly, won more than 300 games over 26 years and one of the team's former players, Jill Ellis '88, is coaching the U.S. national team.
But when Shackford arrived on campus in 1984, none of that had happened yet. She didn't know it would. She was just happy that the College had a varsity team.
"When I was in high school, there were very few college programs, and I was freaking out," Shackford said.
Still, she didn't feel like the men's team got special treatment or that her needs weren't being met, even in the new program.
"When I got here, I always felt like I was treated like a true student athlete," Shackford said.
The program, though, was in no way a high-class affair.
"We traveled in beat-down vans, we stayed four to a hotel room, and we did our afternoon meals at Wendy's — we got to go to Golden Corral on a good day," Shackford said.
She remembers playing her matches at Barksdale Field, next to Jamestown Road and the library. Team members wore tight shorts, plain white jerseys and stiff leather cleats. When Shackford first came, shin guards weren't even mandatory.
There are some old black-and-white photographs of Shackford in uniform. She smiles underneath large blonde bangs and curly hair falling on either side of her head. Her number 16 is embossed opposite to the old WM feather logo, with small type underneath reading, "Women's Soccer."
In other photos, Shackford is on the field chasing after a loose ball, jostling with an opponent. Her arms swing wide, and her left leg opens up for a shot.
"I can remember a lot of goals," Shackford said.
That might be because in her four years, there were a lot of goals to remember — 20 to be exact. She had nine assists too, three selections to the All-American team, and four straight trips to the NCAA tournament. In 2000, Shackford became the third women's soccer player inducted into the William and Mary Athletics Hall of Fame.
Most of all, though, she remembers the people.
"I remain best friends with all of my teammates even after all these years, which is really a unique thing about William and Mary," Shackford said. "It creates these connections that last forever."
A Different Direction
Shackford thought she would go to law school after graduating. She either wanted to be a sports agent or a university athletic director. Then, John Randolph, a former athletic director at the College, called her and told her about a women's soccer program starting at Carnegie Mellon University in Pittsburgh, Pennsylvania. She wasn't sure if she wanted to coach long term, but she thought she'd get her master's degree and stay a year.
She stayed five.
"I just fell in love with it, and I never looked back," Shackford said.
Then, in 1995, she got a call from Princeton University, which was searching for a new head women's soccer coach of its own.
"I thought it would be cool to coach smart kids who were a higher caliber athletically, so when the [Princeton] job opened, it seemed like a great fit," Shackford said. "It was a phenomenal experience, and we were able to go to a NCAA final four without scholarships and have a consistent, winning program with kids who were doing phenomenal things."
During her time at Princeton, she won the NCAA Division I Coach of the Year and led the Tigers to the NCAA tournament semifinals in 2004, the only time an Ivy League team has ever made it that far.
Her team eventually lost to the University of California-Los Angeles, coached by Ellis, Shackford's old teammate and best friend.
Shackford spent 20 years at Princeton — 12 of them as a single mother.
Coming Home
In 2017, after a two-year break from coaching and a stint with the United States Development Academy, Shackford's phone rang again. This time, the College was on the line. She had no second thoughts.
"Any time your alma mater comes calling it's a no-brainer," Shackford said. "But to actually come back is really like a dream come true, to be able to be at the place that gave me so many opportunities and to be able to pass that on."
Shackford is inheriting the job from Daly, one of the longest-serving coaches in NCAA history. Her focus, though, is not on the past. She can remember Daly yelling at the referees in the middle of games back when she was a player. She admired his competitiveness.
"He was a hard-ass," Shackford said.
Now, she's trying to take the team in a different direction, and she wants to crack the top 25 programs in the country in a few years.
"My head is spinning, trying to put my stamp on a program and get to know the kids, but it's been phenomenal," Shackford said.
Shackford got remarried to her high school biology lab partner a few years ago, and she splits her time between Williamsburg and their home in Northern Virginia.
"I drink way too much caffeine," Shackford said.
She's talking to an assistant coach now, finishing her last sips of Coke Zero, now stretching out her legs. Her team rounds the corner on its last warm-up lap and gathers near the sideline.
Shackford walks over, her hair still blowing in the wind. Practice is about to begin.