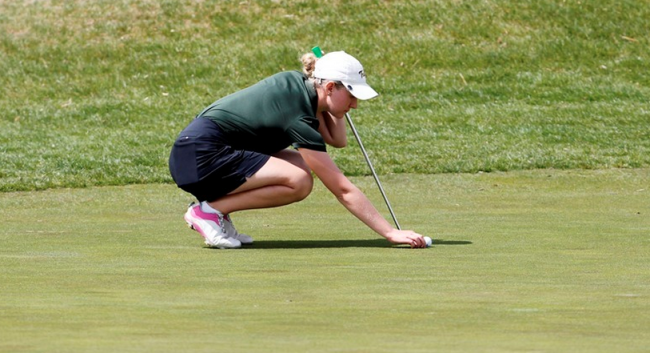 William and Mary opened its fall schedule with the William and Mary Invitational, a three-round tournament at Kingsmill Resort in Williamsburg. The College got off to a slow start, shooting 24-over-par as a team for a total score of 312 that placed them in 10th place out of 12 teams. Ultimately, The Tribe finished ninth, 45 strokes behind the first-place finishers, Marshall.
Sunday, action got underway with the first and second rounds of the tournament. In the first round, the College carded a 24-over to leave the Tribe in 10th place. The College improved on its first-round score in the second round, shooting an 18-over on the strength of a two-under effort by senior Elizabeth Choi. The College's second round score allowed it to inch up into a tie for ninth place in the standings going into the final round. Marshall was at the top of the standings after the first two rounds, holding a slim lead over Richmond. Marshall's combined score was a nine-over 585, while the Spiders were just one stroke back. Tied with the College in 9th place was Bucknell. Monday, the Tribe finished off the tournament with a 30-over 318. The College's overall score for the tournament was 936 and it finished in ninth place, in front of only Radford, Bucknell, and Longwood. Scores on Monday were higher across the board; however the Thundering Herd did hold on to claim the team championship at the invitational with a total score of 891. The Spiders remained in second and finished one stroke behind the Thundering Herd after shooting the identical score of 27-over. James Madison rounded out the top three.
The Tribe was led by Choi, who shot a four-over 220 for the tournament that allowed her to finish in a tie for fourth. Junior Allison Olberding was the second-place finisher for the College, tying for 44th overall with a 239. Freshman Sarah Houle finished just outside the top-50 in a tie for 51st with a 243. She tied with Choi in the first round with a 76 in her first collegiate round of golf. Sophomores Madison Braman and Madison Elliot also finished with a score of 243. Just behind the trio of Tribe golfers tied for 51st was senior Riley Corona, who fired a 244 for tournament. The individual champion at the invitational was the Thundering Herd's Shelby Brauckmuller. She shot a six-under 210 and was under-par in all three rounds.
The Tribe will return to action next weekend when it competes in the Pirate Intercollegiate hosted by East Carolina. The event will take place from Sept. 17-18 at Greenville Country Club. The College will look to improve on its ninth-place finish at the William and Mary Invitational.