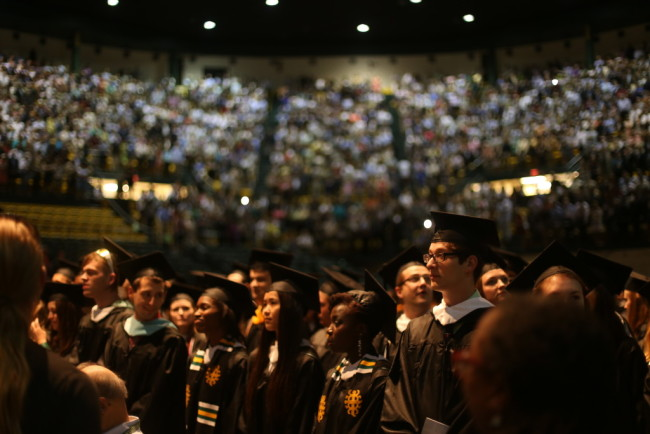 Students at the College of William and Mary have always been subject to federal financial aid policies — however, The Financial Aid Office has just recently obtained access to DegreeWorks, which makes enforcing these policies more efficient. Now, students dependent on federal financial aid, like Patrick Canteros '20, risk losing that funding when they complete degree requirements early.
Canteros came to the College as a freshman with a large amount of Advanced Placement credits and now has only 4-6 required classes remaining to complete his degree. Canteros planned to graduate in the spring of 2020 after completing four years at the College and was also planning on studying abroad this fall. However, Canteros said that after learning about Title IV — a federal policy which will most likely result in a much smaller loan offer for his senior fall and spring — his plans are now up in the air.
"I'm honestly terrified because I'm not completely sure of my financial situation."
"I'm honestly terrified because I'm not completely sure of my financial situation," Canteros said.
Title IV specifies that in order to be able to receive federal funds, a student must be a regular student at the institution, defined as: "A person who is enrolled or accepted for enrollment at an institution for the purpose of obtaining a degree, certificate, or other recognized educational credential offered by that institution." Consequently, students who have completed their COLL, major and minor requirements at the College but still want to continue attending are ineligible to receive Pell Grants or loans.
This policy applies regardless of how many semesters the student has completed. So, if a student has finished most or all of their graduation requirements even before completing the typical four years at the College, their federal funds will be limited or not offered at all. The degree to which these funds are still offered is in proportion to how many credits they have left to complete. In these cases, students must decide whether they will graduate early, use any partial funds — if that is an option — and be a part-time student to complete their remaining required credits, or pay for their education without these funds.
In the past, Title IV has been enforced inconsistently at the College due to a lack of resources. Before the spring of 2018, whenever an issue came up regarding a student taking classes beyond their requirements, their financial aid advisor would contact the Office of Academic Advising and request information about the student's academic transcript.
A change occurred in April of 2018 when the Financial Aid Office requested and was given access to view students' DegreeWorks by the Registrar's office. Financial Aid Director Joe Dobrota said that they requested this change so that the Financial Aid Office would be able to check what classes a student has taken and is currently enrolled in and how those classes fulfill degree requirements. Additionally, the Financial Aid Office would also be able to check how many credits a student has overall and what COLL, major and minor requirements they have left to fulfill. This increased access is not the result of a change in policy, but rather an improvement in the Financial Aid Office's ability to comply with Title IV. Currently, this new access has not changed the timeframe when financial aid advisors can choose to check on a student's academic progress and eligibility for federal financial aid, but it has provided a more efficient process for doing so.
"I think that this is one of  those policies in Title IV that has been in place for a while but within the past … three years we've started to see more and more oversight on that particular aspect of the policy where they're checking to see if what you're taking beyond that 120 [credit limit] fulfills necessary requirements," Associate Director of Academic Advising Shelley Laurenzo said.
Dobrota said that the College's financial aid advisors will access DegreeWorks when they are advising a student who has finished many of their graduation requirements, or when generally working with a student on their financial aid package and it becomes a salient topic.
"We're not trying to cheat students, but we have certain things we're supposed to be compliant in, and over the years we've done the best we can and it just so happens that tools are getting better in order for us to keep that up," Dobrota said.
While the current unequal enforcement of Title IV means that the fate of Canteros' loan offers is still undecided, he said that this could have far-reaching effects on his academic plans. Canteros said that he wished he had known about this policy before he became so close to finishing his required classes and that thinking about the impact it could have is extremely emotional for him.
"I'm not sure how possible it will be for the things I've planned for the future to happen," Canteros said. "I was looking forward to studying abroad and having an easy senior year but now that it's looking like I might have to graduate early. It's really… unexpected."
University Registrar Sallie Marchello said that the Registrar's office complied with this request for additional access to student records by the Financial Aid Office because it is a tool that could help enforce federal policy. Marchello said that the Financial Aid Office had a legitimate reason to warrant access to DegreeWorks and that her office met with the Financial Aid Office that spring to discuss this new access and train its employees to understand and use DegreeWorks.
"I would say that there has been a relatively new awareness in financial aid of this regulation," Marchello said. "So, it was when they identified the need that we responded and provided the access."
While all of the College's financial aid is processed internally, Dobrota said that the Financial Aid Office follows a good faith effort to distribute federal aid in accordance with federal regulations. Dobrota explained that the federal government abides by this policy because it must establish priorities regarding how it chooses to distribute taxpayer money, and funding students to take classes beyond their degree requirements is not necessarily fair to the taxpayer. According to Dobrota, adhering to federal policy and being conscious of how the office distributes the sizable funding it is responsible for is an important part of the Office of Financial Aid's mission.
"You have students who are like, hey, I'd like to go study abroad in the Spring because I'm done but I'm not walking yet, and that's a more concerning scenario," Dobrota said. "… It's not something the federal government wants to fund."
In order to address how this policy could potentially affect their academic plans, Laurenzo recommended that students work with their advisors to strategically plan their courses. According to Laurenzo, if students are able to plan strategically beginning in their freshman year, they will hopefully be able to take all the classes they want to take while staying in compliance with Title IV.
"I think the big thing from our standpoint is obviously we want to help students get to graduation but we also want to make sure that if they're eligible for aid that they stay eligible and can use that to complete their degree successfully," Laurenzo said. "Obviously we don't want students that are stuck without that aid."
Laurenzo said that she has run into the issue of students wanting to take classes beyond their graduation requirements to a greater degree with pre-professional students. Students who are planning on attending medical school or other pre-professional programs after they graduate are required to take certain classes during undergrad in order to be eligible to apply to these programs. However, many of these students are not majoring in departments that require the same classes for graduation. Therefore, Laurenzo has encountered students who are essentially being required by pre-professional programs to take classes beyond what is officially demanded by their undergraduate degree. The problem occurs when students in this position depend on federal financial aid and are thus subject to Title IV — they may face the curbing or elimination of their Pell Grants and loans and be forced to foot the bill for whatever remains of their undergraduate education.
Laurenzo said that she would like to design earlier intervention for students who will exceed the 120-credit hour mark. She said that by notifying students who receive federal financial aid about this policy earlier, students would be better equipped to address the potential changes in their academic plans. She also recommended that students speak to their advisor about their dependence on federal aid and come up with a plan together to make sure the student stays in compliance with Title IV.
"I do think it's important for students to work with their advisor early and often just to make sure they're on track with their majors and academic goals."
"I do think it's important for students to work with their advisor early and often just to make sure they're on track with their majors and academic goals," Laurenzo said. "So, it's just a matter of really, really careful planning to make sure that they can get the courses that they need and still graduate and still have their aid. So, I think it's just really important for students to reach out to their advisors early to stay on track."
In order to be able to take classes beyond those required for a degree, Laurenzo said that it is key to combine these elective courses with required ones. By taking classes outside of their COLL and major requirements each semester — alongside required classes — students can strategically space out their degree requirements in order to remain fully federally funded for all four years. Dobrota said that when students attempt to complete all their requirements during their first few years at the College in an effort to have a more relaxed last semester or two of taking extracurricular classes, they might run the risk of losing federal funding. Conversely, another student could plan to take the same exact classes during their time at the College but mix required and non-required classes each semester, so they will still have enough required classes left to be compliant with Title IV during their last semesters and receive federal funds. Dobrota said that this can happen simply because the federal government is not aware that students are doing this.
Dobrota recommends that students work with both the Financial Aid Office and the Office of Academic Advising when they notice that they are becoming close to finishing their degree in order to create an academic plan that will be both satisfactory to each student and adhere to Title IV. However, Dobrota cautioned that students must be aware that both offices are working within strict regulations in order to help students reach their academic goals, and the commitment to student education is a two-way street.