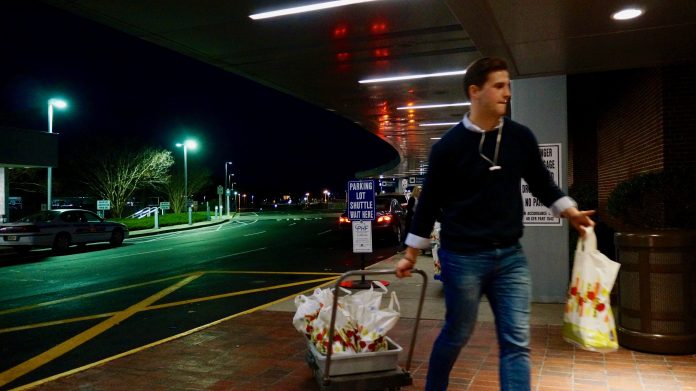 The longest government shutdown in U.S. history ended Friday, Jan. 25, but its effects on local federal workers have been widespread.
Students at the College of William and Mary saw this struggle and decided to help out, directing their attention to Transportation Security Administration agents at the Newport News/Williamsburg International Airport who had worked for 35 days without a paycheck.
The shutdown created serious financial burden for agents, who in some cases were unable to purchase basic necessities due to the shutdown. Wednesday, Jan. 23, Matthew Boyer '21, Alhassan Ouf '21 and Hyun-Jik Lee '19 drove down to the airport to deliver food and supplies to TSA agents. This trip was the culmination of weeks of planning and organizing.
When Boyer first arrived back on campus, he called up Ouf and they began planning the trip. Ouf recalls that Boyer asked him what he thought they should do to help the furloughed workers and expressed the urge to take action locally to help those affected by the shutdown.
"What I heard from Matt wasn't just a request to do stuff," Ouf said. "It was passion."
"What I heard from Matt wasn't just a request to do stuff," Ouf said. "It was passion."
Boyer said that he became roused by this cause because of its immediacy and his capability to do something about it. He said he felt a sense of urgency to help out with this issue because of how quick and drastic the change was for a large amount of people.
"The reason we did this was because it was immediate, it happened right now, and it was a sudden change for these people's lives," Ouf said.
Boyer and Ouf focused their efforts on campus organizations in order to gather the supplies they would need. Their goal was to create as many care packages full of food and supplies as possible to deliver to the TSA agents. They reached out to Fraternity and Sorority Life organizations first, and then to other large organizations on campus, such as the Filipino American Students Association and the Chemistry Club. 
Students were asked to donate non-perishable food items and supplies like feminine hygiene products. Boyer also reached out to local restaurants Sal's by Victor and Pierce's Pitt Barbecue for hot donated food.
Sal's by Victor Manager Mirella Minchiallo said that Sal's was pleased to be able to help those struggling during the shutdown through Boyer and Ouf's initiative. 
"We are very close to the community so every time someone asks and we can help, we are happy to do this," Minchiallo said. "We are a family restaurant and get a lot of help from the community."
College organizations that donated included fraternities Sigma Alpha Epsilon, Alpha Tau Omega and Kappa Sigma; sororities Phi Mu, Kappa Alpha Theta, Gamma Phi Beta, Delta Gamma and Alpha Chi Omega; and FASA, the Chemistry Club and residents of Taliaferro Hall. 
Boyer and Ouf put together 60 care packages, each containing one box of pasta, marinara sauce, mac and cheese, black beans, pinto beans, chicken noodle soup, peanut butter and six granola bars. Half of the packages contained feminine hygiene products as well. They also delivered pans of Sal's Italian food and Pierce's barbecue.  
"A week ago, [Ouf] and I were just, you know, going about our lives, and in a matter of four or five days we mobilized a community, put together 60 care packages and several meals," Boyer said. "If every other college campus in America stepped up to do the same thing look how much help that would be."
Even though the shutdown is a political matter, Ouf said that he and Boyer pursued this cause in a nonpartisan manner in order to focus simply on helping the people affected. He said that for them, this shutdown was not about President Donald Trump versus Speaker Nancy Pelosi, but about how they, as students and community members, could help the people struggling as a result of this fight.
"As soon as Congress can put Americans before politics is the soonest we'll be able to get out of this mess," Ouf said.
"As soon as Congress can put Americans before politics is the soonest we'll be able to get out of this mess," Ouf said.
Boyer said that he hopes his efforts inspire other students on college campuses to help out, as well as create a culture of helpfulness and responsiveness in general that will last beyond this government shutdown.
"When you have all the opportunity in the world and the ability to help then you should," Boyer said.