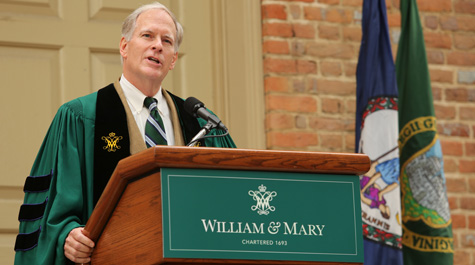 Feb. 6, two days after College of William and Mary President Katherine Rowe announced that Virginia Gov. Ralph Northam would not be attending annual Charter Day festivities, the university selected Virginia Supreme Court Justice William Mims '79 to speak in Northam's place.
"We are pleased Justice Mims will be joining us for our Charter Day Ceremony this week," College spokesperson Suzanne Clavet said in an email. "He is no stranger to his alma mater, most recently delivering our Convocation address in 2015."
Rowe's Feb. 4 announcement came after Big League Politics released an image from the Eastern Virginia Medical School's 1984 yearbook. The Virginian-Pilot confirmed that the image on Northam's page portrayed two men, one dressed in blackface and one wearing a Ku Klux Klan hood and robe. Northam has since denied that he is in the photo but did admit to wearing partial blackface when dressed as Michael Jackson in the 1980s.
Over the weekend, while leaders across the nation called for Northam to resign, students petitioned for the College to select a different speaker to participate in Rowe's inauguration and the re-investiture of Chancellor Robert Gates '65.
Mims, also an alum of the College, received his bachelor's degree in 1979. He then received his juris doctor degree from George Washington University in 1984 and his master's in law degree from Georgetown University in 1986. While at the College, he served as student body president.
Mims was appointed to the Virginia Supreme Court in 2010. Before that, he served as the state's 45th Attorney General, a representative in the Virginia House of Delegates and a representative in the Virginia Senate.
According to Clavet, Mims is very connected to the College and most recently was the keynote speaker for the 2015 Convocation ceremony. He also speaks at undergraduate and Marshall-Wythe School of Law classes.