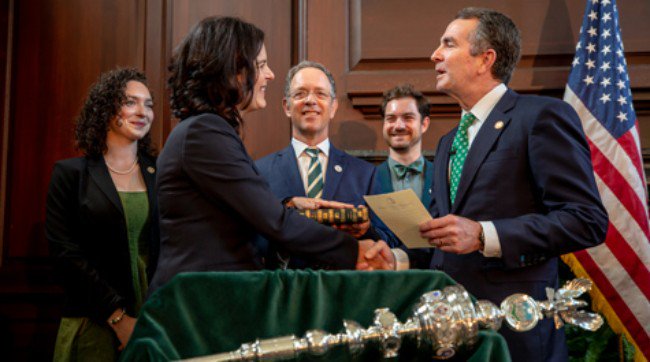 As politicians, state leaders and community actors called for Virginia Gov. Ralph Northam to resign, members of the College of William and Mary community joined the conversation. Northam was set to participate in the inauguration of College President Katherine Rowe Friday, Feb. 8. However, after students signed petitions and expressed their concerns, Rowe announced the morning of Monday, Feb. 4 that Northam would no longer participate in the Charter Day ceremony. 
Friday, Feb. 1, Big League Politics, later confirmed by The Virginian-Pilot, broke the news that photos in a 1984 Eastern Virginia Medical School yearbook featured two men, one in blackface and one in a Ku Klux Klan hood and robe, on Northam's page. Northam initially said that he was in that photo, but in a press conference Saturday, Feb. 2, he denied appearing in the picture. However, he did admit that during another party he had dressed in partial blackface to portray Michael Jackson. While many have called for Northam to resign, he has said that it would be the easy way out and he would prefer to make things right from the gubernatorial office. 
"On Friday, like others in our community, I was appalled and saddened by the revelation of the racist image on Governor Ralph Northam's medical-school yearbook page," Rowe said in her campus-wide statement.
"On Friday, like others in our community, I was appalled and saddened by the revelation of the racist image on Governor Ralph Northam's medical-school yearbook page," Rowe said in her campus-wide statement. "The behavior depicted in that photo is a painful reminder of the hate, divisiveness and racism that so many in this country have sought for generations to overcome." 
According to College spokesperson Suzanne Clavet, the President's Office communicated with Northam's office over the weekend. 
These conversations culminated in the announcement that Northam would not participate in the Charter Day or Inauguration ceremonies. It is not clear whether the College disinvited him or if his office decided that he would not participate. 
"As you will see in [Rowe's] message, it became clear over the weekend the Governor's presence would fundamentally disrupt the sense of campus unity we aspire for with the Inauguration/Charter Day event this week," Clavet said in an email. "We have conferred with the Governor's office and he will not be attending."  
As of Feb. 4, the President's Office had not announced who would replace Northam's role in the ceremony. Charter Day Chair and Inauguration Committee member Connor Glendinning '19 said he felt confident that in the coming days, a new speaker who had connections to Virginia and the College would be announced. 
"I had heard on Saturday from the President's Office that clarity would come after the weekend," Glendinning said. "I think it was a really well put together statement. I wholeheartedly support her. It makes a lot of sense, politics aside, to disclude [sic] any narrative of hate from our campus. I do think it would have really detracted from the event being about William and Mary and the introduction of Rowe to that community. That event is not about that controversy and it would have detracted from the work we have done over the months. That is where my support comes in." 
Over the weekend, student groups also drafted letters and petitions asking for Northam to resign and to ensure that he would not attend the Charter Day and Inauguration ceremonies. Two groups, the College's chapters of the Young Democrats and the Young Democratic Socialists of America, drafted a joint letter in response. 
"In addition to our calls for his immediate resignation, we are also asking the College of William & Mary to formally uninvite Governor Northam from this year's Charter Day celebration," the groups said in the letter. "We also request that the College does not grant Governor Northam an honorary degree. As an institution, we cannot support these offensive acts out of respect to not only our students, but also our own personal values. His presence will detract from the experience of the student body, faculty, and staff." 
Last year, following a tradition to honor newly inaugurated Virginia governors, the College had Northam serve as the keynote speaker at Charter Day and conferred an honorary degree. At the time, Northam commended the College's recognition of the 50th anniversary of African-American students in residence and spoke about issues of socioeconomic diversity at public universities in Virginia. Over the summer, Northam also participated in Rowe's swearing in.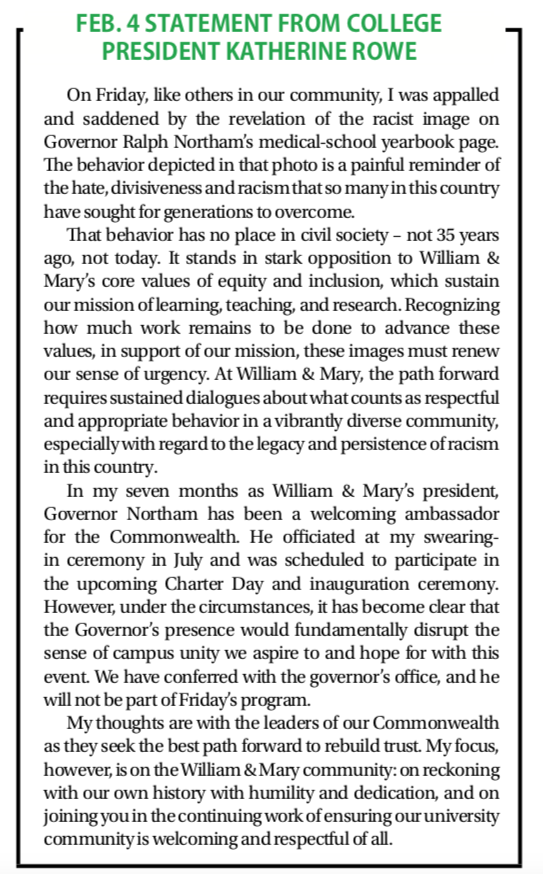 Rowe also emphasized in her statement that Northam's behavior would not be acceptable in today's world and was also not acceptable in 1984.
In preparation for Tuesday night's Student Assembly senate meeting, Class of 2020 President Kelsey Vita '20 and Sen. Anthony Joseph '21 have drafted a resolution titled The Expectations of Gubernatorial Leadership. Sen. Cody Mills '20, Sen. JonDavid Nichols '20, Sen. Zie Medrano '19 and Sen. Alexis Payne '19 have also signed on as sponsors. In addition to these sponsors, several other senators, SA secretaries and SA undersecretaries have signed on to the resolution. 
This resolution, which has not officially been discussed on the floor at an SA Senate meeting, acts to condemn Northam while simultaneously supporting his dismissal from Charter Day and demanding his immediate resignation. Since the resolution's introduction, Northam has already been removed from Charter Day. 
"If passed, we intend to disperse this resolution to the student body via email, deliver it to the Board of Visitors, and send it to other student governments of Virginia public institutions," Vita said in a written statement. 
Vita said that she hoped that if passed, this resolution would have a larger impact in uniting universities across the state in condemning Northam and calling for his resignation. 
One point of the resolution calls to have Virginia Lieutenant Gov. Justin Fairfax replace Northam as a guest speaker at Charter Day. However, allegations have surfaced that Fairfax committed sexual assault in 2004 at the Democratic National Convention.  Vita and Joseph said that they were unaware of these allegations at the time they wrote and shared the resolution, but they will research in time for Tuesday's meeting.  
William and Mary Students United posted on their Facebook page about these allegations. Dalton Jared '20, one student who organizes with Students United, said that he was proud of students who spoke out against Northam. He also said that he hoped future conversations about Fairfax would be led by sexual assault survivors. 
"We must trust the individual who has come forward and follow their lead regarding proper reparations — if that is their wish," Jared  said in a written statement.
"… We must trust the individual who has come forward and follow their lead regarding proper reparations — if that is their wish," Jared  said in a written statement. "… Survivors should always be central to discussions such as this, so we should all strive to be good listeners rather than commanding the situation or absolving Fairfax of his violence simply because we may agree with his politics. Therefore it would be appropriate for the College to distance itself from Fairfax as well." 
The resolution will be officially discussed Tuesday, Feb. 5, during the SA Senate meeting at 7 p.m. This meeting, like other SA meetings, will be open to the public.