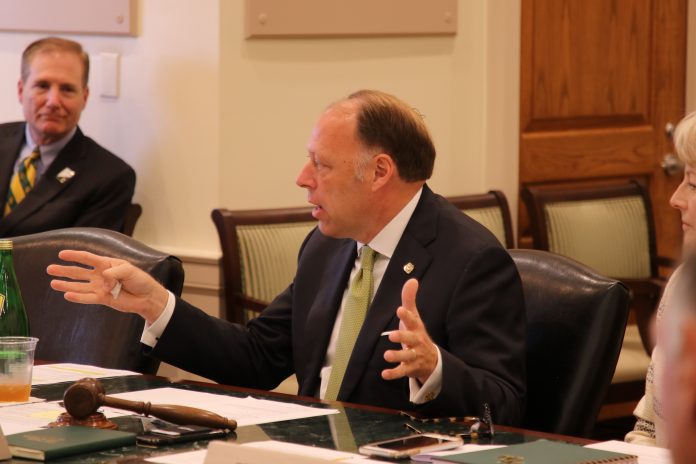 Leading up to the inauguration of the College of William and Mary President Katherine Rowe, the Board of Visitors met and discussed 23 resolutions, mostly addressing faculty retirements. During the meetings Feb. 6-8, the Board recognized the retirements of 12 professors.  
During these meetings, the Board also addressed cash investment policies, parking violations and two new academic programs.  
Resolution 1: The Richard Bland College Committee discussed this resolution regarding executive appointment in closed session.  
Resolution 2: The Richard Bland College Committee discussed this resolution regarding vacancies in professional faculty in closed session.  
Resolution 3: To fill vacancies in the College's instructional faculty, the Board approved the hiring of Adrian Bravo '12, Lori Bland, Ashley Carpenter and Sharan Grewal.  
Resolution 4: The BOV approved designated professorships for Kveta Benes as the James Pinckney Harrison Associate Professor of History; Rowan Lockwood as the Margaret Hamilton Professor of Geology; Philip Roessler as the Margaret Hamilton Associate Professor of Government; Jamie Settle as the David and Carolyn Wakefield Term Distinguished Associate Professor of Government; and Douglas Young as the Cornelia Brackenridge Talbot Term Distinguished Associate Professor of Chemistry.  
Resolution 5: The Board approved two faculty leaves of absence without pay or with partial pay for the 2019-20 academic year. Interdisciplinary studies professor Carey Bagdassarian will take a leave of absence to focus on writing and creativity for fall 2019 and government professor S.P. Harish will be on fellowship at Princeton University for the fall 2019 semester.  
Resolution 6: With this resolution, the Board approved faculty promotions. Marine science professor Jan McDowell was promoted from research assistant professor to research associate professor; education professor Stephanie Blackmon, physics professor Jozef Dudek, marine science professor Donglai Gong, sociology professor Monika Gosin, marine science professor Christopher Hein, modern languages professor Cavin Hui, English professor Chelsea Johnson, education professor Meredith Kier, economics professor John Lopresti and English professor Kara Thompson were promoted from assistant professor to associate professor; and law professors Eric Chason, Thomas McSweeney and James Stern were promoted from associate professor to professor.  
Resolution 7: The Board approved awards of academic tenure for education professors Stephanie Blackmon and Eddie Cole, applied science professor Myriam Cotten, Dudek, Gong, Gosin, Hein, Hui, Johnson, Kier, Lopresti, McSweeney, Stern and Thompson.  
Resolution 8: In compliance with the State Council of Higher Education for Virginia, this resolution establishes an official Bachelor of Arts program in linguistics. Currently, students who wish to major in linguistics do so through the larger interdisciplinary studies program. Faculty that will be incorporated in this major come from the interdisciplinary linguistics program and the English, anthropology, psychological sciences, Africana studies and modern languages programs.  
According to the resolution, graduates with linguistics skills are increasingly demanded by employers, so creating an official program in linguistics would help prepare students for employment post-graduation.  
Resolution 9: This resolution establishes a Doctor of Juridical Sciences program at the Marshall-Wythe School of Law. This program will start in August 2019. As opposed to a standard law degree, an S.J.D. is a "terminal" law degree that some choose to obtain after completing a three-year law program. These degrees emphasize research and are primarily designed for those attorneys who want to work in the global legal market.  
The current faculty at the Marshall-Wythe School of Law have already approved this degree and will teach the required coursework during the coming academic year. According to the Board, this will make the College a more competitive choice for law students.  
Resolution 10: This resolution acknowledges the retirement of English professor John Conlee and changes his faculty status to professor emeritus. Conlee first joined the faculty in 1968, with research focusing on medieval English and Anglo-Saxon literature. He served as the chair of the English department from 1982-1985 and 1989-1992. He has published books on Scottish poet William Dunbar and Arthurian literature and an anthology of Middle English debate poetry.  
Outside of the undergraduate English realm, Conlee chaired the English graduate studies program and the College's International Studies Advisory Committee. He has also served as a member of the Admission Policy Advisory Committee and the Athletics Policy Advisory Committee. According to the resolution, Conlee was very passionate about college athletics and served as a faculty athletics representative to the National Collegiate Athletic Association for 10 years.  
Resolution 11: This resolution recognizes the retirement of economics professor William Hausman '71. After retirement, Hausman will also be recognized as an emeritus professor of economics. Hausman first returned to the College to teach in 1981 and was promoted to chancellor professor in 2001. He specializes in economic history and has taught seminars on the Great Depression, the history of regulatory agencies and business history.  
Hausman served as the economics department chair for three separate terms, served two terms on the Faculty Assembly and served as the faculty representative to the Board of Visitors from 2012-14. He has also served on the Faculty Compensation Board, the Dean's Advisory Council, the Faculty Research Committee and the Landscape, Environment and Energy Committee.  
Resolution 12: English professor Colleen Kennedy is also retiring and will be recognized as a professor emerita. Kennedy has been at the College since 1988 and has won awards including the Jefferson Teaching Award and the Shirley Aceto Award. Kennedy is a scholar of contemporary literature, theory and film, and helped contribute to the development of the freshman seminar requirement and the general education requirements — the curriculum system prior to COLL.  
Resolution 13: In 2007, Rosa Lukaszew became a Distinguished Virginia Microelectronics Consortium Professor first in the applied sciences and then in the physics department. She plans to retire and will be recognized as a professor emerita. Before coming to the College, she worked as a research scientist with the National Atomic Energy Commission of Argentina and taught at the University of Toledo. Lukaszew's research is in the area of experimental condensed matter physics and focuses on thin films and nanoscale science.  
Outside of the applied sciences and physics departments, Lukaszew served on the ad hoc committee on Engineering, Design and Innovation, chaired the Faculty Research Committee and served as a panelist and proposal reviewer for the National Science Foundation, the Department of Energy and the Department of Defense.  
Resolution 14: Classical studies professor John Oakley joined the College's faculty in 1980. He also will be retiring after this year and will be recognized as a professor emeritus. His research areas are Greek art and archaeology. According to the BOV, Oakley has made a large impact on his scholarly field, and one of his essays is featured in the Perseus Project, which is a digital service for classical studies students.  
At the College, Oakley served on the Muscarelle Museum of Art's Acquisitions Committee, the Educational Policy Committee, the Promotions, Retention and Tenure Committee, the Faculty Assembly and the Faculty Affairs Committee. Oakley also served twice as the chair of the classical studies department.  
Resolution 15: In 1989, religious studies professor Marc Raphael joined the College as the Nathan and Sophia Gumenick Chair of Judaic Studies. He chaired the religious studies department for 12 years and created the interdisciplinary program in Judaic studies. Raphael is retiring this semester and will be honored as a professor emeritus. During this time, he also worked as a visiting professor at Oxford University, Case Western Reserve University and Brown University.  
Raphael's research focuses on the history of Judaism in America and developed a methodology that is widely used to study in his field. Through the College's Judaic studies program, he raised millions and wrote a book on fundraising called "Understanding American Jewish Philanthropy."  
Resolution 16: After 53 years of professorship, mathematics professor George Rublein will retire after this academic year and be recognized as a professor emeritus. He first began teaching at the College in 1966 and teaches courses such as The Mathematics of Powered Flight. Much of his career has been spent developing mathematics education initiatives and works with the College's School of Education.  
At the College, he served as the vice president and president of the Faculty Assembly and was a member of the Faculty Affairs Committee, the Nominations and Elections Committee, the Strategic Planning Committee and the Budget Policy Advisory Committee. He also chaired the applied science program while its doctoral program in computer science was in the process of being approved by SCHEV.  
Resolution 17: English professor Nancy Schoenberger joined the College's faculty in 1989 through the writer in residence program. She also intends to retire this year and will be recognized as a professor emerita. Since 2007, Schoenberger has chaired the College's creative writing program and has received the Alumni Fellowship Award and the Plumeri Award for this work.  
She has written six biographies, primarily focusing on Hollywood's celebrities, and has also been recognized for her poetry. She is also credited with contributing to the creation of the College's creative writing program through the development of new courses within the English department.  
Resolution 18: To many students, government professor Joel Schwartz is better known as the director of the Roy R. Charles Center. He joined the College's faculty in 1978 and has taught classes focusing on democratic theory, civic engagement and the role of the masses in political science. Schwartz also serves as the dean of honors and interdisciplinary studies for undergraduate students.  
Schwartz will retire after this semester and be recognized as a professor emeritus.  
Resolution 19: Modern languages professor Yanfang Tang is also retiring this semester and will be recognized as a professor emerita. She first joined the College in 1994 and is credited with being the driving force behind the Chinese minor and major as well as the establishment of the Confucius Institute. Within her scholarly field, she is known for writing one of the premier textbooks on Chinese language and culture.  
Outside of her field, Tang chaired several departmental committees on hiring, policy and personnel review and led workshops and lectures on China and Chinese culture for greater Williamsburg's K-12 programs.  
Resolution 20: Art and art history professor Susan Webster joined the College's faculty in 2008. She also will be retiring after this year and will be recognized as a professor emerita. She is known for her expertise in modern Iberian, colonial Latin American and pre-Columbian art and visual culture. Since 2008, she has been recognized with awards including fellowships through Guggenheim, Fulbright and the National Humanities Center.  
Webster has also served as the director of Latin American studies and has served on department committees for art, art history and American studies. She is credited with making both of those programs more inclusive and welcoming to students.  
Resolution 21: English professor and Writing Resource Center director Sharon Zuber will retire this year after 30 years at the College. She first joined the faculty in 1986 and became a founding member of the Virginia Writing Center Association later in her career. After retirement, she will also be recognized as a professor emerita.  
At the College, she is credited with training other faculty on how to teach freshman seminars and producing a celebrated documentary, "They Live in Guinea," which explores how modernization has impacted a community on the Chesapeake Bay. Her documentary was selected for the Virginia Film Festival and has since won several awards. 
Resolution 22: Every three years, the Board reviews the College's Cash Management Investment Policy to establish investment and operational guidelines. The policy was last reviewed in February 2016. The goals of this year's review process were to ensure the safety of funds held in short-term investment portfolios and to maximize investment returns.  
Resolution 23: This resolution amends the Motor Vehicles Parking and Transportation Rules and Regulations to better ensure student safety on campus. This resolution also acknowledges that the Board has the proper authority to review the College's motor vehicles policies and reviews the current policies regarding parking, ticketing and the issuing of decals.