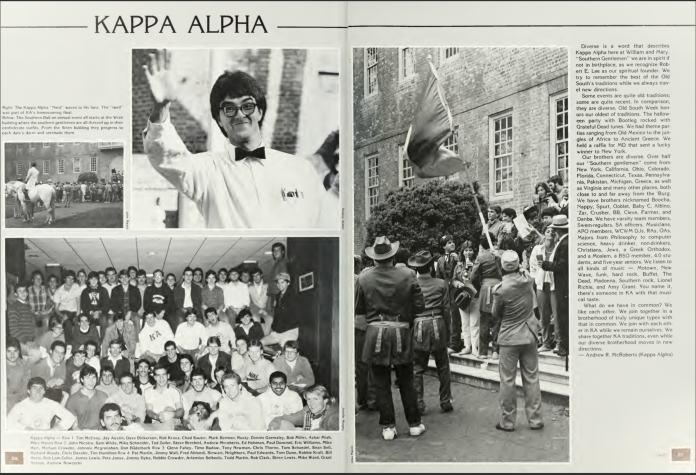 Ms. Kitchin,
My name is Richard Owens. I am an alumnus of the College of William and Mary, (Class of 1989). I am an African-American man, who is also a proud member of the former Virginia Psi Chapter of Pi Lambda Phi Fraternity at William and Mary.
I have known State Senator Monty Mason, '89 since we pledged Pi Lam together as freshmen in 1985.
I want to express my displeasure with the article about Senator Mason and our fraternity, written by you and Leonor Grave, and published in the February 7, 2019 edition of the Flat Hat.
First, I feel that you have completely mischaracterized the pledge or "slave" auctions as you called them. This was an annual event which every pledge participated in, and we were "sold" to the highest bidder. But to imply that there was some sort of racist theme to this is totally off base.
No one was led around in chains, nobody inspected our teeth or bone structure, and there were certainly no racial epithets directed at me or any other pledge.
I understand the painful history of slavery and race relations in Virginia.
The first slaves in the colonies landed in Jamestown. There are very few places you can go in Virginia without seeing a historical marker about the Civil War.
While I was in college, there was no holiday for Dr. Martin Luther King, Jr. in the state. Thanks to the efforts of then State Senator Douglas Wilder, Dr. King's name was begrudgingly added to the Lee-Jackson holiday, which honored Confederate generals Robert E. Lee and Thomas "Stonewall" Jackson.
I also experienced racism while I attended W&M. During my freshman year, I vividly remember visiting a merchant on DOG Street who acted like I was invisible and tried to refuse to wait on me.
I also witnessed a classmate proudly wave a Confederate flag in the stands during a home football game versus Delaware.
After reading your article, I spoke with several of my fraternity brothers. One of them reminded me of an incident when he addressed me as "boy". Even then, I knew he did not mean it in a derogatory manner; but it was a teachable moment – for both of us.
The story also reminded me that I challenged more than one person on campus to a fight when they used that word to demean me.
So I am not a man who would have ever let my brothers host an event with even the slightest hint of racism to it.
I also have a problem with your research efforts for this article.
You included a group photograph in our house, and I am dead center in the picture. You cannot say you didn't know I existed.
You could have easily found me on social media. In fact, Monty and I are friends on Facebook.
I would have gladly spoken with you about my experiences in the fraternity.
However, I never heard from anyone at your newspaper.
The other Pi Lam alums I've spoken with were not contacted by the paper either.
I am particularly upset that you tried to portray Senator Mason, and our entire fraternity as racists. Yet you made no effort to speak to someone who might have firsthand knowledge of any racist behavior by him, or the organization.
We were not choir boys at Pi Lambda Phi. We did some things that would be unacceptable by today's standards.
But my brothers and I respected each another. We never did anything to demean or insult one another because of different backgrounds, ethnicities or races.
Furthermore, Monty Mason earned the position of chapter president because we respected his character and leadership. He was also well-liked by students from a variety of backgrounds all over campus.
His personality and character are qualities that got him elected as a delegate, and later State Senator, and he seems to be respected and liked by his constituents of all races.
It appears you have written the article in an effort to break the next "big story" in the ongoing political drama in Virginia. However, it comes off as a reckless and irresponsible, and a hasty attempt to smear a politician and a good man.
I hope that you will do the right thing and dig a little deeper to get the truth and I thank you for allowing me to share a different viewpoint of this story.
Respectfully submitted,
Richard B. Owens. Jr. '89