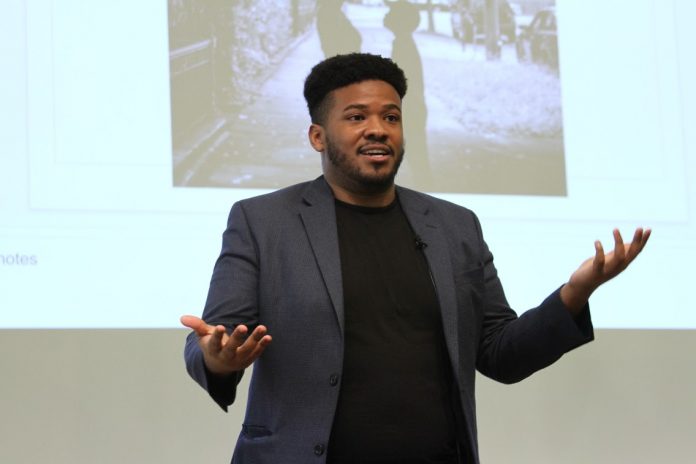 At the second annual Student Diversity Symposium Feb. 22, students engaged in conversations about the importance of incorporating diversity and inclusivity in their daily lives. Students from the College of William and Mary's undergraduate and graduate schools attended the event titled, "The Pieces of YOU: Intersectionality and Creating Inclusive Spaces." 
Funded by a grant from Ernst and Young and held at the Raymond A. Mason School of Business, the symposium was organized by the Center for Student Diversity, the Office of Diversity and Inclusion as well as the Student Assembly.  
"Events like this really center the conversation and allow us to have touch points with people who might not have it in their classes," Deputy Chief Diversity Officer of the Office of Diversity & Inclusion said. 
The event featured keynote speaker Jonathan Jayes-Green co-founder and director of the UndocuBlack Network, an organization that strives to empower undocumented, black individuals within the United States. As an undocumented Afro-Panamanian immigrant, Jayes-Green experiences intersectionality daily. He began his presentation by discussing intersectionality as a concept. 
"The heart of it is that because of those marginalized identities that we hold, these systems come together and folks who are at those intersections have worse outcomes than other people," Jayes-Green said. 
As for the experience of black immigrants in the United States, Jayes-Green says that his personal story began as an optimistic one. Knowing that his opportunities were limited in Panama, his parents moved their family to the United States. At first, the move opened a door to an abundance of possibilities, but soon the harsh realities of living in America as a black, undocumented immigrant set in.
"My heart has been broken time and time again by this country that I call home," Jayes-Green said. 
"My heart has been broken time and time again by this country that I call home," Jayes-Green said. 
Jayes-Green began fighting for immigrant rights while in high school. Alongside a group of friends, he worked to pass a state version of the Dream Act, which allowed undocumented students to pay in-state college tuition. Jayes-Green said that black students in Baltimore fought with them for the Dream Act in Maryland, but he did not see the same solidarity from the immigrant community after the death of Freddie Gray in 2015. This need for a community that reaches across identities is a founding principle of the UndocuBlack Network.  
"For us it was really about creating a space to heal, because there were so many emotions that we were feeling, and we actually want to channel them into action," Jayes-Green said. "We want to be able to change this conversation, we want to be able to do something for our communities and really utilize this moment to build solidarity." 
Through his work with UndocuBlack, Jayes-Green has fought against the structural and societal issues that affect this country, including the loss of Temporary Protected Status, mental wellness and arrest of the rapper 21 Savage by Immigration and Customs Enforcement. Issues of detainment and family separation, he said, are part of our DNA as Americans. 
 "We're really asking folks to dig deeper around what does it mean to live in this country and the values that we're upholding," Jayes-Green said. 
"We're really asking folks to dig deeper around what does it mean to live in this country and the values that we're upholding," Jayes-Green said. 
He ended his presentation by asking the audience to find ways to engage with local communities that need support.   
Throughout the day, attendees had the option to attend several different workshops. These workshops included Religious Diversity on a College Campus, Diversity Among Faculty and Mentors, Mental Health Stigmas and the Model Minority.  
The Religious Diversity workshop featured a panel of six students of different faith backgrounds. Max Blalock moderated the panel, which included topics ranging from dietary challenges on campus to prayers paces to performative events such as Yule Log. These discussions opened a dialogue to address ways in which the College can be a more accommodating institution.  
Trauma specialist Ryan Brown discussed mental health stigmas in his workshop. Through his presentation, discussion and activities, students learned how mental health issues are worsening and what they can do to reduce both the severity of these problems and their stigmatization.   
Students attending the symposium came from both the College's undergraduate population but from graduate schools as well, namely the School of Education, the Virginia Institute of Marine Science and Business school. Across these institutions, one thing was clear; there is always more that can be done to make the College a more inclusive institution.  
"Societally we're talking about diversity more, and that's definitely happening on this campus, especially events like this are super important," Gillian Townsend '19 said. "But there are also just fundamental issues that need to be tackled if we're really going to be a diverse and inclusive school." 
For Dania Matos, Friday's symposium marked the birth of a larger movement. 
"I think it's important for this to be yearlong," she said. "We have a couple of hours on a Friday in February, but what are ways that we could really make this a part of your William and Mary experience."