After a sad, horrible and disgusting rainout Feb. 16, it was no surprise that the powers-that-be moved Campus Golf to Mar. 16 — the day before St. Patrick's Day.
The Flat Hat's Campus Golf teams travelled from Campus Center's damp, asbestos-filled basement to the sunny and muddy Sunken Garden, a golf course that rivals — supersedes, even — the Professional Golfers' Association Championships' venue of choice this year: Bethpage Black Course on Long Island.
The teams were immediately greeted by the blaring speakers, screaming Kappa Delta members, adults in furry costumes and so many rogue tennis balls.
It was paradise.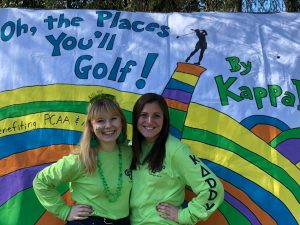 Competing first for The Flat Hat were the paper's very own freshman editors: Team Sports.
Having watched about two hours of golf between them, the freshman editors were positive they had mastered the ins and outs of the sport itself. This assumption was quickly proved wrong, when, out of nowhere, Sports Editor Gavin Aquin '22 sustained a wrist injury attempting to chip a ball from the concrete. His childhood training in golf had failed him. Truly he deserved the injustice of having to play golf with a right-hand club, setting back the progress of left-handed rights by nearly four and three-quarters centuries.
"Our caddy said I could use a left-handed club, but I didn't want to make her walk all the way across the Sunken Garden," Aquin said. "My mild-natured Nevadan personality jeopardized what should have been an easy sweep of the inexperienced and the uncultured. I blame the humidity."
Sports Editor Avery Lackner '22 and Variety Editor Zoe Beardsley '22 battled it out for second the entire game, but in the end Zoe's inability to putt with her eyes closed proved a mountain that was too big to overcome.
"I bet if you asked Tiger Woods to putt with his eyes closed he would be bad at it too," Beardsley said. "So, in a sense, I'm just as good at golf as Tiger Woods."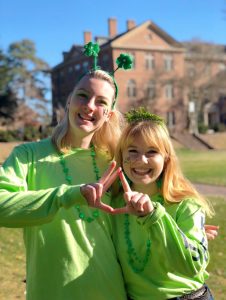 Even though Avery persevered in defeating Zoe and Gavin, no one on the team could get close to David Lefkowitz's '22 mastery of the Campus Golf course. A late addition, Lefkowitz played as if he had practiced for years, setting an (unconfirmed) William and Mary Campus Golf record.
When asked how he accomplished such a masterful performance, Lefkowitz was very clear.
"I have to credit my mentor and coach, Ty Webb," Lefkowitz said. "I saw him in the documentary 'Caddyshack' and immediately knew he would be able to take my game to the next level, which is exactly what he did!"
Lackner lamented her second place finish to everyone within earshot of her.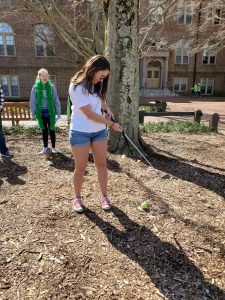 "I was so extremely disappointed by this," Lackner said. "After a year of victory for the Boston Red Sox, I thought that I too could be a winner. However, I was not a winner. In fact, I am from Texas. Yes, I did have to tell everyone that, it's in the I'm From Texashandbook."
Not to be forgotten, Team Old People put up an impressive performance as well. Despite having to deal with the arthritis brought on by their advanced age, they succeeded in succeeding.
The least elderly member of the team, only recently reaching the age ofretirement, Kevin Richeson '20 found himself in a sticky situation. After being bitten by a radioactive squirrel, Richeson was cursed with a lifetime of carrying in his head a database of all-encompassing knowledge of everything from birdies to lob wedges. Since with great power comes great responsibility, naturally he had to explain to every tipsy golfer that he saw — well, how to tell the difference between an eagle and an elbow.
"For some reason, most people seemed annoyed that I was talking to them about golf, but I didn't let that stop me," Richeson said.
For Kiana Espinoza '19, Campus Golf presented itself as the perfect opportunity for her to go full abuelitaand take care of everyone who was unfortunate enough to be hit by a tennis ball.
"All these unfortunate children are getting hit by tennis balls," Espinoza said. "As the matron of the Flat Hat intern children, I cannot stand for this wanton violence."
As the former Sports Editor, Alyssa Grzesiak '20 has seen some things in her tenure at the paper.
"Back in my day, Campus Golf was even more violent," Grzesiak said. "The tennis balls would come from the trees, the bushes, and attack everyone and everything. I once saw a squirrel eaten alive by a tennis ball. My life hasn't been the same since."
Jack Bowden '19 decided to attend Campus Golf in order to enjoy his retirement years. After spending time as a washed-out politician, he just needed to hit the course.
"I have dedicated my life to public service," Bowden said. "As the foremost scholar of Student Assembly constitutional law, I expect to one day be called to teach at the William and Mary School of Law. Until that day comes, you'll find me at the Sadler Center Country Club."
At this time, not much is known about Team Looked Very Lost's performance, but Heather Baier '20 managed to finish the course and find her way back to the office — which was a miracle in and of itself, but we are proud of her. She even got second place!
However, the most important contribution to the Flat Hat's Campus Golf efforts this season is that of Sarah Smith's '19 role as MVP Caddy Supreme. Lugging golf clubs and tennis balls across the Sunken Garden, she oozed the utmost sorority-girl overenthusiasm despite the effect that being former Editor-in-Chief and Senioritis has had on her — essentially, she is guilty on all counts of being a female Barack Obama. Second term anyone?
"I have to deny all the rumors," said Smith. "I will not be seeking reelection in 2019. In fact, just let me graduate already."
The Flat Hat's Campus Golf team will compete again next year when the event is inevitably rescheduled because Williamsburg has heinously ugly weather.