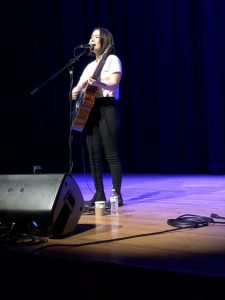 The indie-alternative crowd was out in full force the evening of March 23. Crowds of women in long red skirts and hair tied back in scrunchies and men in short sleeve button downs with interesting patterns took over the lobby of Sadler, geometric earrings dangling from many an ear lobe and a palpable hum of anticipation vibrating from their voices and their hearts. A queen was soon to be in their midst, a goddess among artsy, angsty poetic youths hidden somewhere behind the stage of the Commonwealth Auditorium. Mitski was here, brought to campus through the efforts of WCWM, the College of William and Mary's student radio station. Her presence was felt before she was seen.
In the darkened auditorium, the audience's gaze was fixated on the beaming stage throughout the night, seated in the tiered theater seats, in chairs placed close to the stage, and some crouching in walkways or leaning against door frames.
The opening performer, Angelica Garcia, stood alone on the stage but projected a magnetic energy as she sang and chanted, aided by synthetic stylings and a loop machine. Her feet stood planted while she sang songs about identity and immigration. Her hands waved and punctuated her words while her eyes, smeared with green eyeshadow, stayed closed
"Cultura Chicana is alive today, I've been wearing my roots and flying this flag," she sang, her delivery a punchy, melodic exercise akin to slam poetry.
In between songs, the strong voice that belted out unapologetically became soft and unassuming. When she announced her last song and the audience responded with audible disappointment, she expressed a meek surprise and thanked the crowd for caring. She used her loop machine to record and layer repeated measures of singing and vocalization, constructing a song before the audience. In her final song, the music swelled and gained a heady depth with each additional layer — she did not solely perform, did not just breathe life into a memorized set of notes or animate a dusty sheet of notation in her mind. She created.
The intermission between her set and the headliner's was filled with an easy chatter that emerged after the roar of applause for Garcia. Blue light backlit the stage. Garcia's equipment was cleanly moved away, leaving only a microphone stand. For a brief moment, a woman with short black hair in a white t-shirt crouched on stage, placing water at the base of the stand and momentarily tuning a shiny blue electric-acoustic guitar. Barely anyone noticed, but on a second glance, one would come to the realization that the unassuming stagehand at the front of an empty stage was in fact the beloved indie rock queen, Mitski herself.
She was noticed when she wanted to be noticed.
At 8:01 p.m., the audience roared with throaty, shrill exhilaration. She played her songs without accompaniment, without any attention for showiness or glamour. Her face was stony, her voice was soft. From the very start, the room was captivated by the regular-looking woman playing the shiny, plastic, blue guitar who serenaded the audience with a sweet, tender sort of pain.
All of the songs that Mitski played, from as far back as her 2014 album "Bury Me at Makeout Creek" to her 2016 album "Puberty 2" and including her most recent 2018 release "Be the Cowboy," resonated with feelings of devotion, loneliness and that bitter kind of love that you can't let go of because it hurts too good.
Her solo renditions of songs ranging from "First Love/Late Spring" to "Bet on Losing Dogs" were barer and more vulnerable without the cushion of the bass guitar or the drums.
She played her songs nearly always back to back, teasing in a monotonous voice that she had nothing to say.
"Sorry that I have no banter. That's probably the whole reason I started making music, because I have no banter," Mitski said.
Her stories shared with the audience were few but fostered a powerful sense of connection to an artist and a discography that already drives straight to the listener's private relationship with love and pain.
"I've never had friends until my adult life," Mitski said. "It means a lot for me to have you here and to feel connected. Thank you for being here."
"Geyser" came to the audience like a revival, like the feeling in one's heart when the pound of a drum reverberates through it. She strummed powerfully and sang the song like an open-hearted, open-mouthed ballad.
Mitski let her music speak for itself through the tight pacing and spacing of the songs but gave the audience the gift of her artistic insight about music and its ability to, if not heal, at least comfort.
"The beautiful thing about music is that you can write what you want to hear," Mitski said. "I wrote everything that I needed to hear, and I hope that you hear what you need to hear right now."
Mitski ended the set with a thanks, and she left. No encore.
The audience left with tear-stained faces, not in the least because the beloved songstress refrained from playing "Nobody," her most popular song from "Be the Cowboy" and one of her most popular songs ever. The impeccable fashion choices of the College's indie scene immediately became the focal point of any observer as Mitski's physical and emotional presence vanished. Most palpable was the ringing aftermath of a collective catharsis. She came; she existed; and the audience basked in her powerful, raw honesty, and she left. And we are all the better for it.