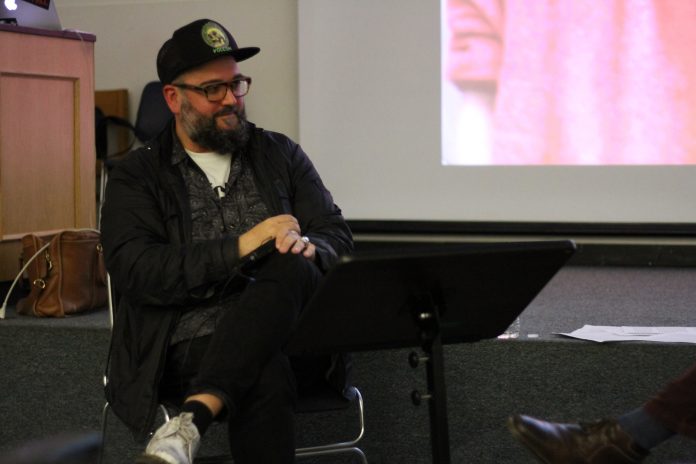 Tim Mohr, a New York City-based author and former Berlin DJ, came to speak at the College of William and Mary about his book "Burning Down the Haus: Punk Rock, Revolution, and the Fall of the Berlin Wall" March 21. Mohr's talk was sponsored by the German studies, history and film and media studies departments.
Mohr's fascination with the East German punk scene began after he moved to Berlin in 1992, just two years after the reunification between East and West Germany.
"I stumbled into the [Berlin] nightlife scene and immediately fell in love," Mohr said. 
Mohr's research on East German punks spans 10 years and, according to Director of the German Studies department Dr. Robert Leventhal, who interviewed Mohr at the event, his research goes deep into the subject matter. He initially attempted to conduct most of his research using records of the Stasi, the state security of the German Democratic Republic; finding these records extremely mundane, Mohr instead relied mostly on interviews to complete his research. 
According to Mohr, the punk movement in East Germany did not start out as a political resistance movement against the dictatorship of the German Democratic Republic — it started as a music scene. The punk scene only took its political turn after the punks faced oppression from the Stasi when in its eyes their alternative clothes were considered a potentially dangerous form of resistance. 
Mohr also noted how the punks' entire illegal music scene took place in churches, which served as havens for taboo topics since members of the Stasi could not enter the churches. It was in these churches that the punks first encountered activists that influenced their budding political stances.
"The punks really did present a dire threat," Mohr said. 
The punks were both radical and confrontational towards their oppressive government, but their centralized and unified approach to resistance made them a fundamentally different resistance group within East Germany. According to Mohr it was their simple, unified message: "F— the system. Let's bring it down." 
"But the Stasi was always two or three steps behind the punks' activities," Leventhal said.
According to Mohr, the Stasi continued to insist that punk was a Western phenomenon, but the group did not want to communicate with Western media out of a concern that their anti-dictatorship messages would be misconstrued as anti-communist. Furthermore, punk groups feared that being associated with the Western world would intensify scrutiny from the Stasi.
Mohr also noted how the punk movement was transnational within the Eastern Bloc, despite the fact that East Germans could not move across borders because of the country's rigid martial law policies. In order to evade excessive restrictions on their freedom of movement, many punks would claim false familial ties in other Eastern Bloc countries in order to gain approval for leaving East Germany.
"A bunch of punks signed up as cousins to various people in Poland," Mohr said. 
These false labels allowed punks to override the travel restriction that came with martial law to play shows in Poland, thereby showcasing their musical talents throughout Eastern Europe.
Lena Böse, a native of former West Germany who currently serves as the College's German Language House tutor, commented on the nostalgia that some Germans feels for the former East Germany.
"What I thought was really interesting was what [Mohr] said about Ostalgie [nostalgia] for East German material items," Böse said. "He stated that Ostalgie was really based on the fact that they cannot get their past back: they cannot smell the same detergent or eat the same cookies from their teenage years." 
"What I thought was really interesting was what [Mohr] said about Ostalgie [nostalgia] for East German material items," Böse said.
While agreeing with Böse's sentiments, Sarah Jordan '21, a German studies student, was also surprised by a lot of what Mohr mentioned. Furthermore, Jordan noted the parallels between some East German punk bands and others.
"I wonder if the West ripped off punk from the East," Sarah said, after noting the parallels between some East German punk bands and Western punk bands like the Sex Pistols. 
Leventhal was also happy with how the event emphasized unique voices. 
"I am very glad to have something that talks about history from below instead of from a dead white guy," Leventhal said. 
Mohr ended his talk by encouraging the audience to emulate the punks by fighting against complacency, and by exercising resistance whenever possible.
"The lesson is not to pass out guitars, but don't die in the waiting room of the future," Mohr said.