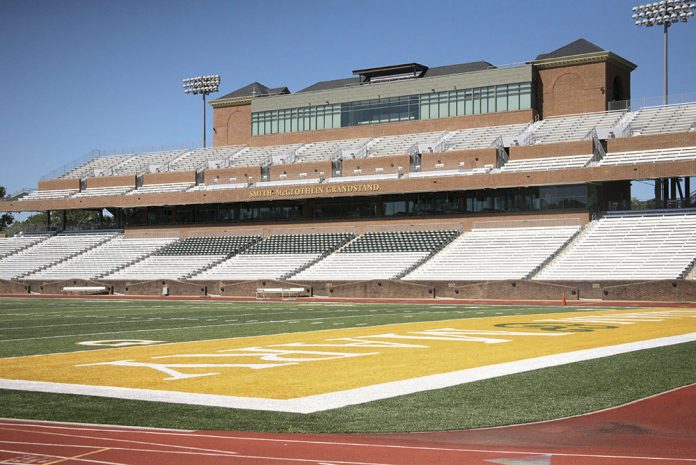 As the new school year begins, students and parents throughout the College of William and Mary's community fill out and sign a multitude of forms that indicate what their tuition will go towards. While there are numerous fees that continuously raise tuition and other school fees, some students have begun to question the intercollegiate athletics fee that all students pay and have expressed interest in where the College allocates the money. 
For the 2018-2019 academic year, every student paid $1,992 for the intercollegiate athletic fee, which earns the varsity athletic programs over $15 million in funding. The fee increased by $92 from the 2018 fiscal year, and students enrolled for the 2019 fall semester will make an initial payment of $1,992. It has not yet been determined what the full payment will be for the 2020 fiscal year.    
The fee itself is currently broken down to cover multiple aspects of the College's athletics needs. The largest portion of the fee is apparently sent to student scholarships, followed by personnel expenses, coaching staff fees and employee compensation, with the rest going into operational costs. There is little specific information on what is included in this broad operations category, and while it could encompass material, clothing, stadium and building costs, there is no exact breakdown indicating where every cent goes.  
Senior Assistant Athletics Director Peter Clawson conveyed the purpose and goals of the student athletics fee in an email. Clawson highlighted the role athletics plays in community building and suggested that a strong athletics department adds to the College's overall success.  
"In boldly pursuing excellence, we expect to mirror the university's academic achievements through championship athletics," Clawson said.
"In boldly pursuing excellence, we expect to mirror the university's academic achievements through championship athletics," Clawson said. "In other words, winning the William & Mary way … Currently, approximately half our $27 million budget comes from the student-fees, and strong consensus exists across the entire university that our focus should be on growing other sources of revenue. Slightly less than half of W&M Athletics budget comes from private funding, ticket and corporate sales, and other sources." 
While it may seem common to pay an athletic fee to support a large and intensive part of the College's community, this fee differs from a number of other Virginia schools. The University of Virginia, for instance, also charges an annual intercollegiate athletic fee to each student of around $700. However, for UVA this money only generates around 14 percent of their athletic budget from this fee, while the College generates around 54 percent of its athletic budget from this fee. UVA generated over $100 million towards the athletic program in fiscal year 2019, compared to William and Mary's $28 million in revenue. 
Another notable concern of the College's athletic expenses can be seen when comparing with Virginia Tech. Virginia Tech, which boasts one of the largest student bodies and athletic programs in the state, had a total of 217 faculty and staff working for their athletic program during the 2018-2019 school year according to their annual budget. While Virginia Tech has approximately 726 student athletes listed on its webpage, the College only has 500. Tech, however, is able to create much more competitive teams and programs with a 2-7 faculty-to-athlete ratio while the College has a 1-5 faculty-to-athlete ratio. This suggests that the College could reduce athletic staff in an effort to decrease spending and focus on programs that could gain legitimate success. 
Clawson also spoke on what the student fee goes towards, as well as how the College compares to other FCS schools.  
 "Compared to our peers, W&M Athletics is far less reliant on student fees than other FCS institutions in Virginia," Clawson said. "This is largely due to the generosity of alumni and donors who continue to invest in our program. At W&M, student fees go directly into operational costs of the department, particularly for sports that are less able to generate revenue. … our top priority will always be funding scholarships for our student-athletes though we also expect a great deal of fundraising emphasis on revitalizing Kaplan Arena into a fitting home for the department and better resource for the university."  
Chancellor Professor of English Emeritus Terry Meyers is the former chair of the Athletic Advisory Policy Committee, an avid campus voice against unspecified tuition fees. Meyers recently wrote an article for the Virginia Gazette which expressed his views on the future of the College's athletic programs. Meyers believes that the student required intercollegiate athletic fee is far too high and encouraged the College to look towards becoming a Division II school.  
In written statement, Meyers stated that amount of this fee is unnecessarily high and how it can be an issue for students. Meyers mentioned how he finds both positives in athletics and negatives that could leave some students disadvantaged. 
"I'm not against having a good and well-run athletics program — there are benefits in terms of school spirit and identity and alumni loyalty and benefactions," Meyers said. "To me, though, the issue is the cost of those benefits and who should pay them.  I think right now something close to 50 percent of the costs are covered by the $2000 per annum fee each student pays. Some $8000 over four years. That's a lot of money, especially if you have to borrow some part of it to come to William and Mary." 
Meyers mentioned ways to reconfigure spending and increase fundraising. He believes that by decreasing the athletic programs budget through reducing this fee's amount, more pressure would be placed on fundraising, which would actually create a more viable revenue stream for the athletic programs.  
As a means to reduce athletic spending while still encouraging strong programs, Meyers detailed the possibility of becoming a Division III school instead of Division I.  
"I think Division III has more schools more like us in terms of academic quality.  I think it's possible but unlikely," Meyers said. "It may be in Division III we wouldn't attract students with quite the athletic caliber we presently do. But I also think attracting those doubly-gifted students may be harder in the future anyway—they're relatively rare and the pool I think will be getting smaller, especially in contact sports where participation may be declining at the secondary school level as parents and students understand more about concussive impacts." 
Joanna Di Scipio '22 offered her perspective as non-athletic student on the College's transparency and athletic fees. Di Scipio stated that she felt as if the College wasn't clear in its intentions and that the information should be portrayed more clearly.  
"Considering that I'm a sophomore and had no idea I was spending $2000 on [the athletic fee], they should be more transparent," Di Scipio said.
"Considering that I'm a sophomore and had no idea I was spending $2000 on [the athletic fee], they should be more transparent," Di Scipio said.  
Di Scipio also spoke on other ways she believes the athletic department can find revenue, and emphasized why this fee may seem overbearing for students to pay. 
"First of all there are donors, and I know the donors are paying a lot of money for the athletics department," Di Scipio said. "Considering that athletics are such a small part of the student bodies participation, that's ridiculous." 
Overall there seems to be some clear confusion on the direct intent on the athletic fee and how each student's tuition dollars are being spent. It is difficult to determine more on how the fee will change in the upcoming years or where the College's athletic programs will go.  
Article was updated on September 5th, 2019 from " Meyers detailed the possibility of becoming a Division II school instead of Division I. " to " Meyers detailed the possibility of becoming a Division III school instead of Division I. "
Article was updated on September 10th, 2019 corrected the athletic fee amount from "$1,192" to "$1,992."