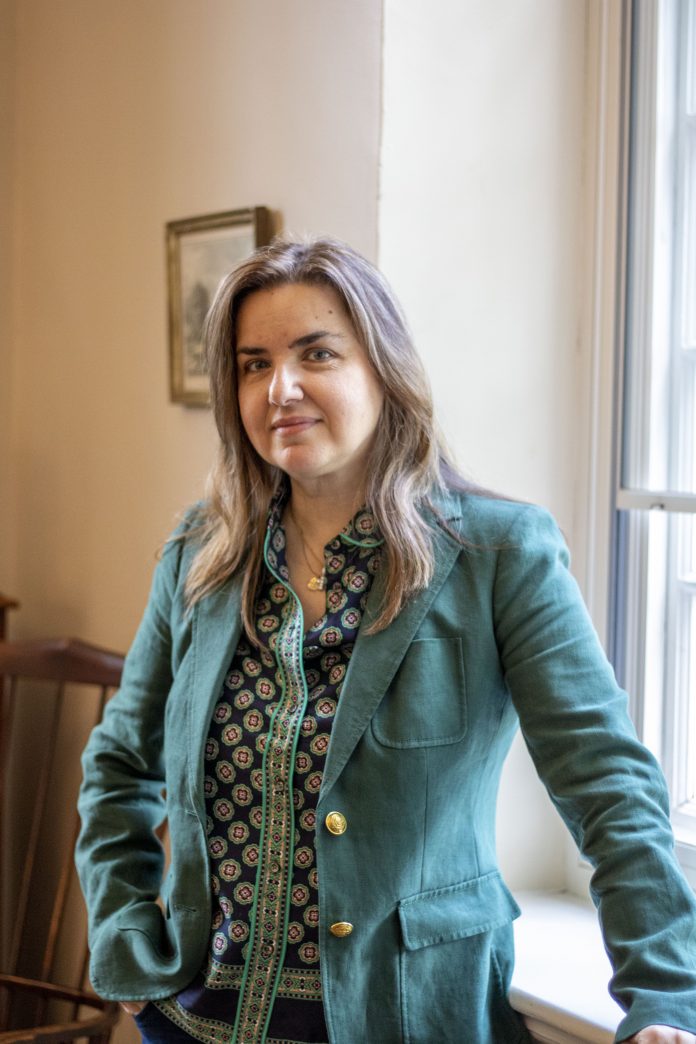 As the College of William and Mary welcomed new students for the 2019-2020 academic year, the campus also welcomed a new provost to Williamsburg earlier this summer. Former George Mason University Dean of the College of Sciences Peggy Agouris replaced outgoing Provost Michael Halleran in July. 
Agouris brings to the College an expansive background in science with experience through grants from the National Science Foundation, NASA and the National Geospatial Intelligence Agency. She also served as the director of GMU's Center for Earth Observing and Space Research. 
Impressed by the College's strong sense of community, Agouris said she decided to make Williamsburg her home as she feels her new workplace not only maintains a respectful reputation but also creates a welcoming space for all students.    
"One thing that everybody knows — at least with the people I interacted with — about William and Mary is its tremendous reputation as a very strong place of learning," Agouris said. "…William and Mary was always an institution that everybody looked up to… I was very impressed by the people at William and Mary. I was very impressed by their warmth, by the way they interacted with me. Very welcoming and very open. I was impressed by what I saw in terms of their scientific work, the depth of their knowledge [and] their commitment to teaching."  
Agouris also noted that she appreciated the loyalty of the students, faculty, parents and alumni of the College. She felt that such loyalty was evident of the community experiences that students receive both during and after their time at the College.  
Although her career history is primarily concentrated in STEM, Agouris believes that a liberal arts education and work in the sciences can be pursued simultaneously. She feels that the College successfully combines liberal arts practices with the sciences.   
"Actually, this was one huge appealing factor to me because I do believe very strongly that moving forward in a world where things cannot be separated into buckets anymore — understanding and navigating and being in a world like this — you need to prepare students and future professionals to operate in such an environment."  
Agouris has demonstrated combining liberal arts education with STEM education through her own career. When Agouris received her engineering degree from the National Technical University of Athens for her bachelor's, she also graduated with a degree in classical music and piano from the Greek Conservatory.  
Through her own experience, Agouris has found that her work as a researcher in the STEM fields has always been at its best when she combined different perspectives.  
"I always felt that because everything is changing so fast, and you hear from future employers what they are looking for in future graduates, its not always the 'today knowledge of a field,'" Agouris said. "It's more of critical thinking, well-rounded education, perspective of how to invent and imagine things, and also how the skills that are going to be necessary in the future are not necessarily only quantitative skills, but they are qualitative perspectives that will make them more relevant."  
In her new position as provost, Agouris oversees the Arts and Sciences at the College as well as all the other academic schools offered at the College: the Raymond A. Mason School of Business, the School of Education, the Marshall-Wythe School of Law and the School of Marine Science. In these capacities, Agouris watches over 8,000 students and around 650 faculty members. She will also co-chair the strategic planning process and is interested in receiving feedback from students as she works on different planning initiatives at the College.   
"This is how I envision my role to be here," Agouris said. "To facilitate the integration of perspectives and enable the students to get their very well-rounded education that includes digital literacy, that includes the humanities, and understanding world thinking, history, and not be the typical, proverbial scientist that is not exposed to those things. That is not good for scientists and it is not good for humanities either."  
According to Agouris, the strengths of the College's institutions, as well as the College's size and unique qualities, allow for a bridging of perspectives and the sparking of students' imaginations.  
 "As Einstein said — if he said that as this is disputed — that 'imagination is more important than knowledge' and I truly believe that," Agouris said. "How do you imagine your future if you are only exposed to a slice of what is in front of you today?" 
As she spends her first couple weeks on campus, Agouris hopes to maximize her engagement with students and faculty. She also hopes to begin her first year as Provost with three main goals: improved transparency at the administrative level, increased engagement and wellness.  
With transparency, Agouris hopes to make faculty and students more aware of how administrative decisions are made, what goes in to administrative processes and how individuals can give feedback to influence future decisions.  
Regarding transparency, Agouris wants students to feel that their engagement is valued and their role in something is critical.  
"People are not engaging when they think that their participation means nothing or they do not know how to engage," Agouris said.
"People are not engaging when they think that their participation means nothing or they do not know how to engage," Agouris said.  
Agouris wants to focus on wellness as she views wellness as an integral component of engagement. She wants to help students find their purpose on campus and strives to create a more interactive environment where students feel heard and valued.  
In addition to the initiatives she is working on, Agouris wants to participate in as many activities and College traditions as possible. She also wants to make the role of the provost clearer to the student body.  
"I intend to hold town halls, and discussions, but also have an open-door policy for students, hours that students can stop by and discuss anything that is on their mind," Agouris said. "I will have regular meetings with student leadership to ensure that I hear everything that they are concerned about, that I share with them the things that I value and what I would like to work on. This is my personal initiative — to be very connected to the students."  
In forging new connections in Williamsburg, Agouris recalls a plethora of people who have helped her reach where she is today, including a former provost at GMU, the former dean of her alma mater and a senior faculty member who told her that what she does scientifically is equally as important as how she presents it.  
Most of all, Agouris holds one piece of advice close to her heart as it came from her father.  
"The one piece of advice he gave me was this: 'always do your work as seriously as you can. As comprehensively as you can. But never fall into the trap of taking yourself too seriously and thinking that you're are a very special person.'" Agouris said.  
Agouris encourages students to take advantage of all that is offered at the College and stresses the importance of trying new things. She hopes as provost she can provide future opportunities for students to feel comfortable trying new things with no penalties attached.  
"I'm looking forward to a year of connections, a year of interactions, to a year of getting to know each other," Agouris said.
"I'm looking forward to a year of connections, a year of interactions, to a year of getting to know each other," Agouris said. "I would like to encourage everybody to participate in every opportunity that exists to connect with us, because for me, operating in a vacuum is not helpful. I would like to really respond to the needs by offering whatever I can bring to the table for the bettering of the student experience."