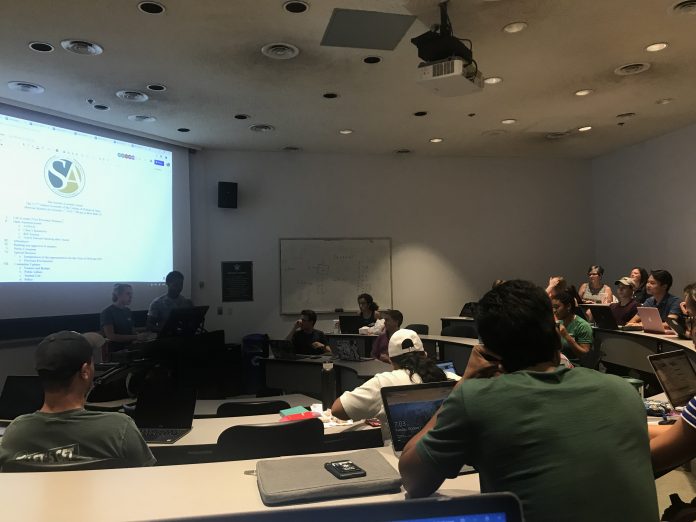 At the Oct. 1 meeting of the College of William and Mary's Student Assembly, the newly elected Class of 2023 senators and president, as well as the new Class of 2020 senator, were sworn in by Review Board Chair Hank Blackboard '20. 
Class of 2023 President Conor Sokolowsky '23, in addition to new Sens. Abby Varrichio '23, Madison Hubbard '23, Maheen Saeed '23, Eugene Lee '23 and Josh Panganiban '20, swore to uphold the SA constitution and fulfill the duties entailed by their respective offices. 
Before the swearing in ceremony, Anne Whelan '21 spoke during the meeting's public comment section in opposition to SA's Subsidized Emergency Contraception Act. The act, which was sponsored by Sens. Maggie Wells '21 and Jahnavi Prabhala '22, calls for SA to subsidize the cost of Plan B, an emergency contraceptive, so that it would only cost $5 for students and would be available for purchase over the counter at the Student Health Center. 
Whelan, a member of Tribe for Life, argued that the bill would be using students' money to fund a product that she believes acts as an abortifacient and ends a human life. 
"There are plenty of students here who oppose this on moral and religious grounds," Whelan said. "It would not be fair to misrepresent them. If Student Assembly wants to represent all students, forcing us to pay for something that violates our religious and moral beliefs and ends an innocent human life, it is a complete failure of this supposed representation."
Meanwhile, Someone You Know Programming Chair Gracie Harris '21 and Vice President Katherine Yenzer '21 staunchly advocated for the passage of the bill during their own speeches during public comment. They argued that the bill would have a positive impact on sexual assault survivors on campus. 
"We fervently believe that in order for our campus to be a safe and accepting place for survivors, we must increase access to Plan B," Yenzer said.  
Harris further explained Yenzer's reasoning, saying, "This reduces really important barriers for all students, making it five dollars, so that students don't have to potentially re-traumatize themselves getting access to Plan B." 
Colin Cochran '21, the co-chair of the Young Democratic Socialists of America, also participated in public comment, refuting Whelan's claims about the supposed antiabortion properties of Plan B. 
"It's unscientific to compare it to abortion. Even if it were similar to an abortive practice, it doesn't matter.  People should have access to the reproductive care services they need," Cochran said.  
The bill went on to pass, with three senators — Sens. Liam Watson '20, Panganiban, and Lee — casting abstentions. All remaining senators voted in favor of the measure. 
At the end of the meeting, Watson asked his fellow senators to suspend the agenda, in order to vote on whether they would allow him to resign from his committee responsibilities while still continuing to serve as a senator. He suggested that Robert's Rules, the parliamentary rules of debate under which SA operates, would allow him to take this course of action. 
Watson has had conflicts in attending his two Sunday committee meetings, as he has to travel across the state each weekend for work and family commitments. Sept. 29, Watson attempted to call into his Public Affairs committee meeting, but he said this rendered conversation unintelligible and made fulfilling his other commitments more difficult, thus resulting in an unproductive committee meeting overall. 
Sen. Will Wasson J.D. '21 argued that, despite the fact that Robert's Rules are used by the Senate, the SA Constitution is the sovereign ruling document and that senators should also pay attention to the SA Code, which mandates that every senator sits on two committees.  However, he acknowledged that the constitution makes no mention of committee meetings at all. 
Watson wanted to vote on the measure immediately, as each missed Sunday committee meeting brings him closer to the amount of absences that would trigger an automatic impeachment process.  Prabhala, however, suggested that SA table discussion on the matter in order to give each senator time to research the ambiguous attendance policies outlined in the code so that they make a more informed decision.  The Senate ultimately voted, by a margin of 11-10, to table the matter until their Oct. 8 meeting. 
"I just think we need to think about how this proposition affects this body long term," Prabhala said. "That's why I didn't want to vote on it today. I don't really understand the code and this policy and how the graduate school affects it, and if it's a decision we make for one person, it can affect following senators and their careers."
Also at this week's meeting:
Senators passed the Sixth Biannual Transfers & More Community Act, which facilitates the biannual Transfers & More community building event at Brickhouse Tavern.

Elections Commission Chair Hank Hermens '22 gave a presentation to the senate about the outcomes of the recent freshman and senior class elections, which had a 55 percent turnout rate from the Class of 2023 and a nearly 19 percent turnout rate from the Class of 2020. 

Senators passed an amended version of the GOTV Act of 2019, which now allocates $48 for the printing of sample ballots and color flyers spreading the word about the upcoming November elections. 

SA passed the Homecoming 2019 Shirt & Stickers Act, which allocates $3,000 for the annual purchasing of Homecoming shirts and stickers.