Renaissance women Margot Flanders '22 and Sam Terry '20 do it all. The two most recently completed an adaptation of tragedy to comedy in Shakespeare in the Dark's production, "The Comedy of Lady Macbeth," which debuted the first weekend of November. But, for them, staging masterpieces and directing classics is just a small fraction of their individual identities.
As a prolific member of the theatre, Flanders has proclaimed to have sold her soul to the stage. For Flanders, theatre is quite literally in her DNA, with multiple members of her family involved in theatre.
"I used to be a swimmer; I did a lot of competitive swimming, but I broke my arm when I was 12," Flanders said. "I had just recently seen Les Mis for the first time and that is where my love of theatre began. In my hometown, we have five community theatres and so that's where I first got involved and really fell in love with it. When I got to high school, I started directing things. My senior year, the show I directed went to the Virginia High School League state competition for one-acts. That's where I found my love for directing."
Of the five community theatres in Flanders's hometown of Staunton, the American Shakespeare Center stands out. It was there that Flanders volunteered, participated in training programs and was able to prepare herself for life in the spotlight at the College of William and Mary.
"Funny story, they sent out a mailing thing with my face on it that I didn't know about until I was working there this summer," Flanders said. "The head of marketing was like, 'Wait, I know you. We sent out a thing with your face on it to all of our donors.'"
The American Shakespeare Center is a world-renowned company and is most famous for its theatre, the Blackfriars Playhouse, which is the world's first recreation of the original Blackfriars Theatre in London.
The elegant stage set the scene for Flanders becoming a committed playwright.
"I do theatre in every realm we have here at William and Mary," Flanders said. "I am on the executive board for Sinfonicron, I'm the vice president for Shakespeare in the Dark, I have worked with Second Season, which is when seniors direct shows, and I have also worked with the mainstage."
Terry, president of Shakespeare in the Dark, followed a similar path in her upbringing in the theatre.
"I tried out for the play in fifth grade because I had just read a book in which someone had stage fright, and I wanted to know if I had stage fright," Terry said. "I was hooked after that but started doing theatre more formally in high school. My friends all auditioned for plays in high school and I wanted to be involved as well."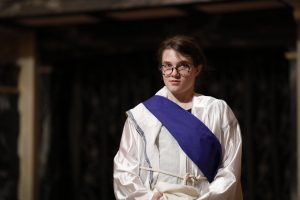 The two eventually made their way to the College and quickly navigated their way through the theatre program to find each other. It was November of last year when Flanders and Terry began collaborating on their Macbeth project.
Beyond the personal satisfaction the duo has gained from production, they also claim to have found a sense of community and family in Shakespeare in the Dark.
"The community from Shakespeare in the Dark is exactly like it was in high school; it is like a family," Terry said. "We were in auditions for this show, 'The Comedy of Lady Macbeth,' and we were at call-backs and we had these two actors who were reading lines for the characters who were kind of the heartbeat of the show. We had a lot of really silly elements in this show. They were reading together this scene that they had never read before, and there was this electricity in the room and this power and command that you could feel. It's this magic that theatre sometimes has, but not always, that fills the room, and that is where you are like 'Oh this is it; this is why I do this.'"
The experience in the audition room was a significant one for Flanders as well.
"It's those moments, especially in the audition process, where it feels like you are filling a puzzle piece and things just slide into place," Flanders said.
However, evocative stunts, Shakespearian ruffs, comedic impressions and improvisation bits will soon be left behind by Terry as she takes her biology major into the real world.
While theatre will always be a big part of her life, she has said that she looks forward to pursuing her passion for botany when she graduates from the College of William and Mary this spring.
While only a sophomore, Flanders will be headed in the opposite direction of Terry and will continue her family legacy in the theatre.
Following in her grandfather, aunt and cousin's footsteps, she hopes to stay involved in the theatre and translate her gift into something tangible by teaching theatre to future generations.