Thursday, Nov. 14, at 7 p.m., the Syndicate Hip Hop Dance Team at the College of William and Mary had its fall showcase entitled "Syndi-Sins" in Commonwealth Auditorium. 
Based off the Seven Deadly Sins, the hip-hop dance squad wowed Commonwealth with an hour and a half of popping, locking and jaw-dropping performances inspired by modern hits.
Introducing the show, Syndicate executives Danielle Brown '20 and Ellie King '20 hoped to rile up the audience in preparation for the first set.
"Syndicate is a student-run, student-choreographed hip-hop dance team on campus," Brown said. "For those who haven't been to a show, we have a few rules."
"Be loud and get hype. Cheer for your friends," King said. "We love when people cheer for their friends."
As the show started, Syndicate's newer members entered from stage right to perform "The Original Sin," biting an apple. Choreographed by Salimata Sanfo '22, the piece, despite being performed by beginners, impressed the audience and showed just how accessible hip-hop can be for newer dancers — like new member Alyssa Brocker '22.
"The reception of new people into Syndicate is something unlike I've ever seen before," Brocker said. "We are so hyped up; we are so loved; we are so taken care of. I am so seamlessly integrated into the group that I feel like I've been here forever."
Following the newbie dance, "Daddy" was met with roars from the audience, as countless spectators yelled "yes Daddy" at the dancers on stage. Like other songs performed in the showcase, "Daddy" had a narrative that the dancers conveyed to the audience — following the theme of scandalous sins, this set told the story of the femme fatale. After corrupting an innocent, the dancers encircled a fur-clad man meant to symbolize the cultural phenomenon of the "sugar daddy." As the lights turn off and back on, we see the man on the ground, hinting at his death as the dancers blew kisses to the audience. 
Also notable was a performance choreographed by Delaney Busching '20 entitled "Idol Worship." The piece was set to the tune of "God is a Woman" by Ariana Grande.
"It was so sassy, sexy and fun, and it was very empowering," Angela Yost '20, a dancer for the set, said. "Delaney is an amazing choreographer, so I loved being in that dance."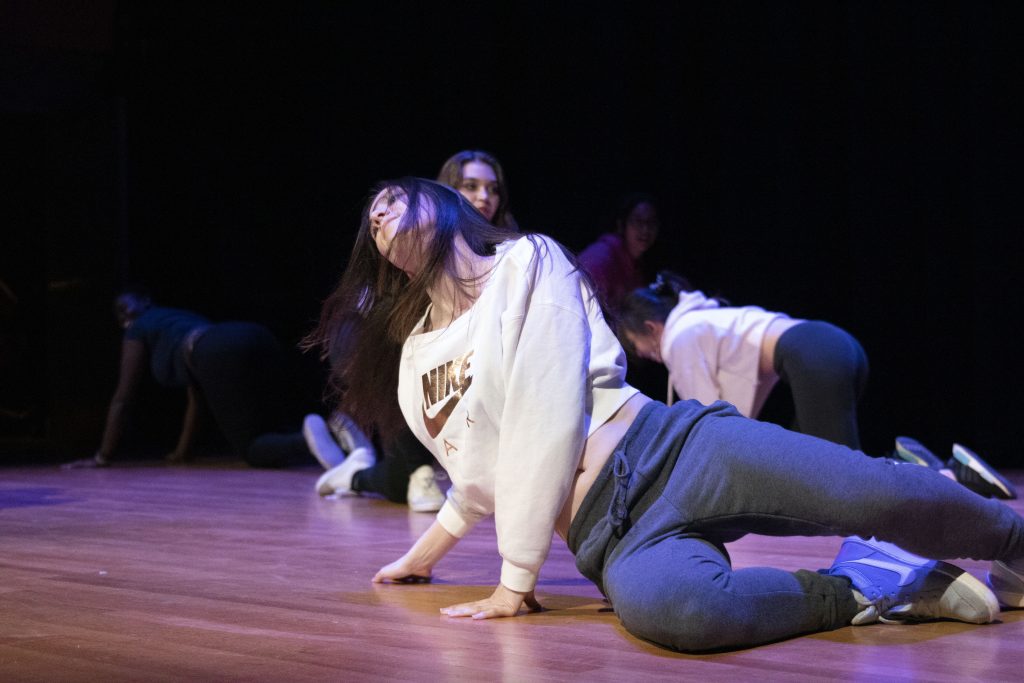 "Productive Wrath" set to the music of "Desperado" by Rihanna featured angular, aggressive dancing along with notable wardrobe choices by dancers. Jared Bergen '20 gained a lot of attention for his Dining Services crop-top, eliciting cheers and questions from the audience. 
"Remember when they had that survey you could take for Dining Services last fall?" Bergen asked. "I won that t-shirt reward and I just had to crop it to make it a fun-time t-shirt. It's definitely a peachy story."
"It was so sassy, sexy and fun, and it was very empowering"
Surprising audience members by entering from the back of Commonwealth, Syndicate dancers rushed down to the stage holding cups as the music for "Got Water?" began. Ultimately, dancers hoped that the audience would embrace their thirst, whatever they may be thirsty for. 
"I really loved 'Got Water?,'" Brocker said. "I knew it was going to be a challenging song for me and I could feel myself grow as a dancer doing it. The message of the song was definitely that we were just thirsty hoes. We had to send in submissions for what 'thirsty' meant for us, and it was great. Thirsty for me is when you go so far as to stalk their mom's Facebook page."
For many of Syndicate's dancers, the concept of hip-hop can mean a multitude of things.
"Syndicate has definitely changed my perception of hip-hop," Brocker said. "It has widened my definition. This kind of hip-hop is more expressive. People are breaking boundaries, telling stories and all around just having fun. Hip-hop is an outlet to shed all of the anxiety that college gives you."
Likewise, Aria Austin '21 and Yost had their own takes on the definition and power of hip-hop. 
"Hip-hop is a form of expression that I really enjoy," Austin said. "It's a lot of hard movements, having fun and spending quality time with members of my group. For me, it's just having a good time and really getting to express myself."
"For me, being able to fully express myself on stage is important," Yost said. "There are so many different flavors of hip-hop, and before last semester, I never did any dancing. Yet, I am still able to express my feelings and my whole personality in a dance."
For each showcase, Syndicate prepares months in advance — whether it's deciding on a theme, choosing songs, choreographing sets and even selecting dancers for each set. Austin remarked on the process that goes into each showcase. 
"We pick the theme and then choreograph songs throughout the semester," Austin said, "Anyone can choreograph as long as you're not a newbie. The work you put into it depends on how many dances you're in. You have to be in at least one as a returning member along with the finale. It's definitely a lot of high-energy work. I rehearsed three to five hours a week in preparation. It's a great group of people and I wouldn't want to do this with anybody else."
Bergen commented on the hard work that went into the performances.
"For most of the dances, we start rehearsing at the beginning of the semester, so anyone who wants to join a piece can try out and join," Bergen said. "For my dances, anyone and everyone is welcome to join. Some dances have more of a story, a narrative, the choreographers are trying to do and those are fun because you feel like you're taking on a character. But for others, you just need an excuse to just break it out and bust it down."
For students at the College who enjoy hip-hop, Yost imparted some advice.
"Come to showcase in the spring," Yost said. "Also, come try out for Syndicate — no experience is needed."