Thursday, Feb. 13, Sadler Center's Commonwealth Auditorium transformed into an extravagant drag show filled with high kicks, flips and death-drops co-hosted by local Williamsburg drag queen Noelia Bella and Sandra Onassis Lopez. The drag ball was sponsored by the Student Assembly as one of the initiatives for the 2020 "I am W&M" week, a week of festivities designed to highlight and celebrate various areas of diversity on campus. 
Celeste Chalkley '21, Student Assembly secretary of Diversity Initiatives, shares some insight into Student Assembly's vision for this year's "I am W&M" week.
"'I am W&M' week is something that we do every year to celebrate diversity on campus," Chalkley said. "'I am W&M' week is just supposed to be all-encompassing to just celebrate everybody. We chose to do it a lot earlier this year to go off of Charter Day because Charter Day is supposed to be about William and Mary and this being our home. So, we thought, why not have 'I am W&M' and our diverse perspectives and persons on campus be part of our celebration of Charter Day."
Chalkley further explained how SA chose to sponsor a drag show for "I am W&M" week.
"We really wanted to have a fun, uplifting event that we knew people were gonna come out to and enjoy and we thought what better way than to have a drag show," Chalkley said. "I felt like it would be a fun event that a lot of people could relate to and find comfort in. As you can see, we had some of our very own students dressed in drag and I'm sure it was liberating to be around and see people just being themselves."
Noelia Bella opened the show by introducing herself and welcoming newcomers to the drag world by clueing them in on two vital rules for a drag show.
"I am Noelia Bella, your local hot mess in a dress… and there are a couple rules for drag shows, the first being that applause is free," Bella said. "The louder you are, the more excited the entertainers are for today. Second rule, if you have a dollar feel free to hold it up and make the girls holler, honey." 
Bella followed this welcome with a Disney-esque evil queen performance to "Vanity" by Christina Aguilera, complete with magic mirror and poisoned apple in tow.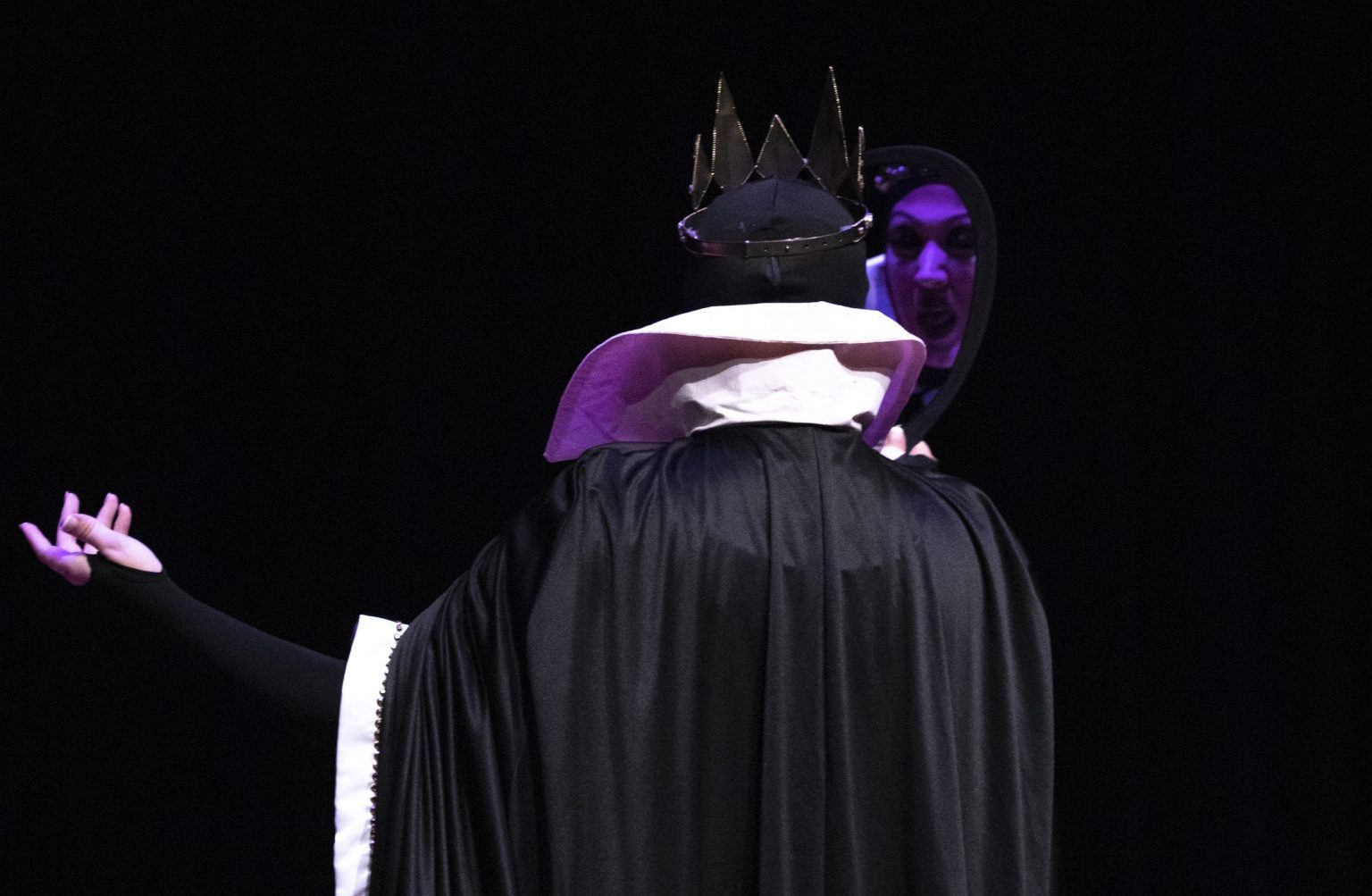 Next, Virginia Beach drag queen Sandra Onassis Lopez twirled on stage in a flowy pink mini dress to Sigala and Ella Eyre's "Came Here For Love." In the midst of her performance, Lopez removed her dress to reveal a bedazzled pink leotard that excited resounding applause from the audience. 
  Sylvia Sterling, who won the "Mercedes Drag Race" in Virginia Beach, performed in a sparkling blue leotard fitted with '80s inspired spiked shoulder pads to current Billboard Top 100 song "Don't Start Now" by Dua Lipa. Sterling lived up to her acclaim by jumping off the Commonwealth stage into a perfect split while performing.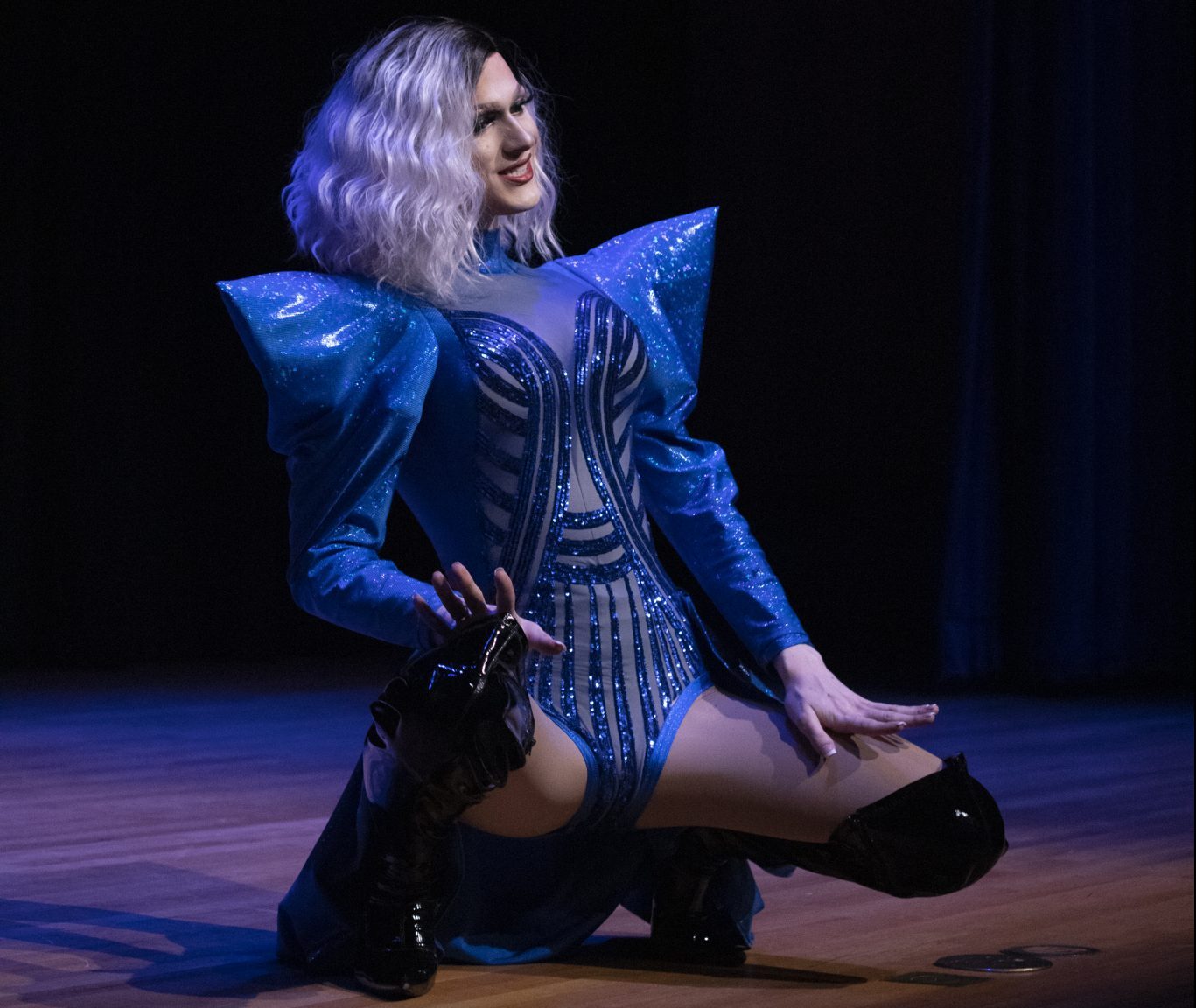 Afterwards, a rendition of Ke$ha's "Take It Off" performed by drag queen Lea Bra elicited cheers from the crowd as she shed layers to show a black leather leotard paired with a fiery red corset. Later in her performance, she riled the audience up even more by snatching her wig off and tossing it in the air. 
Gina Jett then delivered a sultry rock number of "Do Not Disturb" by Halestorm, thrilling the crowd with her flips and kicks.
Closing the first section of the show, Baby Angel wowed the crowd with her impressive death-drops to Miley Cyrus' "Can't Be Tamed."
Opening the second section of the show, Noelia Bella invited fellow drag queen Sandra Onassis Lopez to get some crowd participation, and gathered five audience members on stage for a lip-sync battle in true RuPaul fashion. The participants duked it out to a variety of tunes ranging from the 2000's bop "Fergalicious" by Fergie, to new up and coming rapper Blueface's "Thotiana". The winner was chosen by most applause from the audience. Chris Eliades '23, also known as Daya B. Tease, was crowned the winner.
Following the lip-sync battle, the queens returned on stage for round two of performances. Crowd favorites included Sandra Onassis Lopez's beautiful rendition of "Big Girls Don't Cry" by Fergie, Noelia Bella's carnival inspired routine to Salt-N-Pepa's "I Am Body Beautiful" and Sage Angel's eccentric performance of "Ignorance" by Paramore.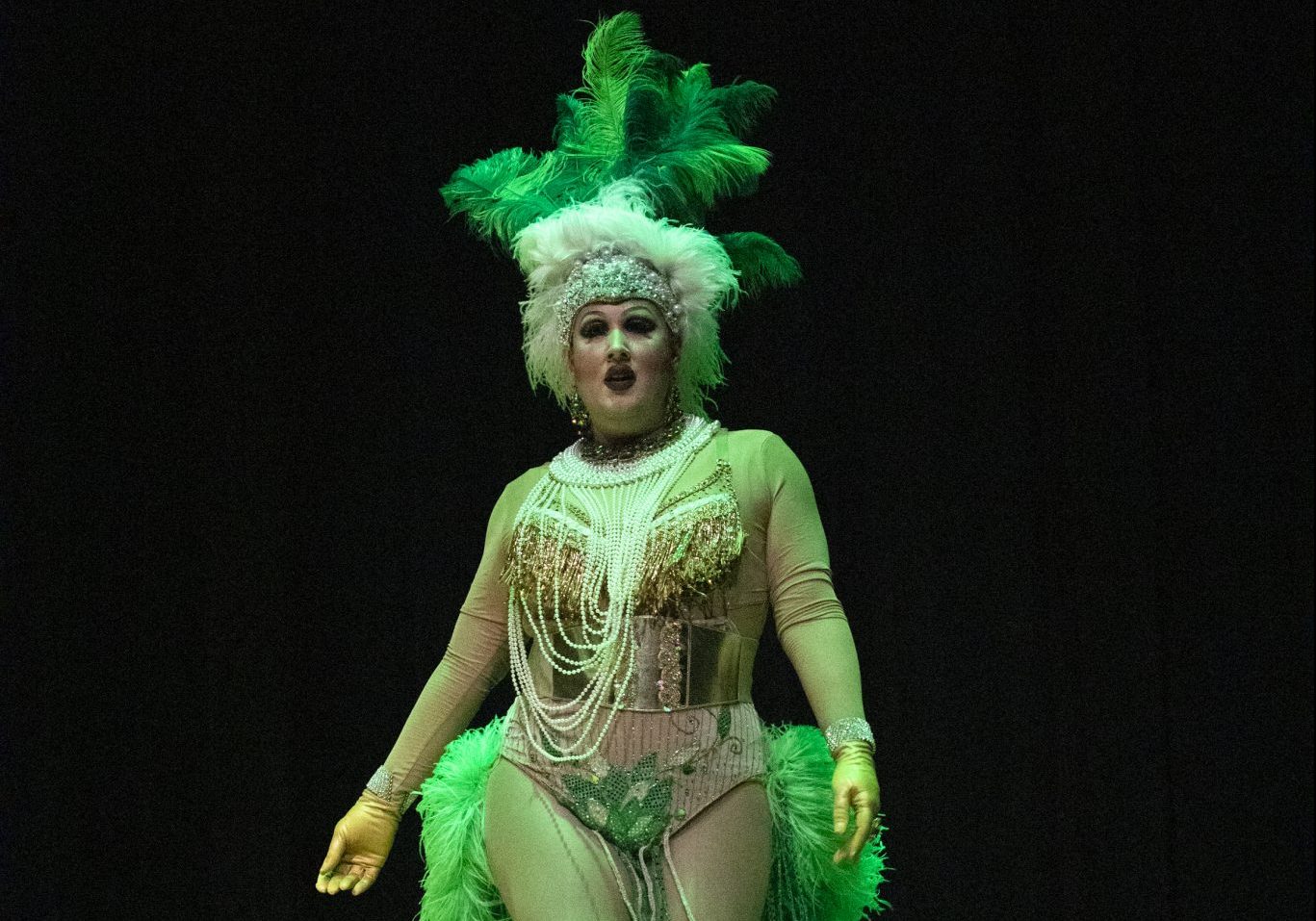 Lip-sync battle winner Eliades showed excitement at the acknowledgement of different aspects of LGBTQ+ life being celebrated on campus through the drag show in such an open and diverse way.  
"I feel like having drag on campus means we're being a lot more open and accepting of the LGBTQ+ community," Eliades said. "There is a lot more than just gay, lesbian, bisexual; it's a whole spectrum. We finally get to have different queer representation that we usually would not get to have and it's groundbreaking and so exciting." 
"we finally get to have different queer representation that we usually would not get to have and it's groundbreaking and so exciting"
Eliades also remarked about how drag is not simply just dressing up, but a groundbreaking form of individuality that breaks gender norms and showcases the vast spectrum of LGBTQ+ life.
"Drag means the pushing of gender norms and boundaries in order to become the most pronounced form of self-expression," Eliades said. "You see a lot of people dressed up for different events and say, 'I'm expressing myself,' but we're blending the gender line too. It's a lot more difficult for us because I have five layers of glue on my eyebrows, a wig on my head and my waist snatched. It shows that we are fully capable of showing freedom and self-expression that people would not typically think of doing."
"drag means the pushing of gender norms and boundaries in order to become the most pronounced form of self-expression"
Gina Jett, a professional drag performer of three years, shared a similar sentiment to Eliades in how drag allows for individuals to break free of societal gender constructs and have more freedom of expression and self.
"Drag is gender f——ing," said Gina Jett. "But it's kind of like today drag is saying 'f——you' to gender constructs, binaries and social gender roles and basically breaking those walls down and allowing people to express their gender fluidly and more
authentically."