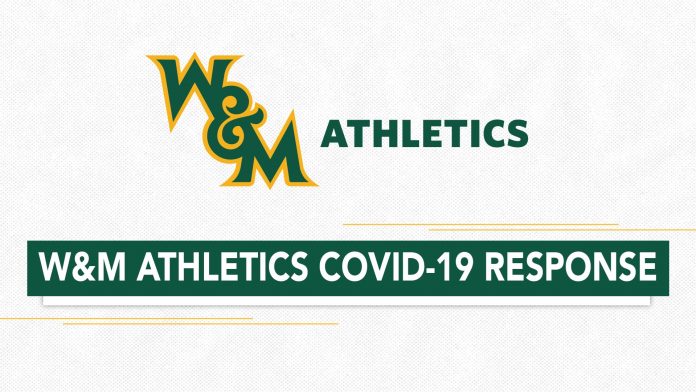 At around 12 p.m. Thursday, March 12, the news broke for the College of William and Mary's women's basketball team during the Colonial Athletic Association Tournament in Elon, North Carolina as the Tribe (21-8, 12-6 CAA) prepared to play Delaware (12-17, 8-10 CAA). With quarterfinals taking place later that night, the team suddenly learned that the rest of their season would not be occurring as the CAA announced the cancelation of the game due to COVID-19.
"The Colonial Athletic Association has made the decision to cancel the remainder of 2020 CAA Women's Basketball Championship in response to continued developments regarding the spread of the Coronavirus" a post on the CAA website said.  "In addition, all CAA spring sports contests have been suspended until further notice."
To senior forward Victoria Reynolds and her teammates, the CAA announcement came as an incredible shock. Two teams had already played a day earlier in the first round: UNC Wilmington (10-20, 6-12 CAA) had beaten Charleston (13-17, 6-12 CAA) to advance to the quarterfinals, and Elon (14-16, 8-10 CAA) had beaten Hofstra (3-27, 0-18 CAA) to do the same.
In addition, Drexel (23-7, 16-2) and UNCW had already shown up on the court ready to play that Thursday. But, as the Dragons and the Seahawks readied for tip-off, the CAA brought everything to a halt.
"We were going to play later that evening," Reynolds said. "My family had already been down there, getting ready to see some basketball, but then we got the notification that the games had been canceled and they were just like, 'Wow.' They can't believe it. It's just so abrupt. Nobody was expecting it, either."
A shocking last-minute cancellation, the CAA announcement brought a sudden end to the 2019–20 women's basketball season, which had seen a historically strong performance from the Tribe. With 21 regular-season wins, the Tribe recorded its winningest season ever in 100 years of William and Mary women's basketball. In addition, with 12 CAA wins, the team set an all-time school record for most conference victories. The No. 3 seed, the Tribe entered the tournament from its highest starting position ever and hoped to make a run at the championship.
The day before the quarterfinals Wednesday, March 11, the CAA announced a policy of limited access, restricting tournament attendance to "essential tournament personnel, band and spirit squads, limited school administrators and student-athlete guests, broadcast personnel and credentialed media members."
Few expected the tournament to be canceled the next day due to the new regulations in place to limit contact.
"At first, my reaction was, 'Like, this is a joke,'" Reynolds said. "'There's no way,'"
Once the CAA made its announcement, emotions ran high from Reynolds and her teammates. They ranged from anger to disbelief, she said, and it took an emergency locker room meeting by head coach Ed Swanson to bring everyone to terms with the sudden cancellation.
Although that meeting brought some closure, the end of the season has still proved hard on Reynolds and her teammates, who have since gone home like many other College students.
"Even now it still doesn't even feel real," Reynolds said.
"Even now it still doesn't even feel real."
For student-athletes across the United States, the ongoing COVID-19 outbreak has brought with it many lost hopes and dreams. For senior athletes particularly, it has brought an abrupt, unfulfilling and unceremonious end to many successful college careers.
Thursday, March 12, shortly after 4 p.m., the NCAA announced it would cancel all remaining winter and spring championships, including March Madness.
Reynolds and her teammates experienced a shocking end to their season that afternoon during a historic tournament appearance. So have William and Mary student-athletes —  men and women alike — of all different sports faced a shocking and unique end to each of their seasons.
The afternoon of Thursday, March 12 Tribe Athletics announced it would "immediately suspend all athletics related activities until further notice due to continued developments regarding the spread of the novel coronavirus (COVID-19)."
The next day, Friday March 13, another statement was released.
"In accordance with the Colonial Athletic Association, William & Mary Athletics has cancelled all competitions for the remainder of the winter and spring sports seasons in an effort to help slow the spread of the novel coronavirus (COVID-19)," the announcement said.
The women's track and field team learned of the Tribe Athletics announcement just a few days after returning home from the Eastern College Athletic Conference Indoor Championships in Boston. The announcement came eight days before the Tribe was set to host the Dan Stimson Memorial Meet Saturday, March 21, at Zable Stadium.
For senior jumper Alexis Brender a Brandis, the announcements brought chaos and confusion — and finally, the NCAA announcement brought her to tears.
"I remember I was sitting down with a friend and we were like, 'This is all so crazy. What's going on?" Brender a Brandis said. "And someone sent the NCAA's decision in a group message and I read it and I just busted out crying. I couldn't contain it. It was heartbreaking, honestly."
Brender a Brandis, who finished fourth overall in triple jump at the ECACs, lost many chances to set new records. In her most recent indoor series, she made four jumps over 12 meters, and most significantly of all, she leaped a lifetime-best 12.3 meters, her first-ever jump over 40 feet.
The third longest jump ever recorded by the Tribe, the 12.3-meter leap won Brender a Brandis the All-East award. It also put her in second place all-time behind Jennifer Walker '89, who finished third overall and won the first All-East award for triple jump indoors in 1998.
Having competed in long jump last year and triple jump her sophomore year, Brender a Brandis trained hard to remaster triple jump this year and was looking to surpass her sophomore-year records and see her performance improve as the season progressed.At the Penn State National Open in State College, Pennsylvania, Friday, Jan. 31, she leaped an impressive 11.59 meters indoors. At the Navy Select in Annapolis, Maryland, Feb. 21, she won the triple jump and topped her indoor record with a leap of 12.15 meters.
Both these records — and her personal-best 12.3 meters at the ECACs — well surpassed the 11.5-meter record Brender a Brandis had set indoors her sophomore year.
"It was wonderful to have been able to improve like that," she said. "And I was setting new personal bests after new personal bests. It was just this wonderful momentum. I had all of these people super excited to see me jump every time and I was excited to get on the track every time."
But the Tribe Athletics announcement cut short her hopes for the rest of the season, specifically of surpassing her outdoor record: 12.12 meters in triple jump, set during her sophomore year.
"But, I knew that I could do more, and then not being given the opportunity to do more was just terrible."
"Yes, I had jumped the furthest I had ever jumped in my life at that meet [the ECACs]," Brender a Brandis said. "But, I knew that I could do more, and then not being given the opportunity to do more was just terrible … Indoor is wonderful but outdoor is when jumpers and sprinters and everyone shines."
For senior Brenden Volk and the men's tennis team, the bad news about the season hit after a three-game road trip ended in a 7-0 loss Monday, March 11, against Virginia (11-4, 2-1 ACC). As the Tribe (7-4, 2-0 CAA) rested for its next practice and its next road game against Georgetown (4-9, 1-3 Big East) Tuesday, March 17, the Tribe Athletics announcement brought an end to the season.
"We had to take a couple days to process it," Volk said. "It's something that hit us particularly hard, because we've put so much work into this season and we really positioned ourselves to be at the top of the conference and potentially win the CAA championship this year, which is something that the school hasn't done in a few years. So, it was definitely heartbreaking to have that taken away from us, especially me being a senior, since this would've been my last chance to win a ring."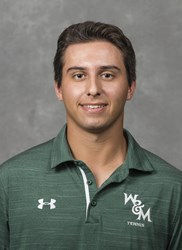 Looking to help his team win a championship his senior year, Volk started the season out strong with an impressive doubles performance. Together, Volk and his doubles partner, freshman George Davis, won their first seven games in a row, going undefeated in doubles until a 6-2 loss to Elon (6-7, 0-2 CAA) at home Sunday, March 1. The loss marked an end to their perfect 7-0 doubles record so far, but Volk and Davis won both their singles matches that day and the Tribe won the match against Elon 5-2.
"We had a great start," Volk said. "I have no doubt that George is going to continue that next year, as he was only a freshman."
Named the CAA Doubles Team of the Week twice this season, Volk and Davis shined as the Tribe's star pair of players. They clinched tiebreaker wins in doubles twice this season before it came to a halt.
In singles, Volk held his own fairly well, going 11-10 overall. Meanwhile, Davis finished his cut-short freshman season 14-8 overall.
For Volk, who has been playing tennis for 17 years, the hardest part of season was being unable to go to Senior Day, the CAA Tournament or even the NCAA Tournament. The lone senior on the Tribe and a four-year athlete, he never got to see his contributions honored at the Senior Day game Saturday, April 4, against Navy (16-8) or make a run at a championship.
But he said those opportunities mattered less to him than the friendships he had built during the season.
"And as much as it hurts … all that stuff is kind of irrelevant," Volk said. "I feel like championships, awards, and rings — that stuff at the end of the day is just going to collect dust. But the friendships that I've made, the relationships that I've made, the coaches that have molded me into the person that I am today — I feel like that's way more important."
"At the end of the day, people's health is way more important than sports. When you put that stuff into perspective, that's all that really matters."
And like the other senior student-athletes interviewed, he recognized the importance of stopping Tribe Athletics to slow the spread of coronavirus.
"At the end of the day, people's health is way more important than sports," Volk said. "When you put that stuff into perspective, that's all that really matters."
Senior gymnast Elizabeth Snoddy and her teammates learned of their season-ending suspension in an email from athletic director Samantha Huge. Earlier, they had seen on the CAA Instagram account that all spring and winter sports would be canceled, and so would all remaining tournaments, but the email brought their season officially to an end.
"It was actually pretty surreal," Snoddy said. "For the most part, I know that the other seniors and I were trying to stay pretty positive about it … so when the official confirmation came in that the season was over, it was definitely heartbreaking because we had worked so long."
After finishing fourth of four at the George Washington Quad Meet Sunday, March 8, in Washington, D.C., Snoddy and the women's gymnastics team had returned home to practice. They expected to prepare for the senior home meet against Temple Saturday, March 14.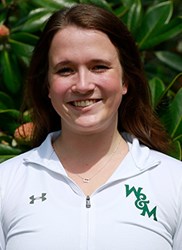 Snoddy was expecting to compete in front of her mother, who had already flown into town to see the senior home meet that Saturday — but it was not to be.
Snoddy and her teammates readied for practice Thursday, March 12, when their assistant coach came in, telling them their season was over. Sent home with the rest of the student body, they all went their separate ways soon afterward.
For Snoddy, the end of the season meant not only missing the senior home meet against Temple, but more importantly the ECAC Championship Saturday, March 21, in Philadelphia.
"We really wanted to be able to go to conference championships and give it our all," Snoddy said. "And we were hoping to place very well in it, and we all felt super confident. Our routines were finally coming together."
She likened her senior season to fitting the pieces of a jigsaw puzzle together but being unable to see the full picture come together in the end.
"I know everyone on the team is 100 percent — when gyms open up again and when it's going to be time to start grinding again — I know the team will be 100 percent ready for that,"
However, Snoddy took hope in the knowledge that her underclassmen teammates would carry the team forward next year, once she had graduated and once the gyms had reopened.
"I know everyone on the team is 100 percent — when gyms open up again and when it's going to be time to start grinding again — I know the team will be 100 percent ready for that," Snoddy said. "I think if they keep their heads in the right mind space,'they'll be definitely just fine when everything starts opening up again."
Similarly, Reynolds expressed a hope that the women's basketball team would continue to succeed next year, once she had graduated. And sophomore guard Eva Hodgson promised to carry the Tribe forward, even after what a historic and difficult year it had been.
"Next year, the sky's the limit for us," Hodgson said. "I honestly think we could've won a championship this year, and I believe that for next year, too. So, I'm fired up. I'm ready to go … I'm excited."