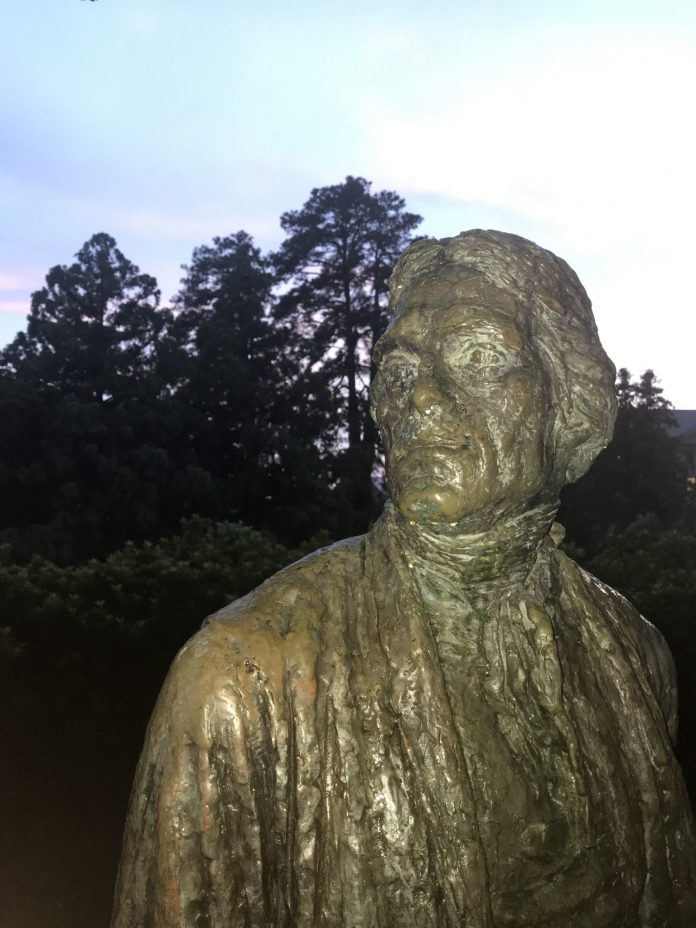 Following alleged threats to campus safety, the College of William and Mary enlisted security personnel to protect the university's Thomas Jefferson statue for six days. The College's decision to hire additional security for the purposes of protecting the monument attracted criticism from students, and was announced amid ongoing demands for administration to remove statues and building designations that commemorate slave owners and Confederate leaders.
Conversations about racial discrimination and criminal justice reform have intensified among College students since the May 25 murder of George Floyd, with many members of the campus community engaging in online and in-person activism through crafting petitions and attending protests. Spearheaded by Salli Sanfo '22, one petition specifically calls for the College to rename academic buildings honoring Confederate generals and apologists for slavery — including Richard Ewell, William Talliferro and James Monroe — and to tear down campus statues that memorialize those figures. 
One of the memorials referenced in Sanfo's petition is the College's Thomas Jefferson statue, which stands in between McGlothlin and Washington Halls. A gift from the University of Virginia, the College has taken steps to prevent the statue's vandalism despite low amounts of students on campus and in Williamsburg — which Alex S. '22 noticed during his frequent walks around Old Campus last week.
"My gf and I are staying nearby campus this summer due to COVID and take nightly walks. A few days ago, we noticed that someone would always park at Sunken Gardens between McGlothlin and Washington," Alex, who chose not to provide his last name for privacy reasons, said in a written statement. "We were confused until something absurd popped into my head – the only thing nearby is the Thomas Jefferson statue. W&M didn't actually get a security worker to guard the TJ statue, did they??"
"We were confused until something absurd popped into my head – the only thing nearby is the Thomas Jefferson statue. W&M didn't actually get a security worker to guard the TJ statue, did they??"
After seeing a car parked near the statue, Alex went back to the statue the night of June 21 and asked the guard about her posting.
"… We went back and sure enough, the car was there again," Alex said. "I asked the guard what was going on and she said 'there's absolutely nothing going on here.' I said, 'you're guarding the statue, aren't you?' She looked at me, gave a little nod, and continued to repeat 'absolutely nothing going on here.'"
After seeing Alex's story on social media, Aidan White '23 contacted WMPD Chief Deb Cheesebro to learn more about the guard presence around the statue. White said that Cheesebro confirmed the presence of additional security measures on Old Campus designed to protect against vandalism to the statue, as well as damage to other College property and individuals on campus. In her response, Cheesebro said that the College maintains a contract with additional security staff, allowing for the hiring of supplementary personnel at a rate of $19.40 an hour for 10 hour shifts.
College spokeswoman Suzanne Clavet also confirmed that the College had hired security contractors to protect the statue following two alleged vandalism attempts within the past two weeks, mirroring similar attempts to remove monuments and memorials across Virginia and the country.
"In the last two weeks, there have been two incidents involving attempted vandalism to the Thomas Jefferson statue – one where a water-based, paint-like substance was sprayed on the statue and another where intent was to pull down the statue," Clavet said in an email. 
While Clavet said property damage was an important consideration in the College's decision to staff guards by the statue, she also indicated that concerns over potential physical harm were a primary motivation in hiring supplementary security. 
"Certainly any attempts to damage property are a concern, more so in instances where physical harm (as would certainly be of concern if a statue were being toppled) could result," Clavet said. "As we have said, WMPD routinely adds security or directed patrols on a temporary basis anytime there is a public safety concern on campus where people or property could be in danger."
CORRECTION (9:20pm, June 24): A previous version of this article said the College hired security to guard the Thomas Jefferson statue for two weeks. The College actually hired security for six days following vandalism threats taking place over the past two weeks.