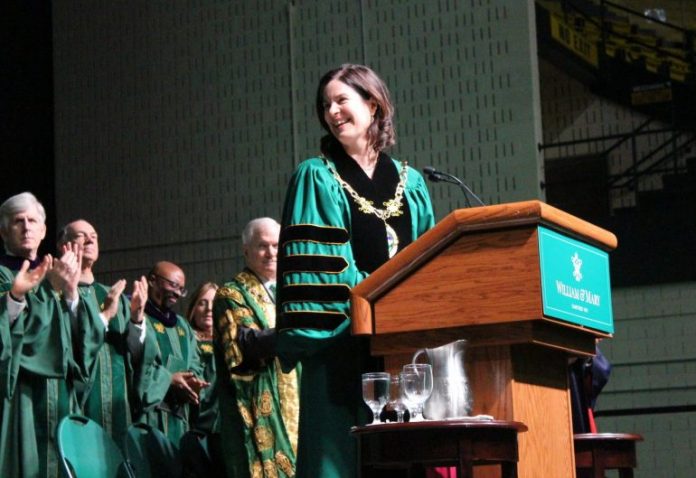 Five months after evacuating students due to the COVID-19 pandemic, the College of William and Mary's administration has announced a plan of action to offset the economic effects of the pandemic at the College. Part of the plan includes cuts of the salaries of  College President Katherine Rowe and two top College administrators. However, some members of the College community expressed discontent that the plan did not do enough to address the needs of the faculty and staff at the College. 
In a statement released Aug. 11 and signed by Rowe, College Provost Peggy Agouris and Chief Operating Officer Amy Sebring, the administration laid out four steps they will be taking to prepare the College for additional expenditures related to COVID-19. The first of these is leadership salary reductions. Agouris and Sebring will voluntarily reduce their compensation by 12 percent, while Rowe requested a 15 percent salary reduction at the Board of Visitors meeting. Aug. 25. These salary reductions will be in effect until the end of the calendar year.
According to Sebring, these steps were decided on after a decision-making process which involved university leadership,  members of Rowe's cabinet and the Board of Visitors. Sebring said that the process was guided by four principles: preserving the College's core learning mission, ensuring that university leaders would be the first impacted, protecting College employees who make less than $50,000 annually and focusing on temporary actions.
"The president, provost and myself wanted to take salary reductions that would provide both significant savings and be well above any possible reductions that may have to be asked of other employees."
"The president, provost and myself wanted to take salary reductions that would provide both significant savings and be well above any possible reductions that may have to be asked of other employees," Sebring said in an email.
However, Sebring also said that the combined four-month salary reductions being taken by Rowe, Agouris and herself will only yield about $55,116 in savings for the College. For context, President Rowe earned $671,621 last year according to the Richmond Times-Dispatch, while Agouris has an annual salary of $400,000 and Sebring has an annual salary of $330,000 according to the Washington Post. According to OpenPayrolls.com, the average salary of College employees in 2019 was $77,286. The statement also announced a voluntary furlough program, new retirement resources for employees and temporary reassignments, which will involve 50 or more employees being reassigned to areas including business operations, communications and emergency management. 
Ten days after these first four steps were announced, the university suggested  via mass email that any further furloughs or lay-offs would be the result of individual student failure to adhere to COVID-19 guidelines.
"Do not be the reason that valued W&M employees are furloughed or lose their jobs," Dean of Students S. Marjorie Thomas said in an email sent to students Aug. 21.
When compared to other public universities in Virginia, Rowe's administration is implementing higher  salary cuts than similar schools. For example, University of Virginia President Jim Ryan is  only taking a 10 percent reduction of his $1,188,910 annual salary, while  Virginia Commonwealth University announced that President Michael Rao will be among those furloughed if employee furloughs become necessary, according to the Richmond-Times Dispatch. 
The initial steps announced by the College come nearly two months after the William & Mary Worker's Union publicly called for the salaries of Rowe and other top administrators to be reduced by 20 percent. They also called for the College to rehire the non-tenure-eligible faculty whose contracts are not being renewed this year, which includes all of the College's language house international fellows. According to the union, a year-long 20 percent reduction in Rowe's salary alone would cover the stipends of four international fellows and the salary of at least one NTE position.
"We're very concerned about the administration's plan for workers in the coming year," graduate worker and union's organizing committee member Frances Bell said. "They've told us several things during the summer that sound very positive and then when you get into them they're actually very limited."
One such concern of Bell and the union is that the College's promise to protect employees who make less than $50,000 a year only applies to salaried employees and not to those who are paid hourly wages. They also take issue with the administration's repeated slogan of "chop from the top." The administration began using this phrase over the summer to stress that when considering expenditures to cut, they will focus on larger expenditures and salaries first. However, Bell says that the administration's policies do not actually reflect that.
"'Chop from the top' is very limited," Bell said. "It only applies to university-wide actions, and so that means that staff can actually be furloughed or given pay cuts at the departmental level without any of their bosses having to take cuts first."
Sebring declined to comment whether university leadership considered public activism on behalf of groups like the Workers' Union when developing the first steps announced Aug. 11.
Aida Campos '20, a recent graduate who co-founded UndocuTribe ­— now renamed WMFIRE — and served as the editor-in-chief of Underground magazine, was also disappointed with the initial steps laid out by the College. She said that some students feel that President Rowe's salary reduction is performative and that the voluntary furlough program does little to actually help the College community.
"The system is prioritizing someone who is the public face of the university rather than the people who keep the school running. When we're asking people to volunteer to be furloughed, or we're not letting them know and just laying them off, it's very clear that we need to rethink who we're valuing."
"The system is prioritizing someone who is the public face of the university rather than the people who keep the school running," Campos said. "When we're asking people to volunteer to be furloughed, or we're not letting them know and just laying them off, it's very clear that we need to rethink who we're valuing."